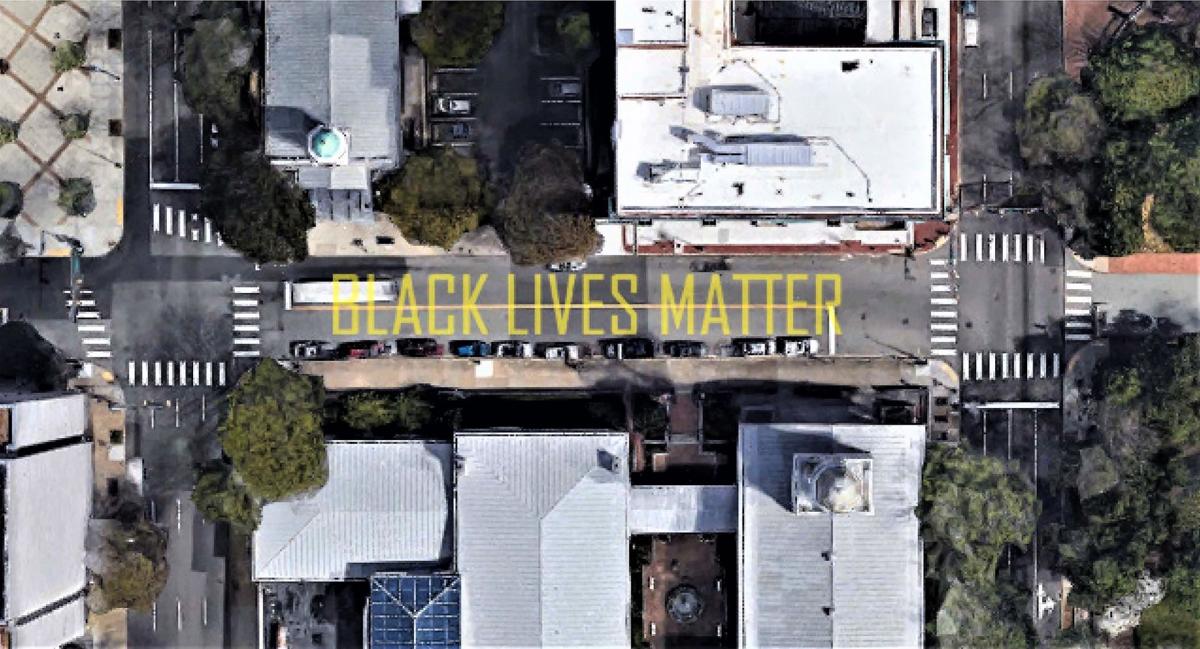 A mural dedicated to the Black Lives Matter movement stretching nearly 200 feet may soon be painted in the 800 block of Grace Street just outside of the Virginia Capitol.
On Monday, the Richmond Planning Commission unanimously approved Venture Richmond's proposal for the mural, which is based on similar art projects that were recently installed in Minneapolis, Denver, Seattle, New York City and Washington, D.C., following nationwide protests against racial injustice.
Local artists Hamilton Glass and Ed Trask would lead the project, according to plans submitted to the city. The plans say each yellow letter stroke would be 27 inches wide along the two-way street that leads to the 9th Street entrance of Capitol Square.
"Our society is going through tough times, and we need more projects like this that shows where Richmond stands in these turbulent times," Glass said in a letter to city officials earlier this month. "I am proud to be a creative in a city where the art reflects the heart and soul of the people, and this project would amplify that sentiment even more."
In a letter to the city Public Art Commission earlier this month, Venture Richmond Deputy Executive Director Anedra Bourne said the proposed location of the mural is significant because of its proximity to the state Capitol, City Hall, the city's canals and the historic Jackson Ward neighborhood.
"This public art opportunity is two-fold: a chance to engage the public in a movement that affects our city, our region and our nation, and to encourage solidarity and continued support for the city's Black community who have contributed to the fabric of Richmond for centuries," she said. "This space will allow time for dialogue and reflection, conversation and long-term programming as has been demonstrated nationwide in other cities."
Venture Richmond is a nonprofit led by local business and community leaders to promote the city's downtown through advocacy and special events such as the Richmond Folk Festival.
The project has been endorsed by several downtown firms, organizations and city officials, including the Martin Agency, the West Cary Group, the Downtown Neighborhood Association and 6th District City Councilwoman Ellen Robertson.
"Richmond is the mural city," Robertson said in a letter to the Public Art Commission. "In years to come, we will look back at this mural as a moment in history when things certainly changed, and I'm delighted to be a proponent of that change."
Susan Glasser, the city's public art coordinator, said the Public Art Commission unanimously recommended approval of the project earlier this month.
Glasser said installation of the mural is pending approval of a permit from the Department of Public Works. A Richmond planning staff report says work on the project will likely begin within the next month.
This article has been updated to correct the recipient of a letter from Ellen Robertson.