For a century, Monument Avenue has showcased some of the Confederacy's most revered figures.
Soon, there will be a blank canvas.
Over the past week, the Richmond Times-Dispatch asked demonstrators, residents, artists and community leaders what they'd like to see on the new Monument Avenue.
There were suggestions of new statues, honoring a more inclusive set of heroes. Others wanted a space for performance or reflection, while some felt the empty pedestals should stay as a historical testimony of their own.
One point of agreement was that it must be a communitywide conversation.
Through restrictive covenants, real estate companies long advertised property there based on the premise that "no lots can ever be sold or rented in Monument Avenue Park to any person of African descent."
Now, presented with a fresh opportunity to imagine one of the city's most prominent promenades, Richmond has the rare opportunity to redefine itself to the world.
---
Replacement statues
Most nights, the Robert E. Lee monument is adorned with projections by Richmond-based artists Alex Criqui and Dustin Klein. On a recent night, they used images of Black Union soldiers.
The idea of replacing Stonewall Jackson, Jefferson Davis and others with famous Black Americans would reframe the message communicated by the street.
Suggestions for replacement statues collected for this story ranged from leaders of the civil rights movement — Rosa Parks, Martin Luther King Jr. and W.E.B. Du Bois — to locals such as civil rights attorney Oliver Hill and Richmond Planet editor John Mitchell Jr.
Richmond's Paul DiPasquale, the sculptor of Monument Avenue's Arthur Ashe statue, has helped the city take down Ashe's Confederate counterparts. He said the intention is to eventually remove the bases upon which previous statues stood.
But he'd like to see them stay, in order to give Richmonders time to process their feelings surrounding the avenue with empty plinths.
"I'm interested in seeing the bases remade because a base is a base and can be transformed into something else, and means something by itself," said DiPasquale, who knew Hill and put forth his name for candidacy. "They are works of art in and of themselves, and by themselves they don't stand as a symbol like the Confederate statues do. They are beautifully carved pieces of stone."
Three Monument Avenue residents who wished to remain unnamed suggested an array of figures for memorialization, including Mitchell, the Tuskegee Airmen, a member of the Powhatan tribes, or jazz singer Ella Fitzgerald, a native of Newport News.
Residents and protesters alike said subjects of Criqui and Klein's projections could serve as a reference point for figures worthy of a statue — Frederick Douglass, Harriet Tubman, George Floyd, Breonna Taylor, Maggie Walker or the Black Union soldiers, to name a few.
City Councilman Michael Jones, who has advocated for the removal of Confederate statues, referenced London's Parliament Square as a potential example of a more "approachable" space to gain inspiration.
Figures such as Nelson Mandela and Gandhi are immortalized at Parliament Square in the form of life-sized statues on platforms of minimal height.
But Museum District resident Beth Almore raised an issue with making figures the primary subject of the space. Almore's cello performances beneath the shadow of Lee in the informally renamed Marcus-David Peters Circle during the past month of demonstrations have drawn glowing praise from those in attendance.
"It's a larger philosophical thing that I have with worshiping people from history and deifying them," Almore said of the replacement statue concept. "Everyone has flaws."
DiPasquale was one of many proponents of the idea to echo that reservation.
"The difficulty with people is that not everybody is an angel," he said, "and you come to find out things that you don't want to know."
---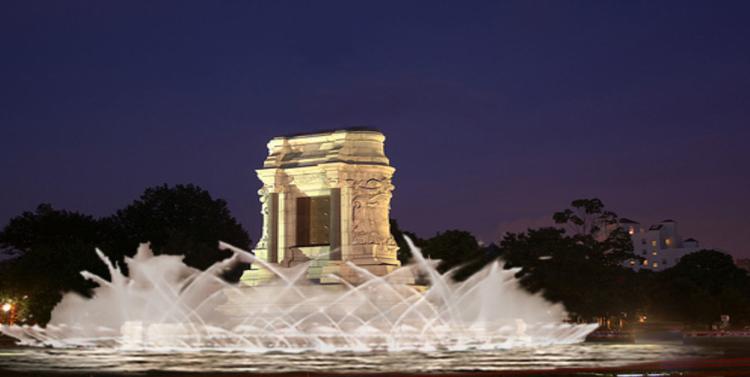 Non-statue art
The Valentine, Storefront for Community Design and mOb studio last year partnered to hold a competition dubbed "Monument Avenue: General Demotion/General Devotion" in which more than 70 proposals from architects, artists, planners and designers reimagined Monument Avenue from a wide variety of conceptual standpoints.
DiPasquale said that at the time, entrants did not believe the monuments' removal was imminent. And so, most of the proposals were submitted without a mind to budgetary or practicality concerns — it was a creative exercise.
"Reimagining Monument Avenue has been on people's minds for a long time," DiPasquale said. "And the exhibition at the Valentine was exactly what public art is supposed to do, and that is get people thinking about the baggage that they carry around, and open up that baggage and look at those ideas."
The competition was part of the Valentine's response to the Charleston church shooting, said Bill Martin, director of the Valentine. Though Martin dubbed it a "good jumping-off point," he stressed that it incorporated many submissions from outside the Richmond area.
"What happens next has got to be this more community-based response," he said. "But in this exhibition, there certainly were intriguing ideas."
One proposal, "Light, Water and Fire," reimagines Monument Avenue as an Italian piazza with columns of light, historical markers, fountains and a flame atop what was once the Jefferson Davis monument.
That proposal was a favorite of the three Monument Avenue residents quoted earlier. They appreciated the concept of water installations as a leading feature for the newly imagined space because they invoke "reflection, repose and community."
One of Martin's most memorable submissions suggested melting down the bronze statues and creating a green space along the avenue with 500,000 points of light in the cobblestones, creating a timeline of the trans-Atlantic slave trade. It included an observation tower, so that onlookers could observe the historical progression from above.
Another proposal involved turning the monument previously dedicated to Jefferson Davis into a climbing wall. Another submitted that the Confederate statues could be lowered into the ground, with a subterranean viewing area surrounding them.
The trio of Monument Avenue residents said they love the projections from Klein and Criqui and hope they can perform on a permanent basis, "perhaps once a month." Klein and Criqui have had discussions with the city's History and Culture Commission about making their installations a longer-term aspect.
"We're just starting those discussions," Klein said. "Since it's resonated with so many people, and we can do it in a way that's noninvasive for the neighbors."
Everyone interviewed for this story agreed on one point — the Lee pedestal, covered by protesters in layers of spray paint, must remain as it stands today to be preserved in some way and, optimally, remain a feature of the new Monument Avenue.
"That plinth has been transformed by the moment," Martin said. "This moment has transformed how we see our monuments, and we need to capture that."
---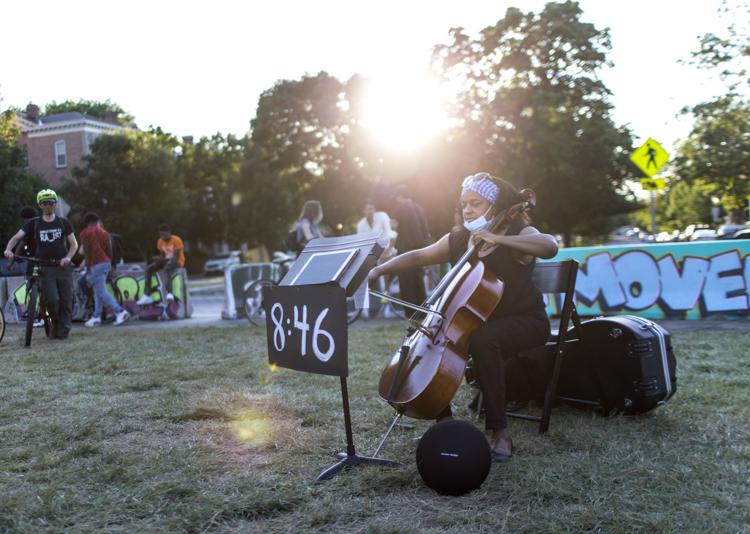 A performance and gathering space
It is impossible to prove, though realistic to imagine, that more Black Richmonders have set foot in Marcus-David Peters Circle over the past month than in the previous 130 years.
Jones said the gravitational communal presence could outweigh the need for art.
"It's kind of cool to see people out there playing basketball, barbecuing and eating, picnicking and taking pictures," he said. "It's open space, and I don't know if any one piece of artwork should over occupy public space like that.
"Whatever we do, I want space where people can gather. I want space where people can share, celebrate and commemorate whatever Richmond means to them. But most importantly, it has to be a community."
Klein and Criqui agreed that whatever physically or visually replaces the statues is far less important than how the space is used. While they were talking from their table at the edge of the outer circle, a demonstrator carrying a chess board walked up to them and offered water and snacks, thanking them for their art.
"Keeping Marcus-David Peters Circle a space for the community is the thing that sticks out to me," Criqui said. "And space for art. There have been musicians out here. There have been people feeding each other, painting."
One of the residents said she has let numerous protesters into her house to use the bathroom during the past month. Although she, her daughter and the other resident stressed they'd rather not have a concert venue in their neighborhood — nor would it be logistically feasible for the area — they would like for the space to be a "place of community."
The three Monument Avenue residents, like demonstrators, hope that additional seating is added to any section of the street with greenery, providing enough space to be relatively safe from traffic.
"Living here is not like living on any other street in the Fan, or any street I've been on, because people treat this street like it's a public park," she said. "I love that, and I love that part of Monument. And to me, that's what I would like Monument to stay and grow to be even better at."
Almore hopes that the circle, specifically, can be used as an outdoor gallery for performance pieces such as her own. A music teacher, she plays the cello for eight minutes, 46 seconds — a timespan that has become symbolic of police brutality, initially reported as the length of time former officer Derek Chauvin knelt on George Floyd's neck in Minneapolis.
"I want to see this space turned into a park, a concert space, a place where there's not permanent sculpture installations but a rotating gallery," Almore said. "Maybe a stage in the middle, dance, concerts."
She mentioned legendary artist Christo, who specialized in massive installations, as an example of the sort of work she'd like to see on display not only at the circle where the Lee monument stands, but perhaps even throughout Monument Avenue.
Christo died on May 31 at the age of 84. His website says the artist aimed to help viewers "see and perceive the whole environment with new eyes and a new consciousness." His first large-scale work was "Wall of Oil Barrels," which stacked 89 barrels to block a city street in Paris.
It was an expression of his and fellow artist Jeanne-Claude's view on the Cold War and Berlin Wall (then under construction), a divisive structure limiting freedom and mobility.
This sort of evolution in perception is what Almore sees playing out in Lee's shadow. She likened the Lee statue and spray paint-coated pedestal beneath to the Berlin Wall.
As a firework sparked not far behind her one night, Almore looked up at Lee, eyes squinted through the montage of lights painting the circle at nighttime — rainbow-colored rims on cars; the blueish-white gleam from the projector that, that evening, featured Harriet Tubman's face; golden glints from sparklers.
She began listing all the aspects of what she called a constant performance piece playing out in the circle — picnic tables, tents, a basketball hoop, soccer games, dancers, poets, singers, and so on.
"This is performance art. This is a way of giving all the racists in the town a big finger," she said. "So I think it's great, this is an ongoing art installation."
---
Leaving the current pedestals empty
For Jones, the conversation surrounding what will replace the statues must be secondary to the societal inequities outlined by the Black Lives Matter movement and ongoing demonstrations.
"Right now the goal is not the monuments, it really wasn't," he said. "The goal is how can we stop violence on people of color — Black men, Black women — by the police.
"The statues are just in the way because it's symbolic, it represents a core of white supremacy that runs through legislation, that runs through all of society, it's just systemic. And we've got to begin that process of unraveling it."
Many demonstrators echoed his sentiment. And resoundingly, the most prevalent response from demonstrators when asked how Monument Avenue can be reimagined was the view that the bases should remain, but left as they are — empty.
"I like the idea of that just being gone, and then the absence says more than ...  replacing it could," Klein said, pointing at the Lee statue from behind his and Criqui's projector. "There used to be something here, then we grew and became better, we changed. That is really hard for people, cultures and cities to do. I think that would be the ultimately powerful statement."
Although the Monument Avenue residents said they hoped the bases are left empty for a short period so that the city can take a breath, the last thing they want is for them to remain empty indefinitely. They hope to see a direction from the city as soon as possible once input from the community is gathered, even if the plan is just to convert the monuments to green space.
When asked what he thought should go in place of the Confederate figures, a man who identified himself as "Cheeks" looked up at Lee, shaking his head. He glanced at the art beneath his feet and all around him before responding adamantly.
"Nothing. I don't want any representation of anything that offends someone," he said, calling the act of replacing the statues with new figures "vindictive."
"Make this little park like what we're doing now. Why do you have to put something else there?"
Martin suggested that reimagining Monument Avenue doesn't have to be limited to the spaces that previously housed Confederate iconography. The street is miles long, with a median extending well beyond the statues.
It's also an identifying characteristic of Richmond, offering a unique venue to comment on the social change that has taken place.
"How do we want this street to express who we are as a community going forward?" Martin asked. "Just because the monuments are gone doesn't mean that we are a better place."