It's as if the ancestral spirits of the men and women whose names were called out into the thick, muggy air cupped their protective hands over Brown's Island on Wednesday morning, just long enough to shield from the steady rain Richmond's newest symbol of freedom.
Nearly a decade in the works, the Virginia Dr. Martin Luther King Jr. Memorial Commission unveiled its Emancipation and Freedom Monument to an enthusiastic, if not soggy, poncho-wearing crowd Wednesday morning.
Created by Oregon-based artist Thomas Jay Warren, the monument features two 12-foot bronze figures: one of a newly freed man, his chains broken from his wrists; the other a woman holding an infant in one arm and her other hand holding a page that reads "January 1" and the Roman numerals for 1863, when Lincoln's Emancipation Proclamation took effect, freeing slaves in the South.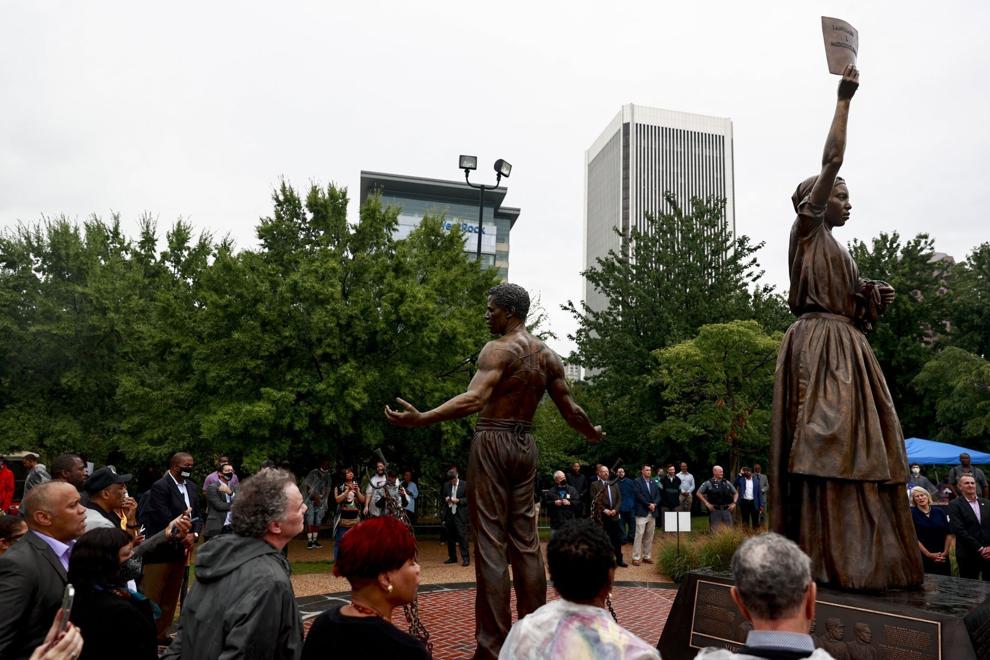 The base displays the names of five African American Virginians who fought against slavery — Gabriel, Nat Turner, Dred Scott, William Harvey Carney and Mary Jane Richards Bowser — and five who fought for equality: the Rev. Wyatt Tee Walker, John Mercer Langston, Lucy Simms, John Mitchell Jr. and Rosa Dixon Bowser.
The monument stands at the end of the Fifth Street pedestrian bridge.
The morning's rain lifted moments before the unveiling, but not before speakers welcomed the crowd and the rhythmic drum beats of the Elegba Folklore Society led an introductory ceremony honoring the men and women whose sacrifices were memorialized in towering bronze.
In celebration of the 150th anniversary of the Emancipation Proclamation, in 2012 the Virginia General Assembly got the project off the ground with a $500,000 appropriation. In the following years, Warren was selected as the featured artist and throughout 2016 and 2017, the commission sought public comment on the individuals who should be featured on the base. Warren's artwork was approved in 2019 and created in 2020.
Richmond Mayor Levar Stoney spoke Wednesday, saying that Richmond and Virginia have come a long way and while there's work left to do, "we are moving in the right direction ... moving forward to a more inclusive and more equitable future."
"We do so not just by erecting powerful symbols of bronze and granite," he continued, "but by taking concrete steps in our commonwealth and in our city to reform the laws and the systems that institutionalized the racism and oppression that dimmed the American dream and bound people of color for generations and generations."
What better place to do that work, Stoney said, than Richmond, "once the capital of the Confederacy and the capital of the Lost Cause, [but] no longer is that Richmond — together we are building a capital of compassion, a capital of opportunity, a capital of hope."
He added: "The enslaved built this city with their hands. We will rebuild this city with our hearts."
Commission member Lauranett Lee, a historian and visiting lecturer at the University of Richmond, said slavery denied many generations of people the decency of basic human rights, but cautioned that there are many today who still feel fear because they're seen by others as "marginalized."
"We hear so much about freedom now, but how many of us still do not have that freedom?" she said. "We know so many who live with fear and want — they are considered marginalized," citing such examples as people of color, members of the LGBTQ community, people with disabilities, women, the poor, homeless people, children, the illiterate and others.
"But those of us who others consider marginal don't think of ourselves as marginal — we, too, deserve all that America has promised," Lee said. "As we remember this past, we have to remember that we must move beyond that past to a better day ... [and] we have to work continuously to make sure that that freedom is afforded to all of us."
After the unveiling, commission member Ronald L. Carey stood by the monument with tears in his eyes.
Years of planning and discussions — how the monument would look, how it would be received, how everyone would feel about upon actually seeing it — led to Wednesday, he said, and a moment that "means that there is some level of recognition with regard to the changes that we have come through, the changes that are now taking place after hundreds of years ... and it's not over."
"Be concerned about the entire history ... be concerned about the entire history of mankind," he continued. "There are those of us here who are related in more ways than one that we don't know about ... because our families were destroyed or separated."
He said he encourages everyone to take a broader look at history's narratives, as he's learned to do through his work with the commission.
"The monument," Carey said, "is just one visible presentation of that."