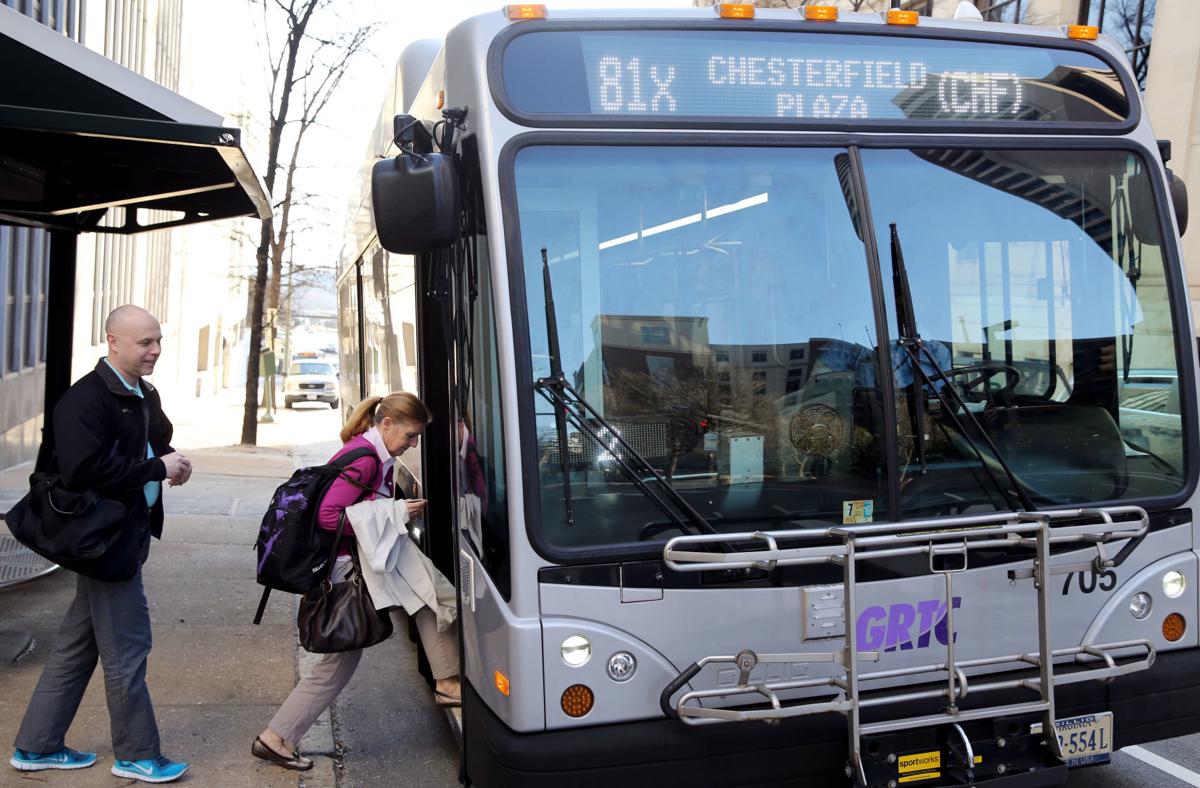 A bus line launching along the Jefferson Davis Highway corridor Monday fills a long-debated void with service that three in four residents polled last year said would benefit the community.
The new GRTC Route 111 bus line will run 7.6 miles, from just north of the Chippenham Parkway interchange to John Tyler Community College in Chester. The expansion is unlike anything Chesterfield County has seen in the three decades it has held a 50% stake in the transit company.
Chesterfield officials have historically declined to allocate funding for more than a few bus routes in its suburban jurisdiction. One of the county's representatives to the GRTC Transit System board cited an increase in the number of Chesterfield's poor among factors driving the change, championed by transit activists, academics and business leaders.
"Chesterfield in general has seen its poverty rate increase. And lower-income residents tend to congregate around Route 1," said GRTC board member Gary Armstrong. "They need access to more services."
Studies published by Virginia Commonwealth University and the Greater Washington Partnership amplified the call to improve transit access in the region toward the end of 2018, about six months after GRTC launched a bus rapid transit line in Richmond.
Both reports noted that a lack of service in Chesterfield limited low-income residents' access to jobs. Many live along the strip of Jefferson Davis that Route 111 will serve. About one in three respondents to a survey last year conducted by county consultants said they would likely use buses if they were available; nearly three in four said having bus service in the corridor would be good for the community.
The line will operate every 30 minutes, Monday through Saturday, from 5 a.m. to 7 p.m. weekdays and 7 a.m. to 7 p.m. on Saturday. The one-way fare is $1.50; it's $1.75 for a ride with one transfer. Chesterfield will match a $2 million Virginia Department of Rail and Public Transit grant with $500,000, which will support the service for a two-year trial period.
Chesterfield Board of Supervisors Chairwoman Leslie Haley said county officials will be closely watching to measure its use.
"We're going to continue to study it to see whether it's serving the needs of residents," she said. "We need to be intentional with a bus line that meets the needs of the corridor."
The Greater Washington Partnership, a consortium of CEOs stretching from Richmond to Baltimore, includes Dominion Energy CEO Thomas F. Farrell II. Farrell was one of three corporate leaders who oversaw the Capital Region Blueprint for Regional Mobility.
The partnership report found that 28% of people in the Richmond region and barely half of low-income households live within a quarter-mile of a bus stop, resulting in "clear disparities" by income and race. The report recommended that GRTC work with Chesterfield leaders to expand reliable fixed-route service in the county.
The VCU Center for Urban and Regional Analysis report credited the new Pulse bus rapid transit line, which travels through downtown Richmond between Willow Lawn and Rocketts Landing, and a recent expansion of service in Henrico County, with creating better access to jobs in the region.
But it found that some areas, particularly in the city's East End and communities south of the James River, lack adequate access to transit and jobs.
Jefferson Davis Highway, Hull Street and Midlothian Turnpike outside Belt Boulevard, according to the report, still had some of the "lowest connectivity to public transit services" in the area, complicating economic disparities.
"This is probably just as important as the Pulse or the new bus to Short Pump" in Henrico, said Fabrizio Fasulo, director of the VCU Center for Urban and Regional Analysis.
Fasulo said gentrification is driving many demographic changes in the areas outside of the city.
"There's been some positive consequences, such as a higher median income and new business. But neighborhoods in the city are becoming expensive," he said. "People are moving into the surrounding counties. There's been an increase in poverty and a great need for services."
The Chesterfield Board of Supervisors last month voted to study expanding fixed-route bus service in the Midlothian Turnpike corridor from west of Chesterfield Towne Center to just past the city line.
Three GRTC lines currently cross into Chesterfield. The county subsidizes one of those, the Route 82 Express, which runs along Powhite Parkway, operates only during weekday peak hours and has just one stop in the county.
Armstrong said the Chesterfield Link system, a commuter bus service that has mostly fallen away since its launch in 2001, suffered low use and a high ridership cost that slowly became more expensive over the years. He said lack of support from the county government eventually led to its demise.
But GRTC officials are hoping it will be able to draw new riders to its buses.
Carrie Rose Pace, a spokeswoman and marketing director for the transit system, said there's been a major focus on reaching out to the corridor's Latino community, with advertisements in Spanish and events with Spanish speakers.
"This corridor has a pretty significant population that has a limited English proficiency," she said. "There's conversations I've had with families where it was mostly children translating for us."
Oscar Contreras, who broadcasts a Spanish language show on AM radio station WBTK, said the outreach is working.
"There's been a sense of excitement for people who live or work there," he said. "What makes this special is that they're reaching out with intent."