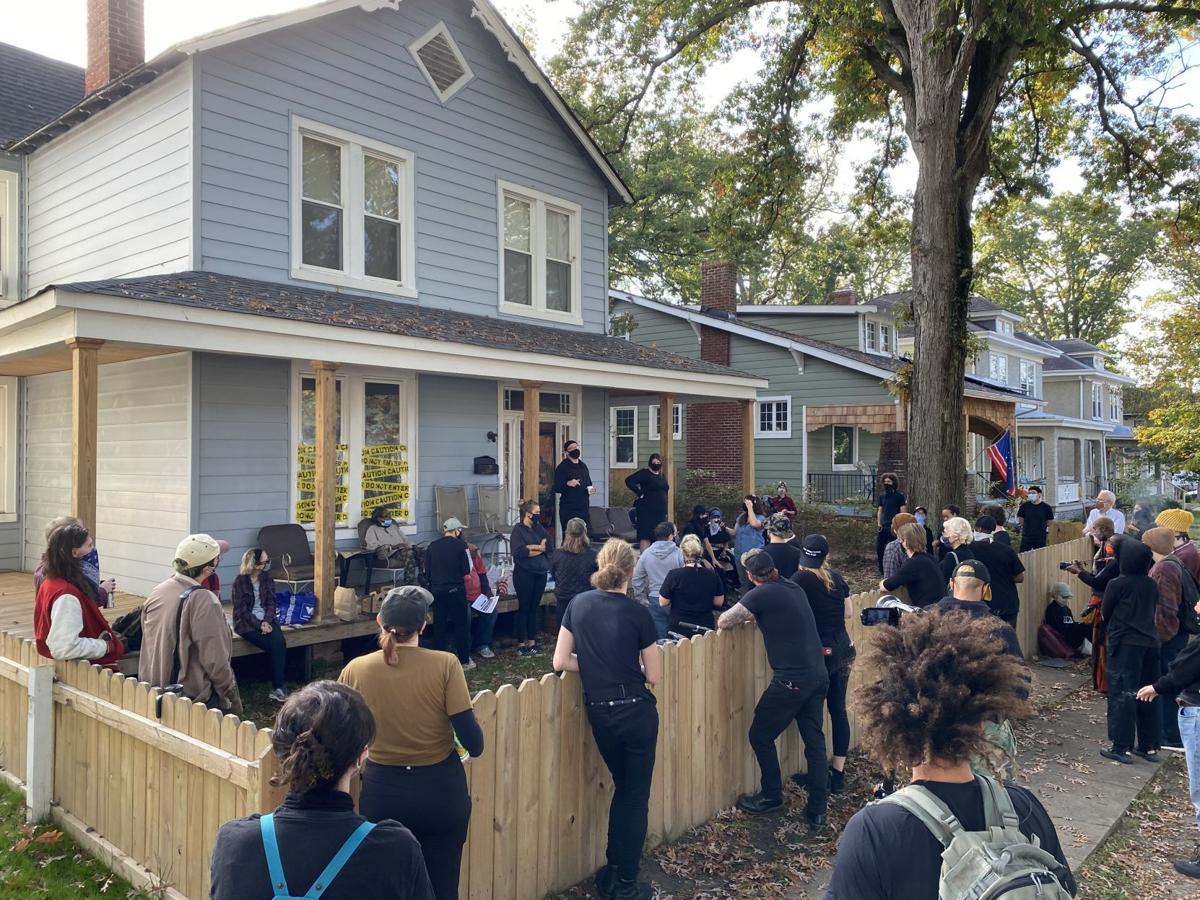 Fifty people stood outside of Katrina Pitt's North Side home on Friday, ready to stop her from losing it.
They gathered for an emergency eviction defense, a last-ditch effort to keep Pitt's landlord and sheriff's deputies from evicting her from the property that morning. Tenant unions and activists have employed the tactic in other cities this year, confronting landlords who pursued evictions despite legal protections meant to keep tenants sheltered during the COVID-19 pandemic.
Pitt, 56, faced eviction after a judge ruled earlier this month that she owed a balance dating to August, when she fell behind on her $525 monthly rent. She took the required steps under a federal moratorium to stop the eviction, but feared her landlord, Gordon Estrada, would remove her anyway.
Word of Pitt's situation spread via a flyer that circulated on social media this week. It summoned anyone willing to take part to the corner of North Avenue and West Crawford Street. The flier listed potential steps those gathered could take if the eviction unfolded, like lobbying the sheriff or landlord to cancel it or physically occupying the home.
"I believe if that man showed up right now and tried to get her off this property, you all wouldn't have allowed that happen," said Henry Loftin, one of Pitt's roommates, who thanked those who had assembled outside the Brookland Park home.
A judge ordered Pitt's landlord to stop the eviction shortly before deputies were originally scheduled to carry it out. After returning home, she sat on her porch fighting back tears.
"All these people came out to support me," she said.
Those gathered said they had prepared for a confrontation.
"We would have done whatever [Pitt] wanted us to do, whether that was to help her get her stuff out and help her get into a motel, or block the eviction," said Adrianna Carpenter, a tenant rights activist who helped Pitt with her case and joined others outside her home.
Pitt has a disability and receives a monthly Social Security check, but the sum leaves little room in her budget for other expenses that arise, she said. She and Loftin, who share the house with four others, said it is infested with bedbugs, and Estrada had not done enough to get the problem under control. Still, with nowhere else to go, Pitt said it was her only option.
Estrada declined to comment after Friday's hearing.
Under the moratorium, tenants who sign a declaration — under penalty of perjury — can halt their eviction through Dec. 31. Landlords can face steep fines or even jail time for not complying.
During the hearing, Estrada said he had received a copy of Pitt's declaration, but said he thought he could proceed with the eviction because of the prior court ruling granting him possession on Oct. 15.
"I thought I was entitled to the right to have her evicted," he said.
He also cited "hygiene" concerns he had with Pitt, as well as his belief that people were staying in the house who were not legally allowed to under Pitt's lease. Pitt said those claims were not true.
Confusion swirling over which protections apply to whom and how have tenant advocates concerned. Without a blanket ban on evictions, they say most tenants won't know what to do to keep shelter through the pandemic.
Pitt didn't, until she met Carpenter outside of the courthouse, where she offers advice and support to tenants facing eviction. Pitt does not have a car, so Carpenter drove Pitt to her landlord's home to drop off the declaration.
When no word came that the eviction was canceled, they requested the emergency hearing to alert the court of Pitt's declaration.
The decision Friday bought Pitt time. During the proceedings, Judge Tracy Thorne-Begland warned her that the moratorium wouldn't necessarily protect her from Estrada's questions about whether she was complying with the terms of her lease. Those could yield another eviction filing.
Pitt said that for now, she hopes she can find help to settle her balance.
(804) 649-6734
Twitter: @__MarkRobinson