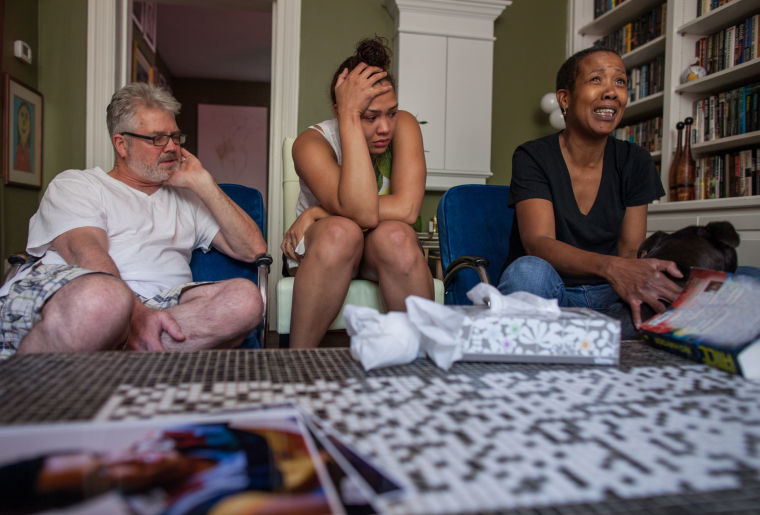 Jett Higham had only been in Richmond for six days, and he hardly knew a soul.
On Tuesday night, the 18-year-old son of two educators who split time between Richmond and New York had just finished a family dinner at his parents' home in Jackson Ward when he decided to walk to the store for candy and a drink at about 10:45.
A half-hour later, Higham's mother, Toni-Leslie James, started texting him: "Where are you?"
Higham didn't show up by the next morning. But the police did.
"He walked three blocks away and he was dead while we were still sitting at the dining room table," said James, a Broadway costume designer and a theater professor at Virginia Commonwealth University. "This is a life wasted."
Higham was shot in the 00 block of East Marshall Street in what police believe was a robbery gone bad. Officers responded to the scene just before 11 p.m. and found Higham in an alley with a gunshot wound. He died at the scene.
That night, according to his family, he was only carrying $4 and an iPhone.
A talented photographer and lacrosse player, Higham had just learned that he would be able to finish one final economics class from Richmond to complete his high school degree from the Lower Manhattan Arts Academy in New York.
"This wasn't just some street kid who got in a beef with somebody and got murdered," his mother said. "We don't know why our kid's dead. This kid came from a home where he was loved and he was watched and he was supported. He was just gorgeous. … He was a typical 18-year-old who just had everything in front of him."
On Thursday, Richmond police announced that three arrests had been made in connection to Higham's death.
Myles Q. Sanders, 20, of the 100 block of East Clay Street; Billy W. Reynolds, 18, of the 2100 block of Dinwiddie Avenue; and an unidentified 16-year-old male have each been charged with one count of conspiracy to commit murder.
Two of the suspects were apprehended within 15 minutes of the shooting, police said, and a third was identified and arrested late Wednesday night.
Higham didn't know any of them, according to his family. "He didn't know anybody in Richmond," James said.
Higham, who stood 6 feet 3 inches tall, had been jumped in New York in February, according to his parents, who think the incident may have wounded his pride. But they still can't fathom what might have happened Tuesday night to prompt fatal violence.
"What is it that was said and done that was so bad that they had to shoot him?" said Higham's father, David Higham, theater manager and technical director at Poly Prep Country Day School in Brooklyn.
"I just want them to pay the consequences for what they did," James said. "They did not have to kill him."
James said she had warned her son about walking around at night with headphones on.
"He ignored it," she said, "because he was 18 and proud and beautiful."
James said the family bought their house on West Clay Street in 2009. They like the neighborhood, and they hadn't encountered issues with crime before.
They thought crime would be a bigger threat in New York, where they have had an apartment for decades and where Jett was born.
To fight street crime, James said, Richmond police should have more officers on foot patrolling a particular beat.
"I have never seen a beat cop in Richmond," James said. "I don't want to leave my house, but my son was just murdered in the street. … It's unbearable. And we have to live with this for the rest of our lives."
Richmond police did not respond to requests for comment.
On Thursday afternoon, Higham's parents and his older sister, Cosima, gathered around a laptop to watch videos of him.
The background image on the computer was a photo of Higham displaying a tattoo of a Masonic pyramid and eye on his arm, which police used to help identify him.
In one video clip, a smiling Higham began to demonstrate a science experiment with a siphon. As things started to go wrong and the narration dissolved into expletives, Higham's family members burst into laughter.
"That's him," James said.
"He was just a wonderful kid that didn't deserve to die," said his father.
Higham attended Fishburne Military School in Waynesboro for a year, but he never went to school in Richmond.
He had planned on going to community college for a year, but his dream was to go to Syracuse University and play lacrosse.
His mother thought he could have thrived studying photography and film at VCU.
"He just picked up a camera out of nowhere and it was amazing," James said.
He shot portraits, took artistic photos of garbage floating in canals and did a series at Richmond's Hollywood Cemetery.
Higham had recently been to two proms and had a girlfriend in New York. His mother said it was the first time he was in love.
He spent his first few days in Richmond painting a home office and working in the garden, but he was a bit restless being here.
A few hours before he walked out of the house, Higham posted a message on Facebook, asking if he had any friends in Richmond.
Anyone with information about Higham's killing is still asked to call Crime Stoppers at 780-1000 or text Crime Stoppers at 274637, using the key word "iTip" followed by the information.