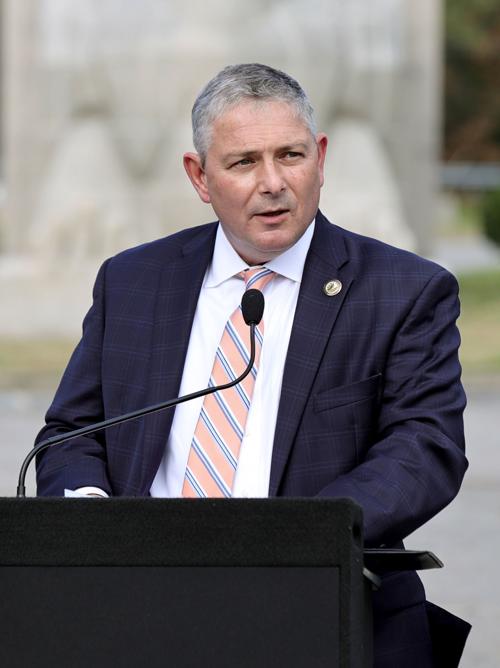 This year started on a high note for Henrico, marking one of the most fiscally sound years for the county. Eight days after presenting the fiscal 2021 budget in March, the first COVID-19 case was reported in Virginia, changing everything, including the upcoming budget.
After slashing nearly $100 million, including nixing employee raises, the Board of Supervisors approved a $1.3 billion budget in May.
Late last week, nine months after being hit with the COVID-19 reality, Henrico County officials spoke — in a series of virtual videos — of high notes and successes the locality managed during this unprecedented year in the annual state of county address.
The county managed not only to earn nearly $15 million in sports tourism over the summer, but pushed ahead with development projects anchored in further developing Henrico's sports tourism industry, including moving forward with turning part of the Virginia Center Commons into an indoor sports complex.
In September, the county, through a public-private partnership with the YMCA of Greater Richmond, opened a community pool in the Fairfield district, that not only will host local swim team practices and regional meets but teach county second-graders how to swim.
Although a privately funded development project, the recently announced GreenCity, a mixed-use development anchored by a 17,000-seat sports and concert arena, also fits in with the focus on sports tourism dollars.
Unlike last year's state of the county address, held at the Short Pump Hilton where about 200 business and community leaders gathered, this year's was virtual, broken into a dozen videos and released Friday.
Following an opening video from Henrico County Manager John Vithoulkas, the county covered public health, including the coronavirus, the privately funded GreenCity development project, sports tourism, the Henrico County Public School System, the annual budget, private and public partnerships, economic development, community needs, public safety, infrastructure and development.
"As I reflected on our accomplishments of this past year, I was struck by how much connections are part of what we do. These connections are even more critical in these challenging times when we're often physically separated. This really resonated as a theme for 2020, how everything we do is about strengthening Henrico's connections," Vithoulkas said.
To tackle coronavirus, Henrico did not think to go at it alone. In early March, the regional incident management team was formed, comprised of public health officials from five localities: Henrico, Richmond, the counties of Chesterfield, Hanover and Goochland.
"One of the greatest blessings of this whole thing is how swift and decisive Henrico was in its response from declaring a local emergency at the very front end of this, to being very proactive about pursuing testing opportunities and in every way imaginable supporting the health department and the larger emergency responses," said Dr. Danny Avula, who leads the Richmond and Henrico health districts.
Only in the planning stages, Henrico officials are pursuing a private-public partnership to build a $12 million detox and recovery center to help adults struggling with substance use disorder.
Looking to establish a 24-hour center, where a patient could come for a couple of weeks and develop a treatment plan, the county will partner with the community to operate the detox center, said Laura Totty, executive director of the Henrico Area Mental Health and Developmental Services.
"We know in Henrico we can't do it alone, that we really have to have the community working together," Totty said.