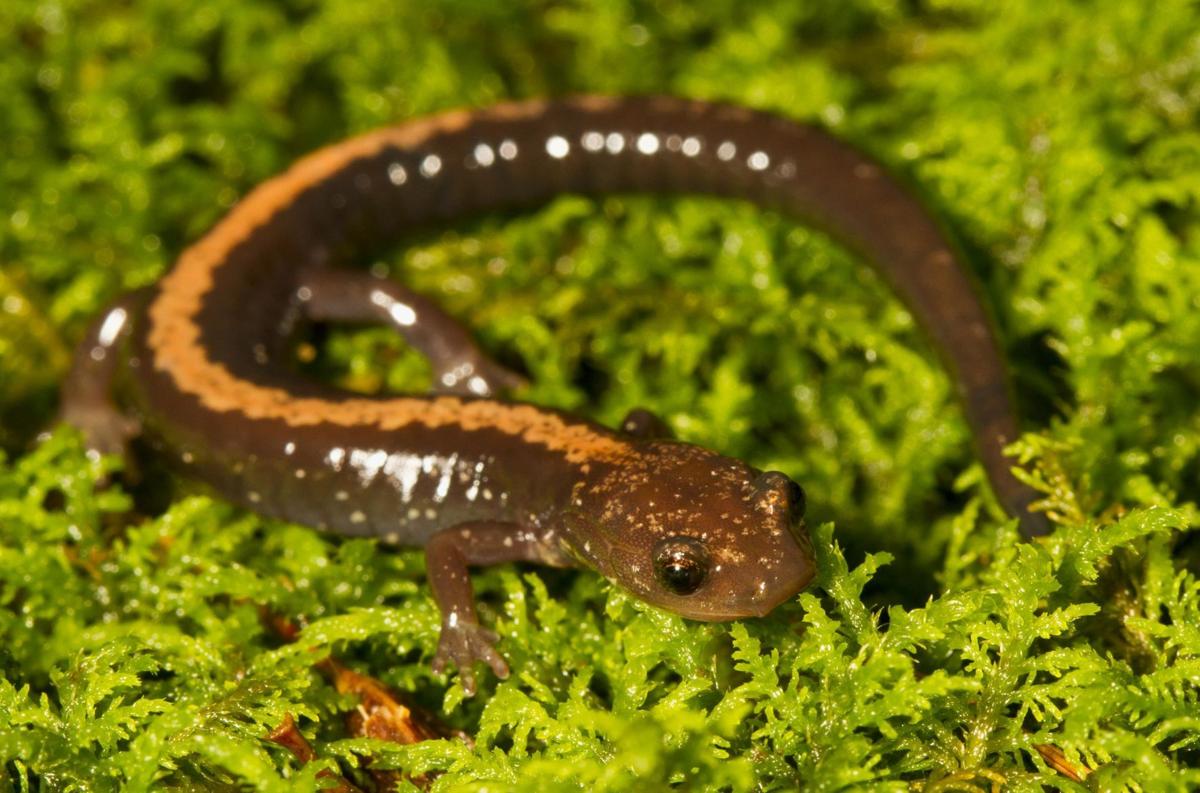 We asked our friends at the Virginia Museum of Natural History in Martinsville to spotlight something fascinating about our state. This remarkable little critter has carved out quite a niche.
The endangered Shenandoah salamander (Plethodon shenandoah) faces a lot of challenges, and it's literally an uphill battle in the woods of Virginia.
Small footprint: The salamander is found on only three mountains in Northern Virginia's Shenandoah National Park (Hawksbill, Stony Man and The Pinnacles). But the focus narrows further: It can be found only on isolated areas on those mountains – the north-facing talus slopes, which are formed by an accumulation of rock debris.
Smaller, still: And even within those slopes, you'll find the Shenandoah salamander only in scattered, moist microhabitats. That's because talus slopes are usually pretty dry, while salamanders need plenty of moisture.
Pushed out: Why such an odd habitat? The answer is the red-backed salamander (Plethodon cinereus), which is common in Virginia. Red-backed salamanders live in the more heavily forested areas of Shenandoah National Park, and they're aggressive and territorial. So they have pushed the Shenandoah salamanders out of the forest and onto the talus slopes.
Hanging on: Shenandoah salamanders have a slightly higher tolerance for dry conditions than red-backed salamanders do, so they're safe on the talus slopes ... for now.
Another threat: But erosion is a constant issue on talus slopes, and the weathering of the slopes will eventually lead to soil formation. That leads to an increase in moisture, which will entice red-backed salamanders – and could further threaten the Shenandoah salamander.
And another: To make matters worse, invasive gypsy moths have been found in Shenandoah National Park. The moth caterpillars feed on tree leaves and can cause widespread defoliation. This is bad news for the Shenandoah salamander, because the shade from these trees helps to maintain the ground moisture level in the salamander's habitat.
And yet another: Invasive hemlock wooly adelgids, which are related to aphids, are also a threat. These insects are killing hemlock trees in the park, which increases the number of hemlock needles in the soil, which makes the soil more acidic. Salamanders are very sensitive to acidic soil.
A balance: It hopefully will be a long time before these issues truly threaten the Shenandoah salamander. In the meantime, this resilient little species truly underscores how precious – and precarious – life in the wild can be.