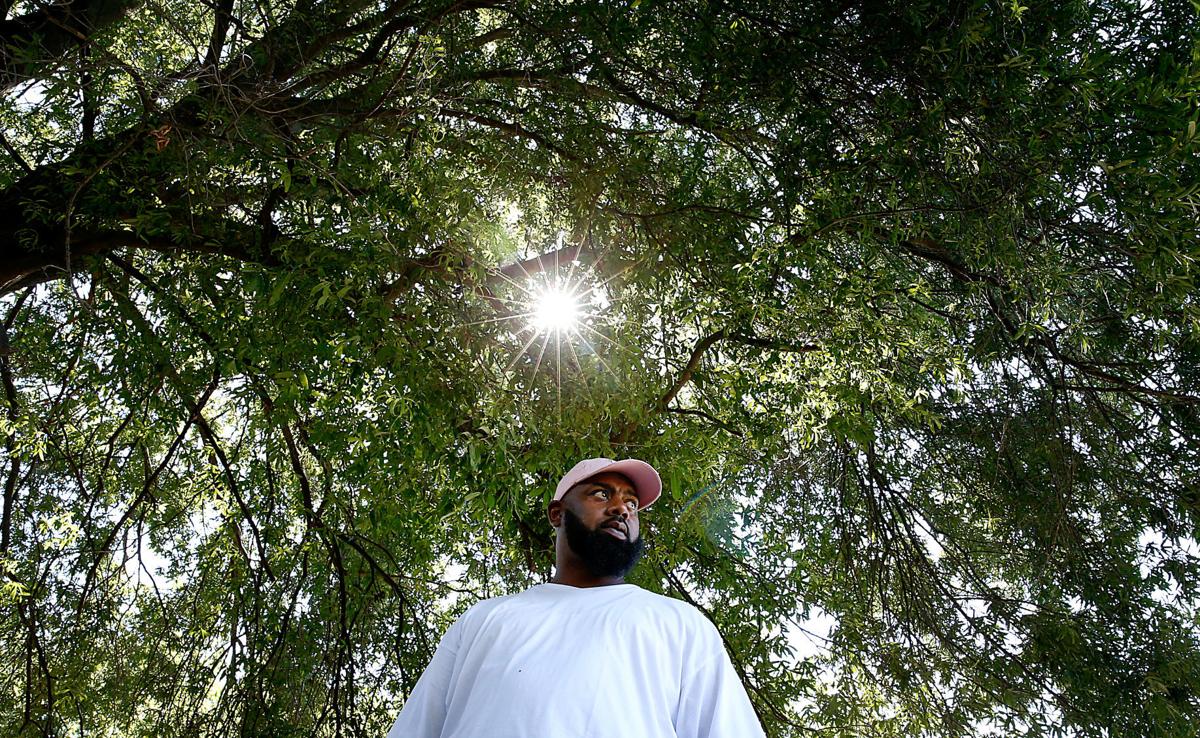 At the start of 2020, Isiah Bagby started thinking of opening his own sober-living home to help others struggling with substance-use disorder.
He was bouncing back from a drug possession conviction, and living in a True Recovery RVA sober home he helps manage. He was 19 months into the housing and recovery program, and ready for his next chapter.
Then the COVID-19 pandemic arrived. Jobs disappeared. Some of the guys he lived with who had moved in to focus on staying well weren't sure they could keep paying the $140 each week it took to stay.
"There was a panic. ... There was fear and pressure," Bagby said of others in his house and the larger recovery community.
Some in recovery became bored and could no longer stand being trapped in the house. Many of the men living in the four-bedroom, tri-level home in Henrico County left and fell into their old ways.
Data from law enforcement agencies in Richmond and the counties of Chesterfield, Hanover and Henrico shows a nearly 60% increase in overdose cases when comparing the first six months of 2019 to the same period this year.
In 2019, from Jan. 1 to June 30, there were 446 overdose cases; this year, there were 710. Fatal overdose cases in the same period increased 47%, from 70 in 2019 to 103 this year.
The overall number of overdose cases in each locality could be even higher than what police report.
While Richmond police recorded 238 overdose cases for this year in this six-month span — 123 more than last year — emergency calls for drug overdoses increased from 699 in the first half of 2019 to 934 through June 30 in 2020, according to the Richmond Department of Emergency Communications.
Police and emergency communications officials did not provide an explanation for the discrepancy.
Since 2007, overdose deaths in the Richmond area have tripled. In 2007, there were 90 deaths; in 2019, there were 280, according to data from the Virginia Department of Health. Statewide, fatal drug overdoses reached a 13-year high with 1,617 deaths in 2019.
With an economic recession looming, Henrico initially cut back on plans to spend $840,000 on new addiction recovery and jail diversion initiatives in this year's budget.
After further consideration and with the assistance of a state grant, however, the county set aside $184,000 in its 2020-2021 fiscal year budget for recovery housing scholarships and for a new case manager position in the county's mental health department.
Tony McDowell, Henrico's deputy manager for public safety, said the scholarship funds, which pay for people to stay in recovery homes run by such organizations as True Recovery RVA and the McShin Foundation, will be administered by the mental health department for people facing incarceration or who are voluntarily seeking addiction recovery services.
"It's kind of a way to give a helping hand in a sober environment where they can be around other people in recovery," he said.
The idea to allocate funding to the Virginia Association of Recovery Residences and the Henrico-based McShin Foundation came out of the Recovery Roundtable, a special committee the county formed last year to study alternatives to incarceration in county jails already dealing with overcrowding.
The idea of funding the scholarships, McDowell and others have said, is not just giving inmates an alternative to incarceration but also helps those who might otherwise return to homes or communities where their troubles began.
Though some sober-housing organizations have been active in the Richmond area for over a decade, the county started working with them closely and providing financial support only in the past two years.
"It feels like we're solid partners now," said John Shinholser, president and founder of the McShin Foundation, of the county's increased support. "It's been a long process developing trust. We have shown our mettle."
In addition to the scholarship funding, the county is also reforming an addiction recovery task force, altering positions in the sheriff and prosecutor's office for the county's jail diversion efforts, McDowell said.
For Bagby, whose brother is state Del. Lamont Bagby, D-Henrico, working with others has helped him maintain his desire to stay clean, and inspired him to plan for the opening of his own sober-living home.
"I feel like helping them is helping me at the same time," he said. "It keeps me busy. I feel good about myself at the end of the day."
But the past few months haven't been easy, seeing new friends leave as fast as they came. Bagby, Shinholser and the director of True Recovery RVA reported an increase in relapses and overdoses.
When daily peer meetings and counseling sessions shifted online, the loss of human, face-to-face connections added to the list of barriers keeping people from holding one another accountable.
David Rook, CEO of True Recovery RVA and chairman of the Virginia Association of Recovery Residences, estimates that about 25% of the people in his homes have relapsed since the start of the pandemic.
Some of them have remained in the program as in-person group meetings resumed in late June. He said the support of other nonprofit charities and faith-based organizations has also helped people in the program pull through in recent months.
"It absolutely would have been worse," he said. "If they weren't tied into the recovery community, there would have been a lot more of a struggle."
Even if some people leave the house or enter the program to simply get out of jail, Bagby said, creating more opportunities for people to enter recovery housing programs is essential.
Bagby said he had entered the True Recovery program nearly two years ago thinking it would just buy him time out of jail. Through that time working on his recovery and helping his housemates, however, he's had a change of heart.
He wants to live for others; to help them find their own paths to a better life.