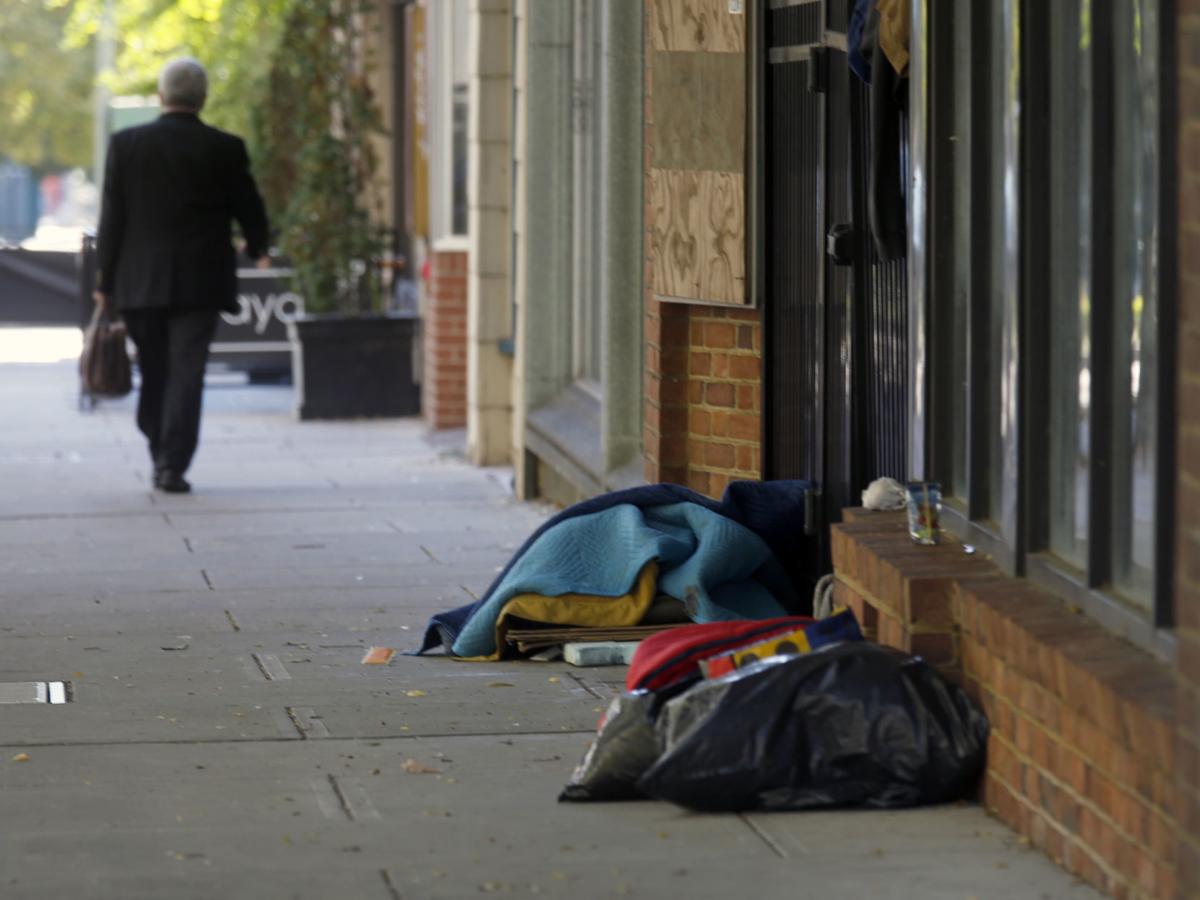 A young man bundled up on a bench on East Broad Street.
A middle-age woman tucked in a sleeping bag outside of a church in the Fan.
Dozens sleeping in the city's emergency shelter, and still more outside it in tents.
These and others were recorded in the biannual census of the Richmond region's homeless population, conducted late last month. Preliminary data shows the number of people in the region who stay in shelters or sleep outside climbed for the first time since 2011.
The number jumped from 497 people in January 2019 to 549 last month. The 10% increase is an outlier for a region that has cut the number of people who are experiencing homelessness in half since 2009. That year, 1,150 people were recorded.
"The focus on serving households with more complex needs and higher barriers to housing is the primary driver of this increase," said Kelly King Horne, executive director of Homeward, which coordinates the region's homeless services.
In 2018, the region's network of homeless service providers began targeting its efforts to people who had been living outside the longest, King Horne said. The aim is to get people into permanent housing while addressing other factors that sometimes accompany, or lead to, homelessness, like substance abuse or mental health issues.
The census, known as the point-in-time count, is federally mandated in the winter. Richmond's network of providers also conducts a summer count on an annual basis. The results help determine the amount of money the region will receive from the U.S. Department of Housing and Urban Development to combat homelessness.
This year, Richmond received $4.5 million. Most of it went to a permanent supportive housing program, which targets people with long histories of homelessness or disabilities.
Participating in her 27th count, King Horne joined Taylor Garrett, an outreach worker from The Daily Planet, at 3:30 on a Thursday morning.
Theirs was one of several teams that fanned out across the city to check known spots where people sleep outside. Teams also canvassed Chesterfield, Henrico, Hanover, Goochland, Powhatan, New Kent and Charles City counties.
Cruising the deserted city streets, King Horne and Garrett scanned alleys, doorways and construction sites. When they spotted someone sleeping outdoors, they pulled over, attempted to wake the person and asked whether they would participate in a short survey.
The questions are meant to capture a snapshot of the person's situation: When was the last time you were permanently housed? What caused you to lose housing? Do you have an ID? A disability? Children?
The approach typically has a high acceptance rate. It can nudge people toward help that they may not have known about in the past, King Horne said. It also gives the nonprofits valuable data to gauge whether existing services and funding are addressing the most critical needs.
One woman who agreed to take the survey shared that she did not have Medicaid. Garrett gave her contact information to the woman and told her she could help her apply. Before leaving, Garrett also gave the woman a bag that included toiletries, bus passes and hand warmers.
Some are unwilling to talk. A man sleeping on a loading dock in Scott's Addition declined to speak with Garrett. Unless someone agrees to take the voluntary survey, they aren't counted in the census.
The count took place on Jan. 23, one of the coldest nights of the winter so far. A person who stayed in a hotel room or with relatives for relief from temperatures in the mid-20s could have been missed. However, King Horne said the likelihood that group would drastically change the count is low.
"We certainly miss people, but I think we have a sense from providers and law enforcement that we're not missing dozens of people."
All told, 331 people at privately run shelters, 130 people sleeping outside and 88 people in Richmond's cold weather overflow shelter were counted. Of those, 70 were children.
(804) 649-6734
Twitter: @__MarkRobinson