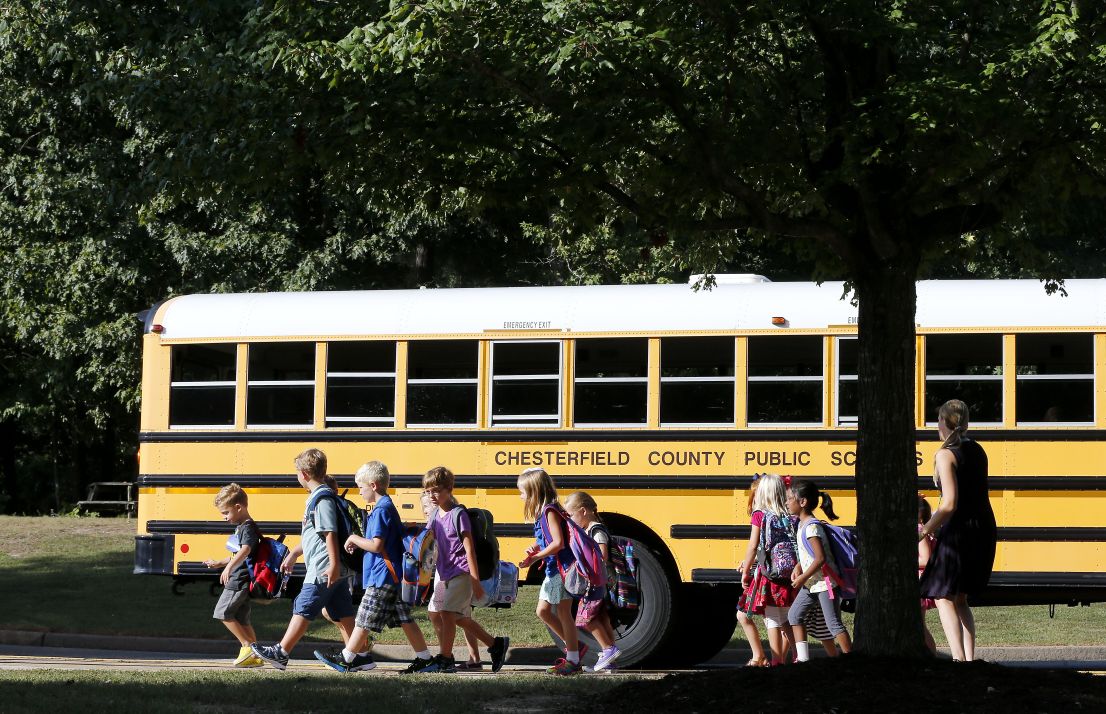 A majority of parents and students at a forum Tuesday on school start times in Chesterfield County seemed to favor making no changes to the district's current bell schedule.
Nearly 200 people attended the forum, where school administrators laid out the district's options for pushing back the high school start time, which, at 7:20 a.m., is the earliest in the region.
Speaking against the proposals, 14-year-old Monacan High School freshman Lucy Milo challenged the stereotype of the sleepy high school student.
"When we wake up early, we have more drive to do things," she said. "All of my friends completely agree with me."
Under the current schedule, the district's high schools open first. Most middle schools and a handful of elementary schools open after that at 8:10 a.m. Then, at 9:05 a.m., the remainder of the elementary schools open.
In response to research showing the benefits of later start times for teenagers, Chesterfield began exploring the issue in September. The American Academy of Pediatrics formally recommended middle schools and high schools start no earlier than 8:30 a.m.
Closer to home, researchers found Chesterfield teens are 30 percent more likely to crash their cars on weekdays than teens in Henrico County.
Administrators presented three possible changes to the district's bell schedule.
The first would simply push all existing start time back 25 minutes, with the opening bell at high school ringing at 7:45. That option would require eight additional bus runs, costing the district $680,000 to implement and an additional $371,000 annually.
The second option mirrored that, but maintained support for before-school programs, costing $1.7 million in startup costs and $1 million in annual operating costs.
The third option flipped elementary and high school start times, pushing high school opening bells back to 9:30 a.m. and moving elementary schools back to 7:45 a.m. That option would require 55 additional bus runs, costing $4.6 million in startup costs and $2.7 million in additional annual operating costs.
"We know what's best for our students," Superintendent Marcus J. Newsome said. "We don't have the resources to get what we consider to be the maximum option. The question is, how do we work with our resources and still provide an optimum solution?"
After a presentation, attendees broke into dozens of small groups to discuss the three options. After half an hour, the forum reconvened with a member of each group recapping its discussion.
Rebecca Huber, a parent with two children in elementary school, said that, given research, option three was the only one that made sense. But she said she wasn't sure it was worth the cost.
"If you're going to do an option, do option three — if you have the money," she said.
Wayne Motley, an instructional specialist with the district, said parents in his group didn't understand the benefits of the plans. "They were in favor of keeping the schedules as is — thinking the money sent, be it a lot or a little, should be going back into schools for instruction or teacher raises," he said.
Other speakers worried the changes would create longer days for elementary school students and prevent high school students from being at home to meet and care for younger siblings or hold after-school jobs.
The school district isn't considering making any changes for the coming school year, but School Board Chairwoman Carrie Coyner said changes could be implemented in the 2016-17 school year.
Coyner said district leaders plan to compile the feedback they received at the forum and discuss it further at future School Board meetings.
(804) 649-6580
Twitter: @nedoliver