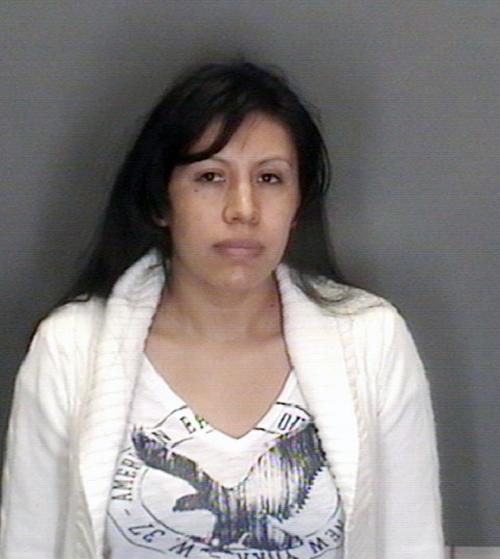 The 2-year-old girl had a bad rash and kept crying for her mother, who was out of town.
The babysitter, Gabriela Gonzales, apparently could not stand it anymore. Richmond prosecutor Edward Nickel said that Gonzales shook the girl so hard that her "neck had to be snapping back and forth" and also smashed the girl's head several times onto a bathtub or toilet.
She died three days later.
On Thursday, Judge Margaret P. Spencer of Richmond Circuit Court sentenced Gonzales, whom prosecutors said has shown no remorse, to 20 years in prison — the maximum sentence possible — for the death of Keiry Nicole Dominguez Martinez.
Spencer said Thursday's testimony by a prosecution witness, who described the child's injuries in excruciating detail, was the most compelling medical evidence the judge has seen in 15 years.
The child's injuries included multiple skull fractures, brain hemorrhaging and spinal cord hemorrhaging.
The prosecution witness, Dr. Robin Foster, said the child's brain was swollen to twice the size of a normal 2-year-old's brain, creating so much pressure that blood could no longer flow to the brain.
Gonzales, 25, pleaded no contest in November to voluntary manslaughter and felony child abuse resulting in serious injury.
Gonzales had faced a more serious charge of second-degree felony murder, along with the child-abuse charge.
The injuries were inflicted in October 2011 at a home in the 1400 block of Tifton Court in South Richmond, according to Richmond Deputy Commonwealth's Attorney Mary E. Langer.
Keiry lived at the home with her mother and two other families that included Gonzales and her significant other, Langer said at the hearing in November.
Keiry's mother was in Maryland looking for work and left her daughter in the care of Gonzales, Langer said.
On Oct. 18, 2011, Gonzales had called the girl's mother and told her that the child was fussy, Nickel said. On that same day, the defendant's significant other called to report an emergency.
An ambulance took Keiry, who was unresponsive, to Chippenham Hospital, Langer said. She was later brought to VCU Medical Center, where she was placed on life support and was pronounced dead three days later.
Gonzales later claimed that the child fell off a mattress that was on top of box springs about 14 inches off the floor, but Langer said the child's injuries suggested a violent attack.
Gonzales also claimed that the child had been jumping on a bed and fallen, and that she could have strangled herself, Nickel said.
"She accepted absolutely no responsibility," Nickel said.
Defense attorney Robert D. Shrader Jr. told Spencer on Thursday that the child's injuries were "extremely troubling," but asked the judge for compassion in pronouncing a sentence. He said his client had come illegally to America from Mexico at age 19 with a man who had abused her and forced her into prostitution.
Gonzales, who had been fidgeting throughout Foster's detailed testimony about the child's injuries, buried her face in her hands and began to rock in her seat as Shrader described the abuse Gonzales had suffered.
Shrader added that Gonzales is not allowed to see her own child now and has no contact with her family, who are in Mexico. "She has no one in the world," Shrader said.
Nickel told the judge that Gonzales took away not only Keiry's opportunity to get married and start a family, but also robbed the victim's mother of sharing those moments with her daughter.
Gonzales, when given an opportunity to address the court before she was sentenced, declined to do so.
After the hearing, Keiry's mother thanked the prosecutors. When asked what she thought about the 20-year sentence, she would only say: "It's still not enough."