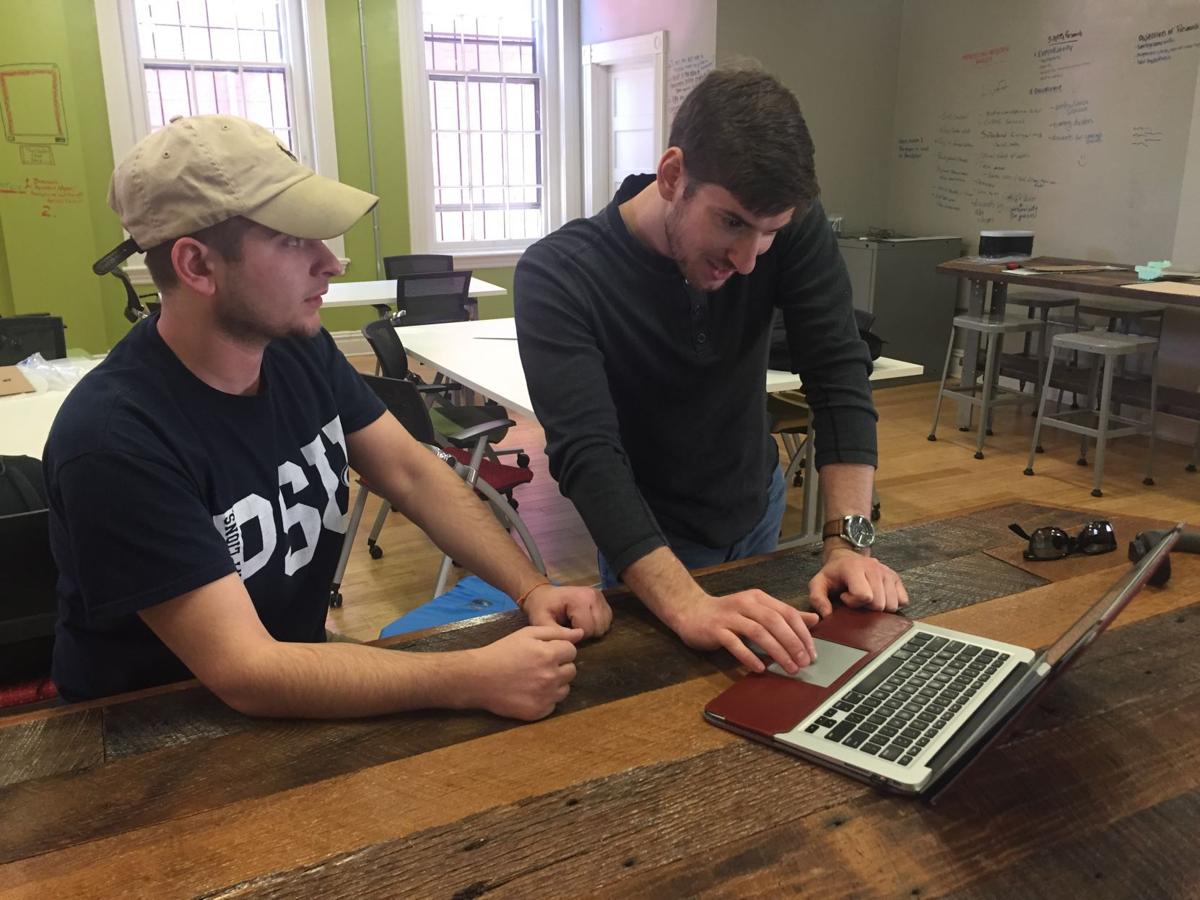 Matthew Sozio and Matthew Halpern look at a laptop with a bearded character wearing a yellow VCU sash that's set in a waving motion.
"This is Little Leo," says Sozio, a 23-year-old graduate student at Virginia Commonwealth University.
The character is more than a graphic illustration. "Little Leo" or "Little Leonardo" is a new artificial intelligence bot that answers questions about the university's da Vinci Center. It's part of an experiment that's being watched by others across campus to see if they, too, can automate part of their frequently asked questions.
"This is the future of the FAQ page," said Halpern, 26, who is also a VCU graduate student.
The two are part of a nine-person team overseeing the bot, which was designed by NumberAI, a Silicon Valley startup. The technology is being field-tested at VCU, which led to "Little Leo," and is open to the public.
If you have a question about the da Vinci Center, which is the hub of VCU student entrepreneurship and innovation, all you have to do is text (804) 823-7464. The bot reads the text message and sends a response. Most of the basic questions — hours, mission, programming — are preloaded and are sent automatically. More complex answers have to be entered by the team overseeing the trial run.
Work-study students monitor the feed for inquiries, which come in 24/7, and help enter the more qualitative responses.
Because the bot is still in its first months, the students are still working on getting the word out about it.
"One of the challenges of a new technology like this is people are unfamiliar with it, so there's a learning curve to what exactly an artificial intelligence bot that can facilitate these questions is," said Garret Westlake, the executive director of the 10-year-old da Vinci Center, located at 807 S. Cathedral Place.
VCU pitched the idea of bringing the technology to Richmond in July and received positive feedback, Westlake said.
"Part of the job of this center is to explore new fields and new opportunities," he said. "Artificial intelligence is obviously one of those emerging fields, so we're constantly looking for ways for our students to get real-world experience with emerging trends."
In a recent survey of 2,500 U.S. consumers and business decision makers, nearly 3 in 4 called artificial intelligence a "business advantage." It's also expected that by 2025, the artificial intelligence market will exceed $100 billion, according to Constellation Research.
As the da Vinci Center tests this new technology, other departments and groups across campus are watching, Westlake said. It could eventually help answer questions about admissions or other subjects people normally search for online.
With "Little Leo," their answers come right through their text messaging service.
(804) 649-6012
Twitter: @jmattingly306