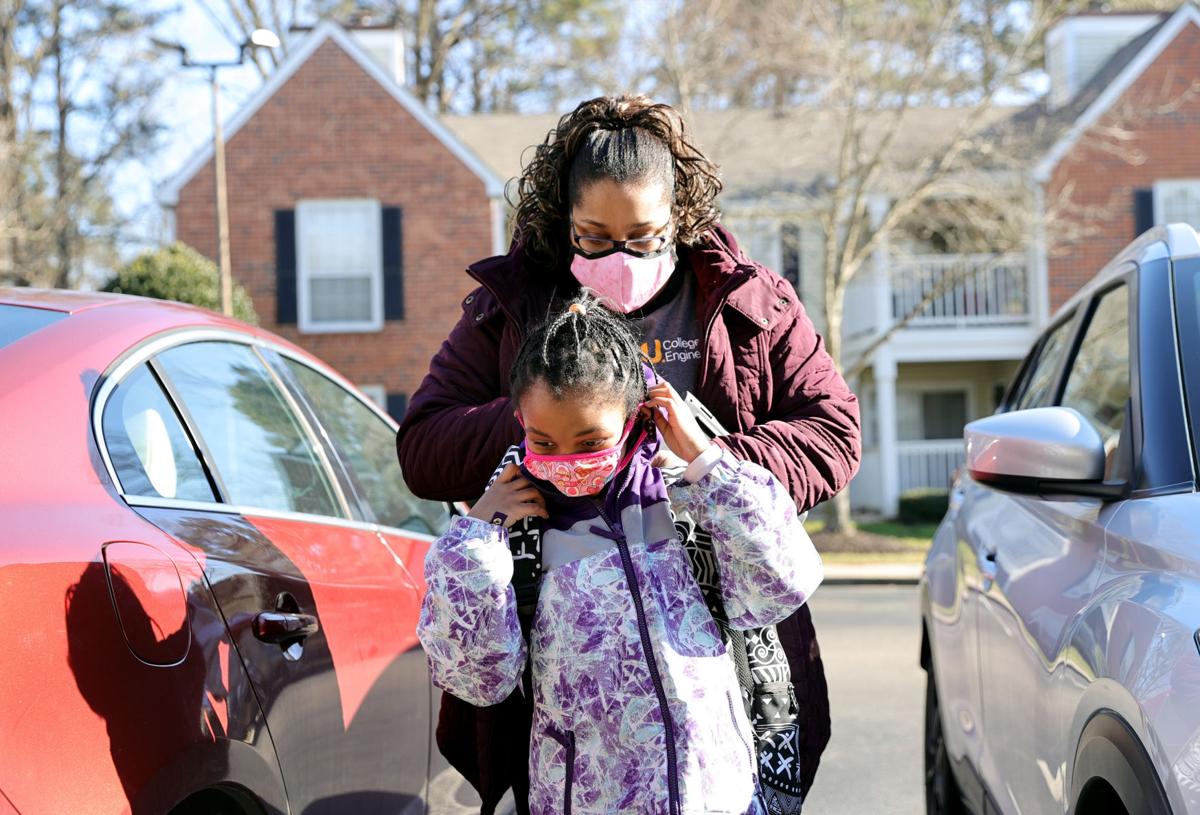 While Monday's snowstorm gave Richmond-area students extra days off after winter break, behind the scenes public school districts were scrambling to keep schools up and running with hundreds of teachers out sick or quarantining as the omicron surge of coronavirus cases continues.
On Thursday, Chesterfield County Public Schools recorded 529 teacher absences, Henrico County Public Schools had 404 teacher vacancies, and Richmond Public Schools said 160 teachers were out. Hanover County Public Schools were closed all week due to weather. Not all teacher absences have been COVID-related, according to school officials.
After remaining fully virtual at Jacobs Road Elementary in Chesterfield for a year, Celeste Jackson's sons stepped into the school again this past August.
At the end of August and this time last year, Virginia was seeing about 700 to 800 cases a day among children and teenagers. On Monday and Thursday, Virginia reported more than 2,000 cases among children and teenagers, figures never reached in 2020 or 2021.
Jackson applauds Jacobs Road's administration for navigating the coronavirus pandemic, but said central office continues to come up short.
"It doesn't feel they [school system officials] are being proactive at all," Jackson said in an interview this week.
When interviewed by the Richmond Times-Dispatch in August, Jackson said the fear and anxiety she had before the start of the 2020-21 school year was back, calling it "déjà vu."
This go-around, though, it feels a little different.
"I think now it's defeat, not if you can't beat them join them, but at this point, COVID is not going away and it's just here to stay now. At this point, I can just get my kids the best masks I can and send them off to school," said Jackson, whose children are vaccinated.
While only 11 COVID-19 cases (nine students, two staff members) were reported on Thursday, 2,094 students were in quarantine. Chesterfield is maintaining the 10-day quarantine for students who test positive.
On top of the 529 teachers being absent on Thursday, 88 bus drivers and 59 support staff members were out.
Chesterfield has requested 7,000 test kits from the Virginia Department of Health, schools spokesperson Shawn Smith said in an email this week. Ahead of winter break, the school system had 3,000 test kits available.
Smith did not address questions regarding whether the requested 7,000 test kits are to be split between the roughly 62,000 students and 8,000 staff members or if the tests are being prioritized to certain schools, student demographics or ages.
Jackson said Chesterfield should have had testing centers set up for a long time.
"It's been two years [of the pandemic], y'all should have already had tests handed out to people," she said.
In response to a question, if the school district would have school-specific vaccine clinics, Smith said the system is working with the VDH to have additional vaccine opportunities in the county.
For now, the school system directs staff and families to the Chesterfield Health District Rockwood community vaccination clinic and shares information about additional testing sites that pop up. Rockwood, the only county vaccine clinic for 364,000 residents, is offering vaccines and boosters, including the Pfizer booster to 12- to 15-year-olds and the Pfizer vaccine to 5- to 11-year-olds.
The Chesterfield Health District is hosting four free COVID testing events, at New Deliverance Church on Jan. 7 and Jan. 21 from 2 to 4 p.m. and at Faith & Family Community Center on Jan. 12 and Jan. 26 from 3 to 5 p.m.
Ahead of returning from winter break, Richmond Public Schools, which handed out 8,000 free at-home tests to families and a quarter of a million KN95 masks to middle and high school students and staff, announced a "test-to-stay" program. The program could allow for close contacts of people who have the virus to return to school sooner than the five-day quarantine time by testing negative daily.
But on Thursday — the first day of school after the Christmas break — the local teachers union said it was concerned about Richmond's ability to continue in-person learning.
"I think everyone is anticipating that there will be cases of COVID before the numbers flatten and then go back down," said Sarah Abubaker, a spokesperson for RPS. "Last estimates are anticipating a spike in cases mid-January with a decline by early February."
In Henrico, 404 teachers out of 4,502 were absent, but not all were related to COVID, said spokesperson Eileen Cox — the district was also short 72 bus drivers. Cox said higher-than-normal staff absences have been happening all year and is expected because of COVID, flu and other winter illnesses.
"Fortunately, we have a contingent of people, including teachers, teacher assistants, administrators, a pool of substitutes, retirees and central office staff who are stepping in to ensure classes are covered and students are learning," Cox said.
Both districts are short on substitute teachers and have plans to deploy central office staff in place of teachers who are absent if staffing levels become stringent.
Tunstall Willis, who like Jackson sent two of her children back to school for the first time in 18 months this past August, has been trying to help Chesterfield Public Schools with testing and vaccinating students.
Willis, an event planner, is now working with TestHere and VaccineHere to set up clinics. As the director of community outreach, Willis assisted with the RPS event this past weekend when thousands of tests were handed out.
She has yet to have luck setting up an event with Chesterfield schools.
"With Chesterfield, we haven't made much progress at all [setting up testing and/or vaccine clinics]," said Willis, who was also interviewed in August. "As a whole, I think Chesterfield is very reactionary and they don't prepare."
RPS has also scheduled 15 vaccination events for January and February.
Despite recent guidance from the Centers for Disease Control and Prevention stating a five-day isolation period followed by five days of strict mask use for those who test positive, Chesterfield schools are continuing a 10-day isolation period for students who test positive. Staff members can follow the new CDC guidance.
Students and staff are encouraged to complete a daily health assessment every morning before heading to school.
With omicron appearing much more contagious than other variants, though less severe, all Willis can do is send her vaccinated children out the door with KN95 masks, hand sanitizer and a prayer.
Her daughter attends Bettie Weaver Elementary, and her son attends Midlothian Middle. Willis praised Bettie Weaver for its COVID response, highlighting the communication of positive tests. As far as middle school, Willis would like to see more efforts at social distancing.
"I wish I could say I was confident things are going to go well in the next few weeks," Willis said.
Twitter: @jessmnocera
(804) 649-6948