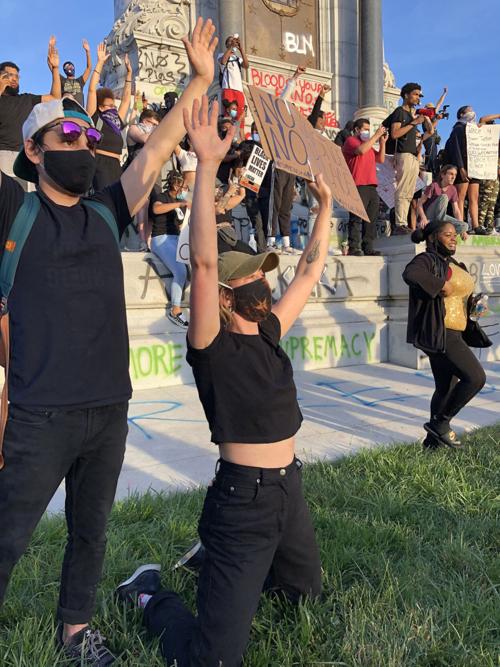 News reporters and photographers understand the inherent potential risk of covering something as unpredictable as a large protest, with emotions running high, and they accept that as part of the job.
But they don't expect to be targeted by police.
Roberto Roldan, a reporter for Virginia Public Media, said he was pepper-sprayed in the face by one Richmond Police officer and tackled by another on East Marshall Street on Sunday night. He said he was wearing a high-visibility vest and had shown his state-issued press badge and verbally identified himself as a member of the press before the incident. Members of the news media are specifically exempted from the state-authorized curfew, which expired Wednesday at 6 a.m.
"I think we were pretty prepared going out there … but you don't ever expect that something is going to be intentional," Roldan said in an interview. He and the photographer he was working with had taken cover on East Marshall Street after walking alongside a group of protesters that had been tear-gassed by police on East Broad Street. He said volunteer protest medics treated their eyes with a mixture of milk and water.
"I could have expected tear gas would be fired into the crowd and reporters might get caught up in that, but the incident that happened on East Marshall Street was not something I think we could have anticipated," he said.
In response to the news of what happened to Roldan, Mayor Levar Stoney tweeted, "There is NO reason this should have happened to a member of the press" and called it "absolutely unacceptable."
Richmond Police Chief William Smith at a news conference on Monday described the take-down of Roldan as a "completely accidental and inadvertent incident," but that an internal investigation would be conducted. Roldan disputed that characterization.
"As a journalist, I'm not going to pretend to know what was going on in the head of that officer, but when he got up on the sidewalk and used his shoulder to tackle me to the ground it didn't feel inadvertent or unintentional to me," he said.
In addition to the Roldan incident, credentialed NBC-12 reporter Olivia Ugino said she was trying to capture video of an arrest Sunday night when a police officer reached into her car, grabbed her and told her to leave for "security" reasons. Ugino tweeted video of the incident.
The Committee to Protect Journalists said at least 125 press freedom violations have been reported nationwide since May 29, as protests intensified following the death of George Floyd during an arrest by Minneapolis police that was captured on video.
"We are horrified by the continued use of harsh and sometimes violent actions of police against journalists doing their jobs," said CPJ Program Director Carlos Martinez de la Serna in New York in a statement.
CPJ cited an incident in Las Vegas on May 29 when two photojournalists were arrested while working and charged with a misdemeanor of "failure to disperse." Dozens more journalists across the country have been hit with tear gas, pepper spray and rubber bullets. A journalist for Minnesota Public Radio told CPJ she had a gun pointed at her head by police who refused to lower their weapons after she identified herself as a member of the press.
The Society of Professional Journalists issued an open letter to police and protesters, writing "journalists have a constitutional right to cover these stories and the public has a right to know what is happening in their backyards."
The Virginia Press Association condemned the use of force against journalists, saying "The First Amendment protects newsgathering and prohibits the government from using police power to interfere with press freedoms."
Reporters and photographers for the Richmond Times-Dispatch said they have not felt targeted by the police as they covered protests in recent days, though they have felt the effects of tear gas.
Journalists have the responsibility to not interfere with police doing their jobs, but they have "an absolute right to observe and record," said Claire Gastañaga, executive director of ACLU of Virginia.
"We can't be everywhere, and the press are our eyes and ears," she said, noting rhetoric coming from the White House describing the news media as "the enemy of the people" could be "part of the reason why the police are doing that stuff."
Gastañaga said the treatment of journalists by law enforcement authorities in recent days is part of what she sees as a larger problem in the way police have handled the protests, in particular the firing of tear gas on peaceful protesters at the Robert E. Lee statue on Monday evening, a half-hour before the 8 p.m. curfew (an action for which the police chief later apologized as "unwarranted"). She said Virginia needs to establish statewide standards of conduct for police, along with repercussions for misconduct.
"The idea that police are immune from that is just stunning, and in this current circumstance it's part of why they feel completely unregulated because they are in some fundamental way," she said.
James H. Wallace, Times-Dispatch director of photography, was standing near the base of the Lee monument on Monday evening, covering protesters kneeling with their hands in the air, chanting "Hands up, don't shoot."
"To my surprise, and I'm sure to just about every protester's, there were sudden bursts of tear gas fired toward the monument, just short of the protesters," he said. "I'm usually very calculated about where I stand during these situations, but there was really no time for a plan."
The quickest route for Wallace was through the gas, toward the spot where police were still launching canisters.
"It stings the eyes and burns as you try to breathe," he said. "The longer you are exposed the worse the conditions become. Getting completely away is not an option if you are a photojournalist. After all, this is why you are there."