State Sen. Amanda Chase, R-Chesterfield, held a black megaphone in one hand and balanced an assault-style rifle with the other. On Saturday afternoon, she spoke to a group of about 250 proponents of Second Amendment rights with her back to the Virginia Capitol.
Those who attended were largely armed, some with handguns, others with assault-style rifles. And they represented numerous factions, including right-wing extremist groups, a gun club, Black Lives Matter supporters and white supremacists. Police monitored nearby, mostly from a distance.
Chase answered questions from the spectators around her, and conversation quickly switched to the topic of racial prejudice. Asked her opinion on the Confederate statutes, Chase said that she doesn't see them as symbols of hate. She advocates for adding statues of African Americans that can bring balance to Monument Avenue, and she wants to contextualize the ones that are still standing.
To some, she said, the statues represent history, not hatred. For her, growing up, the Confederate flag was a cultural symbol more than a historical or divisive one. The flag represented sweet tea and the "Dukes of Hazzard."
"I'm sick and tired of people saying that we are racist," said Chase, who in February announced she's running to be the state's next governor. "Because we are not racist. … I'm all for peaceful protest."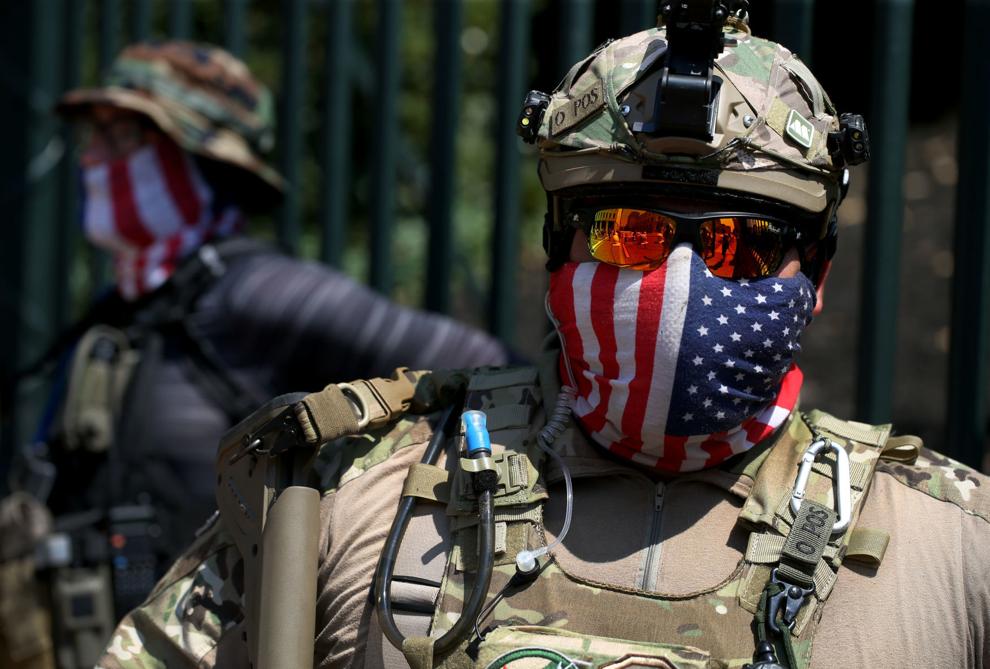 Organizer Mike Dunn, 19, focused on unifying everyone under their agreed support for the right to bear arms.
"I don't care about your color. I don't care about your beliefs. I don't care about your politics," he said with a bullhorn at the beginning of the event. "The only thing that protects your right to vote is this right here." Dunn then tapped the hand gun holstered to his right hip.
The right-wing extremists in the crowd, called Boogaloos, cheered him. Boogaloos are known for wearing Hawaiian shirts, carrying rifles and, according to their Wikipedia page, advocating for a second civil war.
Later, a speaker asked if there were any racists in the group, posing it as a rhetorical question. But a handful of white men raised their hands in Nazi-like salutes. One of them wore on his black T-shirt a logo for the Rise Above Movement, a white supremacist organization.
Curt Doolittle, who founded a group called the Propertarian Institute, also spoke, delivering a fiery speech. His organization advocates for revising the Constitution, returning power from the federal government to the states and eliminating banking institutions. According to the group's pamphlet, it seeks to avoid an "escalation of hostilities in what will constitute the bloodiest civil war in human history."
"Voting simply will not bring about the scale of changes that are needed at this time," the paper states.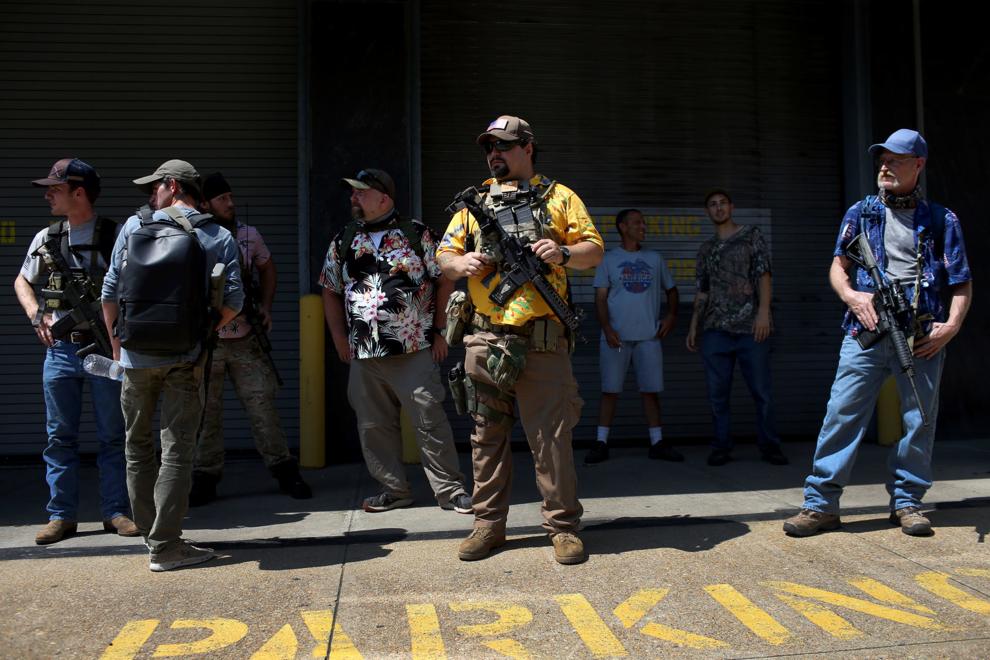 At one point, it seemed as if the purpose of the rally was fracturing. Dunn began to chant "white supremacy sucks," and those around him followed. He and others walked toward Doolittle's group. About 10 police officers on bicycles stood at the ready, but their intervention wasn't necessary.
While many of the activists were white men, there were Black Lives Matter supporters present, too. A Black woman who identified herself only as Queen said that at the end of the day, she is OK attending a rally alongside white supremacists. She'd rather focus on what they have in common.
"You have your differences, you have your opinions, you have whatever you feel," she said. "Deal with that outside this movement. This movement is for one thing only."
Nate Major, a man who spoke to the crowd, said that while he respects all cultures, he doesn't respect the undermining of his own culture. Foreign interest, he said, had taken control of America. He said he was making a peace offering to Black Lives Matter and the left.
"We're not neo-Nazis," he told everyone. "We're not white supremacists. … We're not here to be hateful."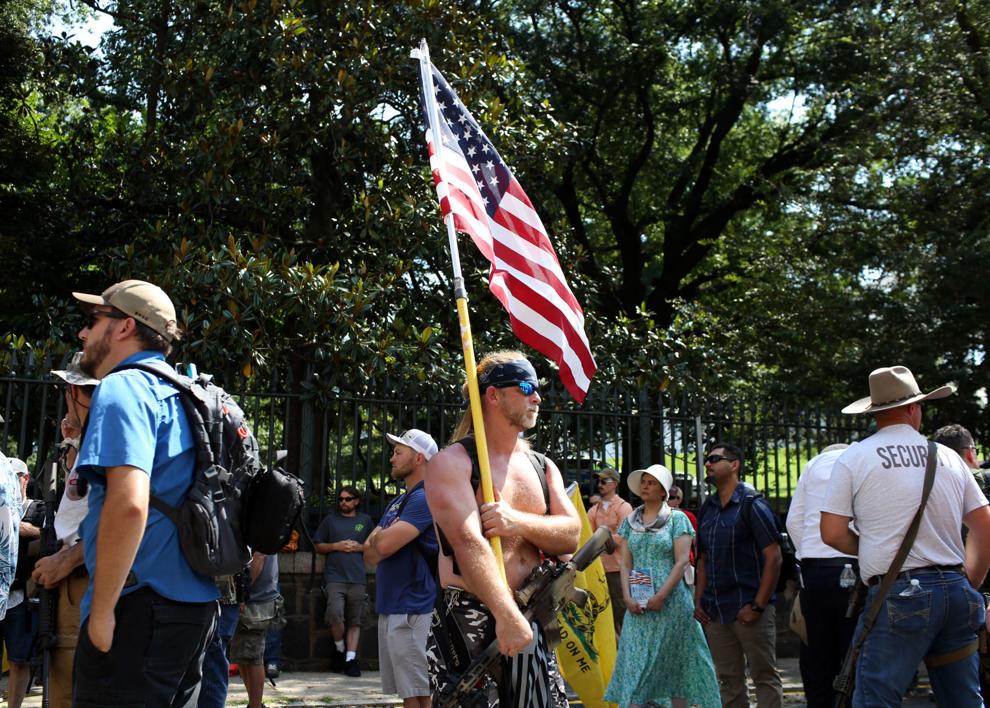 A man who declined to identify himself wore full camouflaged tactical gear, including a helmet and assault rifle. He said he was a member of the South River Gun Club in Georgia, and his group was concerned with peaceful protests being inhibited by police. Whether it's a Second Amendment or Black Lives Matter protest, he said the use of tear gas or pepper spray concerns him.
Saturday's rally was originally planned to take place in Capitol Square. But the Department of General Services, along with the Division of Capitol Police, announced Thursday that it would close the square for the July 4 holiday. The rally moved to Bank Street just below the Capitol.
It was a much smaller gathering than in January, when more than 22,000 people descended on downtown Richmond to advocate for gun rights. The General Assembly ultimately passed seven of the eight gun control measures that had been proposed by Gov. Ralph Northam.
"I think some of my friends got a little confused this session," Chase told the crowd, referring to her fellow senators and legislators. The focus on gun measures, Chase said, should surround Project Exile, a measure that punishes those in illegal possession of a firearm to a minimum of five years in prison.
Chase said that she doesn't believe in defunding the police. But she said the bad apples in police departments need to be handled and people with mental health issues need to be helped. Standing alongside Chase was Chuck Smith, a Virginia Beach lawyer who ran for attorney general in 2017 and is running again in 2021.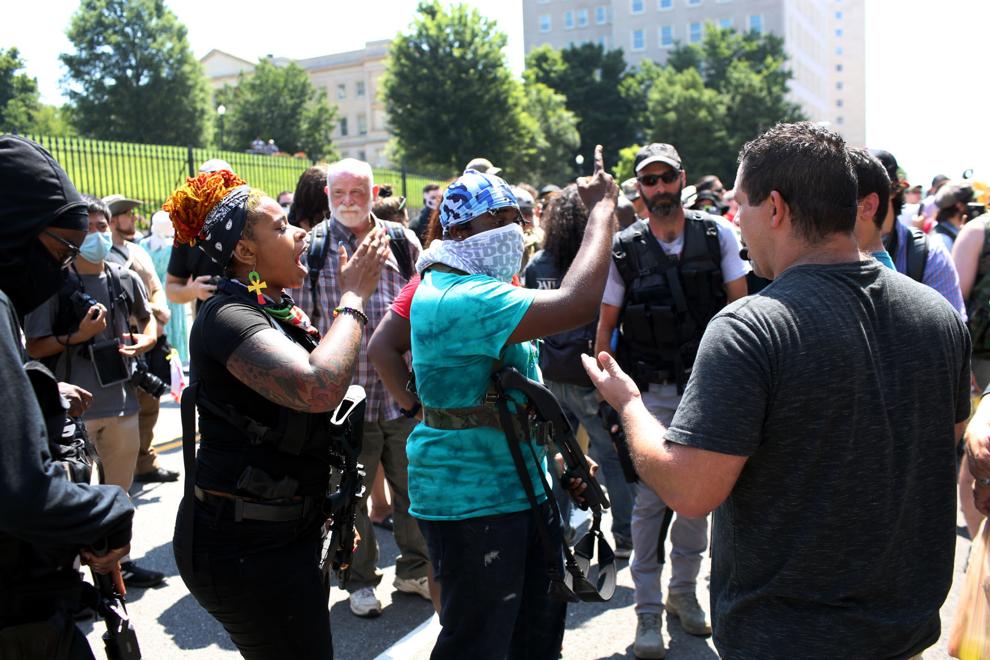 Some of the Black Lives Matter activists chose to engage the Second Amendment supporters in argument and debate. Jovonni Armstead, a Richmond resident, didn't identify herself as a counterprotester. She came in hopes of bettering her understanding of the other attendees' points of view and participating in an exchange of knowledge.
Earlier in the day, she had been working in a community garden that she manages when she learned about the rally. When she learned Chase would speak, she decided to bring her daughter, a student at James Madison University, curious what the gubernatorial candidate would say.
"I'm just trying to have conversations, trying to help people to understand where we're coming from. I need you to help me to understand why you have [firearms] on, and then I'll help you to understand why I have this on," she said, referring to her Black Lives Matter T-shirt, which she said she felt made some of the people at the rally automatically distrustful of her. Armstead said she owns firearms and possesses a concealed carry permit.
Among other subjects, Armstead spoke about gentrification, police brutality and the quality of inner-city schools, arguing with people who disagreed with her assertion that inner-city schools in Richmond and across America were still largely segregated. One attendee told Armstead that the rally was not the place to be speaking about issues unrelated to gun rights and the Second Amendment.
Armstead disagreed. Any event at which a candidate running to be Virginia's next governor was present, she said, was an event at which any and all discussion of Virginia's problems were fair game.
Despite these disagreements, Armstead nevertheless managed to make connections with members of the crowd. A few men that she believed were members of the military hugged her and her daughter before leaving the rally.
She also exchanged phone numbers with one man with whom she had debated. Both expressed the desire to sit down and continue their conversation later.
"I want you to know me, I want to know you, I want us to know each other and see how we can do this thing right," Armstead told him. "I'm not mad that you don't want to be a part of Black Lives Matter, you know why? Because if it doesn't work for you but we've got the same avenue, we'll start our own organization. Why not?"