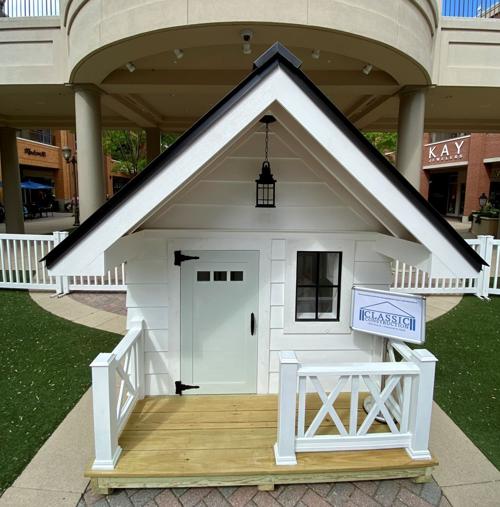 Three custom-built playhouses temporarily on display at Short Pump Town Center are drawing attention from passersby, which is precisely the idea.
The playhouses — and these aren't the kind of structures the typical Joe Suburb would hammer together with a few sheets of plywood and a bucket of nails — are the conspicuous centerpieces of the "Home for Good" fundraising project of Henrico CASA (Court-Appointed Special Advocate), a nonprofit organization that works on behalf of children in the Henrico County Juvenile and Domestic Relations District Court process.
People are invited to make $5 donations for opportunities to win one of the playhouses. Each donation results in one opportunity to win a playhouse; there is no limit to how many $5 donations can be made. Find out more and make donations at www.henricocasa.org. The playhouses, which were donated by Henrico builders Classic Construction, DPR Construction and Southern Traditions Custom Home Builders, feature aesthetics such as porches, real house siding and shingles and artful design.
The playhouses will remain on display through May 2, the day the fundraiser ends. The project is modeled after a similar fundraiser used for years by a CASA program in Dallas.
Henrico CASA, the largest of the 27 CASA programs in Virginia, is hoping to raise $10,000 with the playhouse project. For the last fiscal year, Henrico CASA served more than 400 children — at an average annual cost of $1,500 per child. The organization hopes the playhouses, metaphorically, heighten awareness of what it does.
"We are advocating for children who have experienced abuse and neglect … kids who may not be safe in their homes," said Jeannine Panzera, executive director of Henrico CASA. "The playhouse for us is just a concept … of what childhood should be: happy and carefree and not abusive, neglectful and traumatic.
" 'Home for Good' is what we're trying to do every day. When we advocate for these kids we're trying to make sure they're going to stay in stable and loving homes for good," she said. "We know when kids are in safe, stable homes it puts them on a much better trajectory for their future and for the future of our community."
Henrico CASA recruits, screens, trains and supervises volunteers to represent the needs of children in the court system, fighting for a child's right to "a safe, loving and permanent home," according to the organization's mission.
The volunteers complete an independent evaluation of each child's circumstances, focusing on the safety and well-being of the child, and help the child and family to understand the court process. CASA volunteers visit regularly with the child, reviewing the child's health, mental health and school records; work closely with the child's social worker and legal representatives; and prepare detailed reports and recommendations for the court.
The pandemic has created particularly serious circumstances for the children who for much of the past year have been forced to stay in homes that already were not safe, putting them at high risk for abuse, Panzera said.
The unfortunate expectation, she said, is once such children emerge from what she called "the shadow of the pandemic" and return to school full time, the numbers of children needing advocacy will rise.
"We're really needing to get the word out about the work we do and the need for volunteers to help us serve all of the children that have not only been referred to our agency but those that we expect will increase significantly," she said.
(804) 649-6639
(804) 649-6639