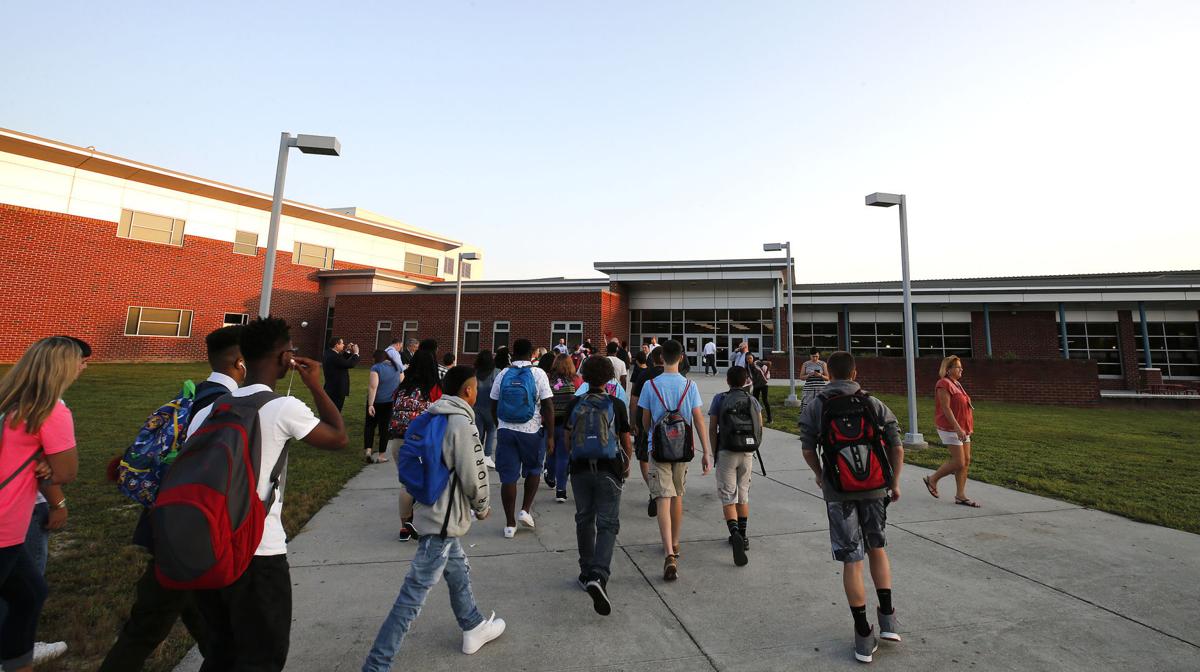 Donovan Jones was taught that the Civil War began over state rights and not slavery in an AP U.S. History class at Cosby High School in Chesterfield County.
Now a fourth-year student at the University of Virginia, Jones recalls questioning the lesson at the time in his Advanced Placement class as one of the few Black students in a mostly white, politically conservative class. He said his teacher danced around the question to adhere to the curriculum.
It "completely whitewashes" what the Civil War was, he said, also reflecting on the weight of repeatedly debating classmates about issues such as abortion rights and voter identification laws in his AP Government class. Jones attended the second-most racially segregated school in the county.
"It's not surprising, growing up here. ... There's not a lot of diversity; most people I see are white. I get why things are the way they are," he said.
The Chesterfield County School Board last June in response to the police killing of George Floyd in Minneapolis charged school system officials to scrutinize the county curriculum in hopes of ensuring teachings are not Euro-centric but rather include African American, Latino, Asian American and Native American experiences.
An internal audit determined the schools' teaching materials were "culturally insufficient."
In a statement provided through a schools spokesman, School Board Chairman Ryan Harter pledged an "intentional focus" on enhancing curriculum.
"It is critical that this work assists educators in understanding what makes lessons more relevant for students; more reflective of many cultures and experiences; and more connected to the students, their families, and their communities," he stated.
Last month, speaking for the all-white, predominantly Republican body, Harter denounced critical race theory, joining a mounting number of local officials ensnared in debate over a graduate-level academic framework not taught in K-12 schools for understanding how racism affects how people live.
Utilizing scorecards from New York University's Metropolitan Center for Research on Equity and Transformation of Schools, the audit lumped Chesterfield's curriculum into three categories: representation, social justice, and teacher materials. Each scorecard had five potential ratings, ranging from culturally responsive to culturally destructive. Chesterfield scored the second-lowest score of culturally insufficient for all categories and overall.
A team of 31 Chesterfield educators, including content specialists, associate and assistant principals, and other specialists such as Title I, reviewed a "small sample of written curriculum" from the central office but did not take into account individual teacher lesson plans, according to the audit conducted in July and August 2020, which was obtained through a Freedom of Information Act request.
When asked, school system officials could not say how many of the 31 team members were people of color. While a majority of Chesterfield students are nonwhite, nearly 4 in 5 schools employees are white.
With the school system having "tens of thousands" of materials to review, the audit looked at a fraction of all available materials. For example, in elementary school literacy, a team reviewed samples from second and fifth grade, including things taught to students, questions asked on tests and assigned reading.
"It is pretty important to realize we looked at a small sample," said Terri Perkins, coordinator of curriculum for Chesterfield, citing a need to pivot toward supporting virtual learning last fall. Students and teachers were not included because the review was conducted over the summer, she said.
Content areas covered included literacy, mathematics, science, social studies, world languages, performing arts, visual arts, health, and physical education. Team members spent about two days reading and reviewing the materials.
In the social justice category, the audit found Chesterfield's curriculum was taught through a white lens, without addressing perspectives from minorities.
For representation, meaning students are seeing themselves in the teaching materials, the district's lessons do not specifically or accurately reflect the histories of people of color, according to the study.
For teacher materials, where educators receive guidance on how to teach culturally responsive lessons, the audit determined that Chesterfield teachers receive little guidance on engaging diverse learners. Culturally responsive lessons are sprinkled in Chesterfield lessons instead of being at the focal point, the audit found.
Next steps toward improvement, Perkins said, include deciding if using the NYU scorecards was the "right tool" for Chesterfield or if a different lens should be utilized; NYU came out with an additional scorecard after the audit was finalized.
Anthony Washington, a former Richmond Public Schools teacher and principal consultant of the Washington School who also conducts research related to equity and culturally responsive educational practices, analyzed the audit's data as a neutral third-party member.
"There was really no room for surprise from my viewpoint," Washington said. "I was actually pleased that CCPS was taking this first step to even begin to understand their baseline level of cultural responsiveness within the curriculum. Many school divisions have not looked at their written curriculum to even know the extent to which they are culturally responsive."
Work also is necessary among Chesterfield educators "to continue to help people understand what really makes a lesson relevant to a child. What makes a lesson or an experience in a classroom really connect with them, their community and their culture," Perkins said.
Jones, who graduated from Cosby in 2017, said that if Black students don't learn about their history at home, they cannot rely to do so in a Chesterfield classroom. Whitewashing history, Jones said, allows for white classmates to be colorblind and not fully understand the lived experiences of being a person of color in America.
In his senior year AP Literature class, Jones remembers reading "Things Fall Apart," by the late Chinua Achebe, a Nigerian author, who wrote about pre-colonial life in the southeastern part of Nigeria and then life after Europeans arrived. However, Jones said he never read about Latin American, Asian American or Native American experiences in school.
Virginia Kardian, a 17-year-old white student at James River High School, said that while she has seen a recent effort to diversify the curriculum, "there's always room for improvement."
Kardian, a rising senior, said several of her teachers dedicated weeks during Black History Month to teaching about Black luminaries, such as Bryan Stevenson and Amanda Gorman.
Amy Craven, 17 and also a rising senior at James River, said the effort did not feel genuine. She sensed some teachers were also learning alongside students.
"There would just be a slideshow of one person and it would last a couple of minutes and that was just basically it," she said. "And then right as March 1 came, the conversation about it just abruptly stopped."
She said that in her AP U.S. History class, historic events, such as the Vietnam War or the Atlantic slave trade, were often taught in the "white American perspective" or crammed into a one-day lesson, in contrast to the Industrial Revolution, which she said was covered for nearly two weeks.
Craven, who is Vietnamese, said the class would cover the Nanking Massacre of 1937, a mass murdering and raping of Chinese residents by Imperial Japanese troops during the Sino-Japanese War, but did not mention similar atrocities that occurred during the Vietnam War.
"There was hardly any mention or at all about the rape and destruction some American soldiers brought to Vietnam," she said. "And as a daughter of a Vietnamese immigrant, I definitely know the importance of that history and it's not something to be glossed over."
Craven said she does not recall any mention of Hispanic Heritage Month or Asian American and Pacific Islander Heritage Month, let alone official curriculum. She said that during those months, she and other students themselves would spread awareness on social media.
The School Board did not recognize Hispanic Heritage Month last September or Asian American and Pacific Islander Heritage Month this May.
Kardian and Craven said the efforts to go beyond the curriculum depended on the teachers, which they said ultimately translated to students' engagement with the lessons.
For Craven, there was a particular teacher who she felt broadened her perspective as he taught about the civil rights movement, including primary sources and interviews of prominent civil rights activists, such the Little Rock Nine, in his lessons.
There have been conversations about Chesterfield's curriculum among Craven and other students. But Craven said that is usually where it starts and ends.
"I feel like we just kind of let it go because we're used to it," she said. "There's never been anything more, we're not losing anything, we're only gaining. So, until you actually sit down and think about what we've been learning this year, you see the gap."
To lessen the gap, Perkins said the district may look at its library collections and rely on changes to state education standards, including offering an African American history course for the upcoming school year.
Twitter: @jessmnocera
(804) 649-6572