The more than $62 million in assets seized by Virginia law enforcement from suspected narcotics traffickers and other drug dealers in the past seven years range from the mundane to the insanely extravagant.
On the high end, gold Krugerrand coins, $36,000 diamond-encrusted watches, a $100,000 Porsche, tricked-out chopper motorcycles, $20,000 worth of sneakers, custom 31-foot fishing boats, waterfront homes and piles of cash — as much as $401,200 in a single bust — top the list of loot that police confiscated since 2008 through Virginia's civil asset-forfeiture program.
Although police seize nearly anything associated with criminal activity, the largest assets in terms of value have been, without exception, cash — totaling millions a year.
Nearly $26 million of the $62 million seized has been disbursed so far in civil asset-forfeiture proceedings across the state, with police using the funds to buy Tasers, body cameras, ballistic protective gear, laptops, forensic equipment and additional training for officers.
But the process under Virginia law that police agencies use to have seized assets forfeited to them has come under increased scrutiny this year by liberal and conservative groups and some members of the General Assembly.
Two bills introduced by Republican legislators in the House and the Senate would have required criminal defendants to be convicted of crimes before any assets they used or gained during the commission of crimes could be forfeited to police. But the legislation ultimately was sent to the Virginia Crime Commission for further study.
Gov. Terry McAuliffe also got involved by proposing amendments requiring a criminal conviction ahead of forfeiture to a third, less controversial bill that simply required police to conduct an inventory of seized assets and provide a copy to property owners. But the assembly passed by the governor's amendments, effectively killing them, and McAuliffe signed the original bill into law.
Proponents of tightening the law, including the ACLU and the Virginia Tea Party Federation, claim police can seize and keep property unless owners can prove they obtained it lawfully — placing the burden of proof on the property owner instead of the state. They said the system creates a built-in profit incentive for police and state prosecutors who file lawsuits to obtain the assets.
But opponents, such as the Virginia Association of Commonwealth's Attorneys and the Virginia Association of Chiefs of Police, say the program's detractors have erroneously and misleadingly confused federal asset-forfeiture law with Virginia law, which clearly places the burden of proof on the state before property can be forfeited. They say statutory safeguards already are in place and that seized assets in contested cases rarely are forfeited by property owners until after they are convicted of a crime.
Some defense attorneys and other critics, however, say the law is unjust in terms of fair representation because some defendants do not have the means to fight for their property. A national libertarian organization has given Virginia's forfeiture laws a near-failing grade.
The 227 law enforcement agencies in Virginia that participated in the program from 2008 to 2014 seized 13,881 assets valued at $62,239,131, or an average of $10.3 million a year, according to the Virginia Department of Criminal Justice Services, which administers the program and provided seven years' worth of data to the Richmond Times-Dispatch for review.
The state's largest police agencies typically seize hundreds of thousands of dollars a year in cash and assets and have designated officers whose sole responsibility is to administer the programs.
And while state law prohibits law enforcement from using the proceeds for ongoing expenses or annual budgetary items, such as officer salaries, some larger police agencies count on the revenue to supplement their tight budgets.
Police in the Richmond region are among the state's leaders in the value of total assets seized, as well as the disbursements they receive through the forfeiture process.
From 2008 to 2014, police in Henrico County, Richmond and Chesterfield County seized $2.6 million, $2.4 million and $2.1 million, respectively, in property and cash. Of those sums, the agencies so far have received $1.5 million, $978,000 and $1.2 million, respectively, and additional disbursements are in the pipeline.
The Virginia Beach Police Department is by far the state's leader in assets seized and disbursements received through forfeiture. The agency, which has seized 1,159 assets valued at $5,579,902 since 2008, so far has received $2,760,962 of that sum.
In 2013, Henrico police seized the second-largest single sum in Virginia for one case — $369,126 — from a county heroin dealer who police said kept the cash hidden in vehicles, a safe and other locations in his home. Investigators also confiscated the dealer's $35,000 Rolex Yacht Master II watch and received an additional $255,000 in forfeited funds through the federal asset-forfeiture program upon his conviction.
Several police agencies, including Richmond and Chesterfield, seemingly have perfected a forfeiture process that has allowed them to keep most of the assets they seize. Since 2008, Richmond has had to return only 8 percent and Chesterfield 10.37 percent — two of the lowest return percentages in the state.
Among the state's largest police agencies, only Fairfax County and Hampton had lower return rates — 3.10 and 6.78 percent, respectively.
Virginia law enforcement agencies also have made good use of the federal civil asset-forfeiture program, collectively raking in more than $61 million in forfeited cash and assets from 2008 through 2014, U.S. Justice Department figures show.
"The asset-forfeiture program is a valuable tool because it provides another means to disrupt and dismantle criminal enterprises," said Chesterfield Police Chief Thierry Dupuis.
"The goal of the program is to remove the profitability of illegal enterprises. Once funds or property associated with illegal enterprises have been forfeited ... it seems entirely appropriate to reinvest that money in continued efforts to fight crime."
Asset-forfeiture laws in Virginia are based on the premise that "crime should not pay" and are significantly different from federal forfeiture laws, which allow for an administrative forfeiture with no court hearing. The burden is on the property owner to prove there was no wrongdoing.
"Virginia has no such parallel," wrote Lynchburg Commonwealth's Attorney Michael R. Doucette, chairman of the Virginia Association of Commonwealth's Attorneys legislative committee, in a letter this year to Senate Majority Leader Thomas K. Norment Jr., R-James City, about McAuliffe's proposed amendment to a forfeiture bill.
The ACLU condemned the assembly's rejection of the governor's amendments to one of the bills, claiming that Virginia law places the burden on property owners and encourages "policing for profit."
But Doucette said the ACLU "misleadingly confuses federal administrative asset forfeiture with Virginia law."
Doucette said in his letter that forfeiture reform bills introduced this year likely were spurred by a series of Washington Post stories in 2014 that focused on forfeiture abuses in the federal system, along with a mistaken assumption that Virginia's laws are similar to federal statutes.
Unlike the federal program, all asset forfeitures in Virginia require a court proceeding, and the burden is on the state to prove "by a preponderance of the evidence" that the property seized is connected to a serious crime — usually felony drug distribution.
In most cases, a criminal case against a defendant is proceeding at the same time as a civil forfeiture case, and, if the defendant seeks to delay the civil case until the criminal case is completed, it is "almost universally granted," Doucette said.
"So what will happen is, we essentially stay the (civil asset) case until the criminal proceedings are over," said Chesterfield Assistant Commonwealth Attorney Benjamin Garrison, lead counsel for Chesterfield's asset-forfeiture program. "And I can tell you every defense attorney in Virginia appreciates that, because it's protecting their ability to protect their clients' rights as well."
Added Henrico Assistant Commonwealth's Attorney Michael Feinmel, who reviews all asset-seizure cases in his county: "We pretty much do it as a matter of course."
The laws proposed by Sen. Charles W. Carrico Sr., R-Grayson, and Del. Mark L. Cole, R-Spotsylvania, would have required any action on the forfeiture of property be "stayed" until the defendant is convicted of a crime and has exhausted all appeals. Cole's bill would have allowed a forfeiture to occur without a final conviction order if the defendant agreed to it as part of a plea agreement, or if the defendant did not file a written demand for the property within a year after it was seized.
Virginia law already allows the courts to stay a forfeiture proceeding related to a criminal charge "for good cause."
"It has been my experience that the courts will always stay a forfeiture proceeding if the defendant wants to challenge the seizure of the property, regardless of who makes the motion for a stay," Doucette said.
Chesterfield, Henrico and Richmond prosecutors who handle asset forfeiture say they screen each potential case before proceeding to identify and ultimately protect innocent property owners or lien holders. They also ensure that all the "instrumentalities" of a crime are present when the assets were seized so they can establish they were used or acquired as a result of unlawful activity.
In a drug distribution case, for example, authorities would look for drug scales; bundled cash in various denominations; the packaging of drugs; and how the defendant, if in a car, was using the vehicle.
"I think the department takes the stance that it's so important that we're not taking somebody's property without having probable cause," said Chesterfield police Capt. T.O. McCullough. "That's why we've assigned detectives to go through this with a fine-toothed comb and make sure, when we do seize something, it is correct."
Henrico's Feinmel said he rejects two or three asset-forfeiture cases out of every 10 he reviews.
Chesterfield prosecutor John F. Childrey said using caution on the front end not only protects innocent property owners but also "means a higher percentage of property that's ultimately able to be forfeited."
Garrison cited a recent case where he had to return several thousand dollars to the driver of a car whom police stopped with a companion suspected of dealing drugs from the vehicle. A police informant told investigators that the driver was dealing drugs, and the informant arranged to have the dealer meet him at a gas station.
But when the car pulled up, the suspected dealer was in the passenger seat. After police stopped and questioned both men, they found a bundle of cash in the driver's pocket. The driver denied any culpability.
"So I'm stuck with that," Garrison said. "So we gave the driver's money back because we couldn't prove a preponderance of the evidence (for) forfeiture. So it's not like we just get the money. I declined to even file for a forfeiture."
Yet even with the program's statutory restrictions, several defense attorneys said the system remains flawed and occasionally victimizes innocent people who usually do not have the means to defend themselves.
"The problem is, if they're going to take someone's property in a quasi-criminal proceeding, you should afford them the right of counsel," defense attorney David Whaley said. "My biggest objection is that you don't have a right to a lawyer. They can take your property and you can't afford to get a lawyer and you can't compete."
"You can't do this to people," added Whaley, who has represented many asset-forfeiture clients for free after defending them on criminal charges. "I shouldn't be able to take all your property and then give you a legal maze to climb through. It's unfair."
Whaley said he has no problem with police and prosecutors taking cash and property derived through drug trafficking. "I don't think anybody believes you should profit from crime."
But the forfeiture process is inequitable in terms of fair representation, he said. Many defendants lose by default because they either do not, or cannot, file the required legal affidavits to contest the forfeiture, he said.
Garrison estimated that 75 percent of Chesterfield's forfeiture cases are default judgments. But that is because the defendants "know they're guilty, they've admitted to it" and do not challenge it, he said.
Whaley and other attorneys also said some people are being wrongly targeted by police, essentially as a result of their low socio-economic status. They are mistaken as drug dealers because they carry large sums of cash to pay their bills and may have relatively small amounts of drugs in their possession, they said.
Whaley cited an ongoing case involving client Damon Thomas, whose car, recently given to him by his father, was seized along with $3,800 in cash after police responded to a hit-and-run accident that was not his fault.
Police found 2 ounces of marijuana and a small set of drug scales in the car — Thomas said the pot was for his personal use — and the $3,800, which Whaley said his client received from selling an older car that same day. The car's title was transferred through the Department of Motor Vehicles that same day, Whaley said.
Police say "nobody should be walking around with a thousand dollars in their pocket," he said. "But it doesn't matter if they claim you're a drug dealer. It's just that you have the cash. Some poor people unfortunately prefer to deal in cash."
Whaley is helping Thomas challenge the seizure in a jury trial set for Nov. 15. A felony marijuana distribution charge against Thomas was reduced to misdemeanor possession of the drug in April.
Defense attorney Randy Rowlett, a former Chesterfield prosecutor, cited another case in which an Amelia County man in his 70s lost his house through the forfeiture process because his grandson was convicted of distributing drugs from the home.
Although the grandfather may have been aware of his grandson's drug activities, "he didn't have any control over him and nobody thought (the grandfather) was directly participating or even directly benefiting from it," Rowlett said. "It was disturbing. To me, it's the kind of thing that if you're really trying to take assets obtained as a result of drug dealing, this was not the case for it."
While Virginia law "technically does not put a burden on the defendant," Rowlett said, if they say or do nothing in their defense, they likely will lose. The "preponderance of the evidence" that prosecutors must show is a "very low burden" to prove, he added, unlike "guilty beyond a reasonable doubt" in a criminal trial.
"The whole impression that I have from this is that it's difficult to defend these cases when you're not represented, and it's going on simultaneously with the criminal prosecution."
The Institute for Justice, a nonprofit libertarian public interest law firm, gave Virginia's forfeiture laws a grade of D-, saying they "utterly fail to protect property owners."
Police and prosecutors argue that changing the law could result in several unintended negative consequences. By tying forfeitures to criminal convictions, for example, "you've given a prosecutor a financial incentive to get a conviction against somebody," Childrey said. "That's very dangerous."
There are other cases where no convictions are possible because the defendant dies, skips bond and flees, or agrees to cooperate with police in lieu of charges or a conviction. And occasionally police will find drug money and other criminal assets abandoned by suspects in motel rooms, houses and cars that are searched, officials said.
"We have dozens and dozens of cases where there will never be a conviction," Childrey said. "Why should the state be required to find some family member (of the defendant) or otherwise give that money back? I don't think the law should force that."
Database: Criminal Asset Seizures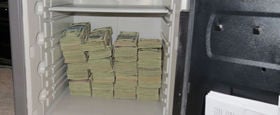 The Richmond Times-Dispatch obtained and then analyzed a spreadsheet containing thousands of asset-forfeiture records submitted by Virginia police agencies for the years 2008 through 2014. The records, maintained by the Virginia Department of Criminal Justice Services, accounts for every asset seized by police, its value and whether it was forfeited to law enforcement or returned to property owners through the state's civil-asset forfeiture program.