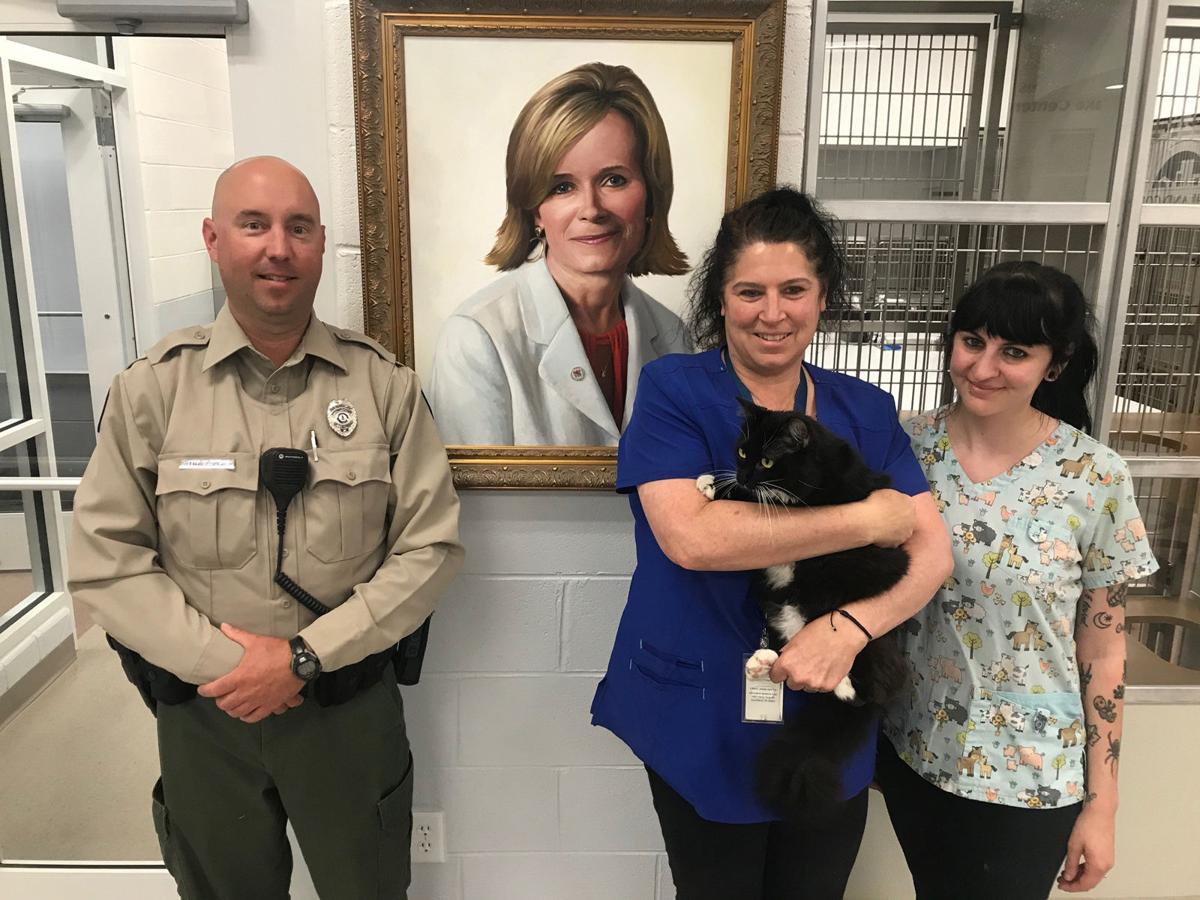 As she made her way through the bright, spacious hallways of the county's new animal shelter last Monday, shelter supervisor Julie Lawrence could barely contain her excitement.
Though she has had a front row seat to the shelter's journey from its earliest days, she still can't quite believe it is finally complete.
Gone are the cramped quarters where she and the county's Animal Control division once had to wait for hoses to thaw in the winter months so that they could clean out the kennels. Gone are the dimly lit rooms where they had to examine and provide medical care for sick and injured animals, then try and find places to store supplies and equipment.
That entire building, Lawrence laughed, would fit in the new facility's brightly lit, welcoming foyer.
They've been waiting so long for this, Lawrence said, "and now it's a reality."
If the county's new animal shelter sounds like a dream come true for local pet champions, that's no accident. In fact, it's exactly that.
The new 13,941 square foot state of the art facility incorporates a municipal animal shelter, an adoption center, and an in house spay/neuter clinic far surpassing the size of the former Animal Shelter. Located at 1900 Hidden Rock Lane, it is a shining example of county and community collaboration that will benefit Goochland County for many years to come.
Development and construction of the Goochland Animal Shelter and Adoption Center was possible through county funds and generous community contributions through the Goochland Pet Lovers.
"I am extremely proud that Goochland has delivered on our commitment to build a shelter that is well constructed and that will serve the community for many years to come," said County Administrator John A. Budesky. "We are grateful for the gracious and ongoing support and our partnership with Goochland Pet Lovers. The shelter reflects our desire to create a caring environment our residents and pets deserve."
Planning for the new shelter began in January 2015. In August 2017, the county broke ground on the new facility. In the Spring of 2019, the original general contractor was fired for a lack of performance. Hourigan Construction ultimately was hired as the interim contractor and eventually as the County's completion contractor in October 2019.
The new facility boasts a dizzying array of features designed to help make life easier on both shelter pets and the many volunteers who help care for them while they await adoption. Among them are:
Large kennels designed to allow for easy cleaning.
Hoses in each room that help staff and volunteers clean the facility more efficiently.
An industrial washer and dryer that cut down on the time spent washing towels and other items.
Plenty of storage for donated food and supplies.
Well-lit, spacious medical facilities for caring for injured animals, as well as for spaying and neutering.
"Meet and Greet" rooms where potential adopters could meet wth individual animals.
Dedicated offices for staff, and meeting rooms for volunteers.
Large, grassy, fenced off areas for animals to run and spend time with volunteers.
"The Goochland County Animal Protection staff and I are excited to get to work in our new facility," said Tim Clough, Animal Protection Director. "The new shelter provides a safe environment for lost pets and gives visitors a comfortable and inviting atmosphere to view adoptable pets. Thank you to all involved that made this collaborative project a success."
The new Animal Shelter and Adoption Center doors will be open to the public for regular business on Tuesday, June 16 with established hours of Tuesday through Saturday from 9 a.m. to 2 p.m. While the facility is open, due to the ongoing pandemic the county encourages the community to view the virtual grand opening and 360 walkthrough tours at https://www.goochlandva.us/299/Animal-Protection.