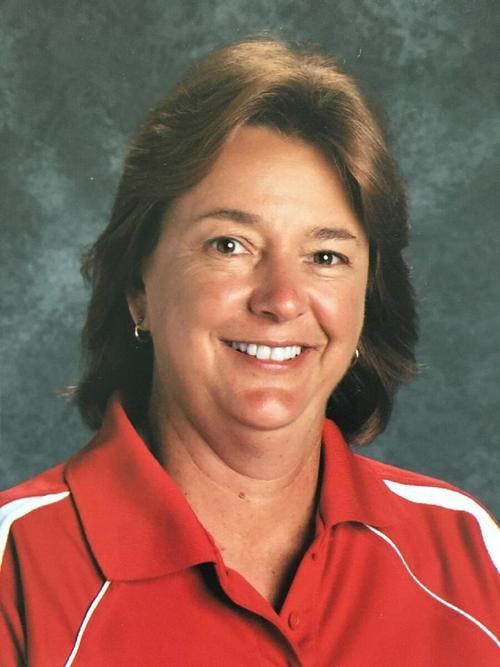 GOOCHLAND – In the past 25 years, she's seen the game change.
The slingshot pitch evolved into the windmill pitch.
The norm shifted from student-athletes playing three different sports across one calendar year to student-athletes specializing in one.
But throughout that time, the student-athletes and community of Goochland County made an impression on Amy Henneberger.
For the longtime head coach who retired after 31 years of teaching and 25 years at the helm of Goochland softball, it wasn't about the wins and losses.
It was about how people perceived the team.
She remembered how they received letters from umpires who were impressed by the way Goochland's team, coaches and fans carried themselves at games.
She also remembered when a high school senior and softball standout from James River District rival Amelia County, Hannah Green, passed away unexpectedly in January 2018.
Henneberger's captain, Kisha Braxton, got the Goochland players together, and they went to Amelia for the vigil in memory of Green.
"That just really sums up how Goochland is," Henneberger said. "They're just a very caring community, and it just makes you feel good as a coach when your players do something like that on their own.
"It's just great to be a Bulldog."
So many players stood out to Henneberger across the years. There were the pitchers: Megan DuVall, Kasey Brandmahl, Brandi Wilson, Jessie Schools, Kaytlyn Jones and Kailyn Spencer. There was catcher Nikki Harris, who's also been Henneberger's assistant coach the past couple years.
Chakiryn Jackson, Brandi Tester, Erica Lester, Amanda Deary, Jackie Tremain and Jordan Fleming all made their presence known on the field and on the team.
Henneberger also praised her assistant coaches over the years, from Harris to Patrick Gordon, who was a senior at Goochland High School when Henneberger first arrived, to Sarah Voyack and Jennifer Cosby.
Throughout the seasons, Henneberger's message to the girls was to have a strong work ethic – and to be good people.
"Whatever thing you're trying to accomplish, you work with people," she said. "You all have to work together."
Henneberger, who played travel ball growing up as well as high school softball in Maryland all four years, got her first coaching job at Randolph-Henry High School, where she was an assistant softball coach for four years. She also became head coach of the basketball and volleyball teams at the school.
When she transferred to Goochland, the coaching roles she held included assistant basketball coach, head volleyball coach and head softball coach.
Henneberger had inherited a softball team that was struggling. When she started coaching them, they were really eager to learn the skills and the basics.
From there, the wins came, and games that they had normally lost by a lot of runs were now tight ball games.
"It was really exciting coaching that first year," she said, "and seeing the growth of the kids."
From there, the Bulldogs under Henneberger went on to win multiple district championships and compete in regional and state tournaments.
They finished 2013 as the state runners-up in Virginia High School League's Single A Division 2 prior to the re-classifications of divisions. They also reached VHSL's state semifinals in the 2A division in 2017.
Henneberger and her assistant coaches also got to see their Bulldogs make a triple play.
It was in the first inning of a game against Randolph-Henry. The lead-off hitter singled, and then the next batter doubled, putting both runners on second base and third base with no outs on the board.
The next Randolph-Henry batter hit a ground ball to shortstop.
Goochland's shortstop checked the runner back to third base, then initiated a rare 6-3-2-5 play.
"Our team came off the field acting all cool about it," Henneberger said. "They were so used to us practicing 'making a play after a play' that it didn't seem like a big deal to them. I think the coaches were more excited because we had never seen it in all the years we played or coached.
"Randolph-Henry and us always had tough battles," she added, "so it was great to break the momentum early and go on to win."
The keys to their victories and to their winning years, Henneberger said, were the players working together and not being selfish.
"They put the team in front of everything else."
This spring technically marked her 25th season, but high school softball in 2020 was cut short by the COVID-19 pandemic. Goochland's seniors never got to play a single regular-season game this spring, and Henneberger felt for Rachel Ferguson, Rachel Carter, Lexi Hooe and Carleigh Gilstrap.
"They were really fun girls to work with," she said. "We expected big things this season."
Henneberger was very proud of how her players carried themselves over the years.
"I'm just going to have a lot of good memories. I feel blessed that I got this coaching job 25 years ago and that I got to work with so many great players and parents, grandparents," she said. "It's like a family. It's been a lot of fun."