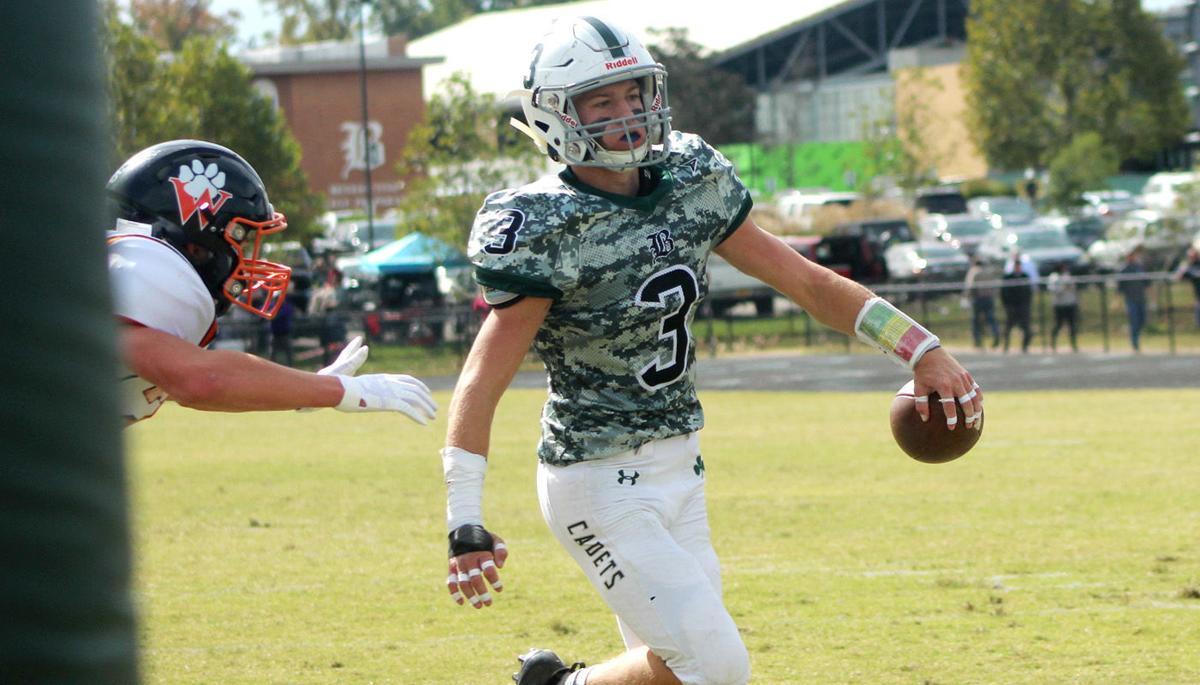 On Wednesday evening, Benedictine football's Henry Dolan announced via social media that he had committed to attending and playing for Davidson College.
"I fell in love with Davidson, and they had a lot of confidence in me and I trust them," Dolan said. "I can't wait to get down there after we have a senior season."
Last fall, Davidson, which competes in the Division I Football Championship Subdivision (FCS), delivered its winningest year (8-4) since its 10-0 run in 2000. The Wildcats are led by head coach Scott Abell, who since his arrival in 2018 has captained the program's first two winning seasons (including a 6-5 campaign two years ago) since 2007. Dolan pointed to the successes Abell and several of his current coaches also had while they were at Washington & Lee.
"What a great program they had there, and they felt as though this place was special and they can definitely turn it around and they already have, and it's only been two years," Dolan said. "That says a lot about them and the coaches and how much trust their players have for them to get to this point, and trust is everything."
Academics have always been a big part of Dolan's life, so with Davidson, its academics and the challenges they offer also attracted him to the school.
"And then to have a chance to play football, too, is just a win-win."
He also complimented Davidson's location – the North Carolina-based college is not too far from home, he said, and it's also less than 30 minutes driving from the major hub of Charlotte. For Dolan, that's a good resource, especially when he gets older and starts looking for internships and jobs.
And of course, there's the chance to play Division I football.
"It's just a great opportunity to play against DI talent," he said. "I'm very fortunate to be in the spot that I am."
He is getting recruited to Davidson as a running back, and the Wildcats, which employ the shotgun triple-option offense, "run the ball a ton," Dolan said. The 5-foot-8, 165-pound rising senior at Benedictine is looking to bring both his quickness and toughness to the Wildcats' backfield.
"I'm not the biggest kid, I've always known that, but it's going to take a couple people to bring me down," he said." That's always been my mentality: just never go down."
And when he's going against bigger players, the thought of them underestimating Dolan because of his size gives him an extra boost as far as his mindset. That's always been part of how he runs the ball.
"I'll never back down from a challenge," Dolan said. "And if he still thinks he can beat me up pretty good, it's not going to come that easy. I'll give it my all."
And with the Wildcats running the ball like they do – Davidson last year ranked second out of FCS teams in the country in team rushing yards per game (322.6) – Dolan can't wait to be a part of that.
His versatility was a key factor in the Benedictine Cadets battling through a season dogged by injuries to win the 2019 VISAA state championship. Playing at running back and strong safety, Dolan led the Cadets' title-winning team in rushing yards (1,003 on 200 carries), touchdowns scored (12 rushing) and interceptions on defense (five) as a junior.
He also made 38 tackles (four for loss), caught five passes for 50 yards and even stepped into the role of quarterback during parts of the season, with most of his snaps behind center coming during Benedictine's wins over Collegiate (27-14) and Woodberry Forest (27-26).
When he was a sophomore, Dolan said he "was kind of a Swiss Army knife" in that he played at several different positions on the varsity team. That experience of playing and learning those different positions helped him get to where he is today.
His 2019 postseason honors included being named to the Richmond Times-Dispatch All-Metro First Team for defense (defensive back) and to VISAA's Division I All-State Second Team for offense (running back).
He also didn't miss a game in 2019, playing in all 11 varsity contests.
"It's a long season, I knew we had a couple injuries as a team that – it didn't step us back but we all had to kind of step up, and I feel like that was part of my role, too. I had to step up and I knew I had to be healthy," he said. "Just being hard-headed and tough, I think that really just gets me through the season."
As for the state championship season, Dolan said "it just kind of came together in a good way."
"Everyone had to step up, not just me," he said. "We're like: 'All right . . . we're making it to the playoffs. There's no other choice.' We got some key guys back at good times, but I think my performance just came with the help of my teammates and the coaches just believing in us and believing in me."
He added: "We figured out where to put right guys in the right place where they could play to their strengths. I think that was a key thing, especially with some of these injuries. We had to put guys in some spots and we were just tough. We never backed down from any team and we all played together, played as one."
While it's still unknown how this upcoming football season will go and when it will start due to the ongoing situation with COVID-19, Dolan is continuing to prepare for his senior year with the mindset that everything will start on time. During this pandemic, he's been lifting at least four days a week, working with his speed trainer Kenny Younger over the weekends and doing some of his own footwork and conditioning.
"I'm trying to do something every day," he said.
As he and his Benedictine teammates set their sights on repeating as state champions, Dolan feels they have a special group of guys coming back.
"I love all the guys in my grade and in the grades below," Dolan said."I think our senior class is pretty special."
In between now and the fall of 2021 – when he becomes a Wildcat – Dolan is looking to build up his overall confidence with his senior season on the gridiron.
"And just having any impact I can on that team, going as a first-year, would be incredible, especially with them being on the rise and already having lots of talent down there," Dolan said of Davidson. "Just me doing the best I can to get on the field and maybe contribute first year would be great."
When it comes to the Cadets, Dolan feels that the small things – being in the locker room, being with his friends – are the kinds of things he'll never forget.
"At Benedictine, being part of the football team, it's an honor," Dolan said. "With Coach [Greg] Lilly leading the charge, it's always been an honor to be on the team and I'm just grateful to have chosen Benedictine, and football's been a big part of me there.
"Winning games is fun, too," he added, "and I hope we can do more of that this fall."