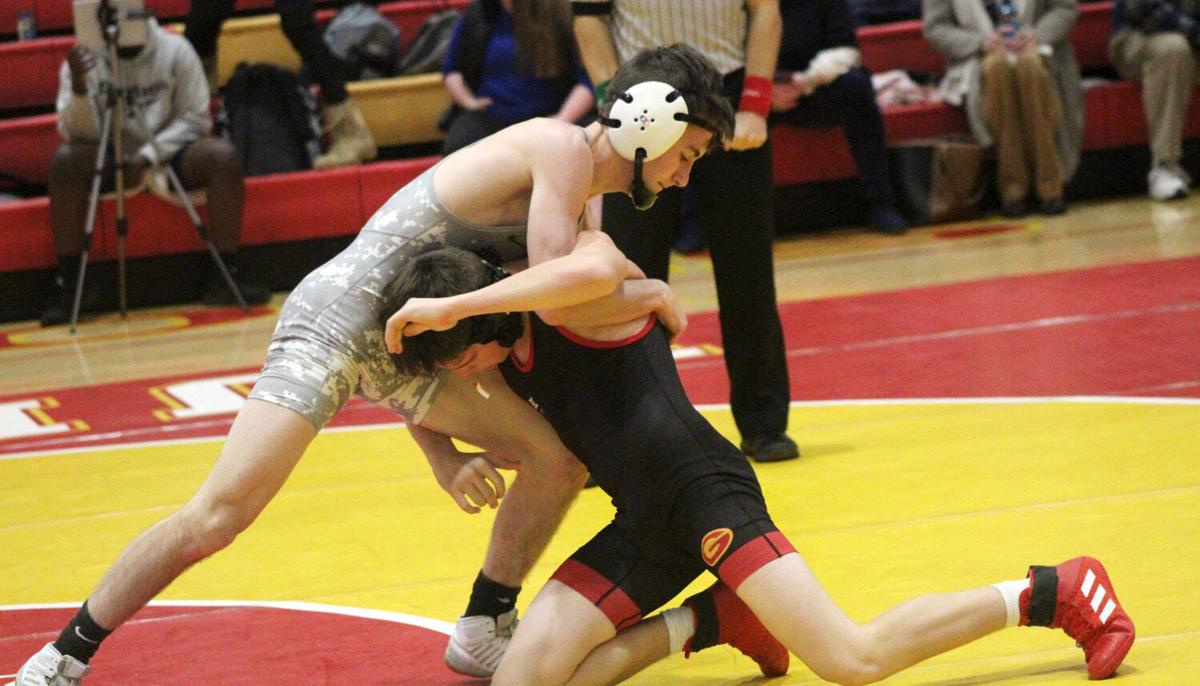 When he was a boy, Brenden Barnes would wrestle around with his older brother.
And his dad Michael Barnes, who had wrestled for a year himself, would see Brenden get the better of his brother.
He suggested to Brenden that he wrestle.
"I'll give it a shot," was Brenden's reply.
He started out at Dale Wrestling Club in his hometown of Chester at the age of 7. That's where he wrestled Nick Vafiadis his first year. While Nick beat him, it was the closest match that Nick had had, and his dad, Sam Vafiadis, went up to Brenden and said that Nick needed a wrestling partner.
"Can you come up to Predator?" Brenden recalled Sam asking him.
The seed was sown for his successes.
He placed fifth out of 149 competitors in the NHSCA nationals as a freshman. He won VAWA State Championships in both freestyle and the Greco-Roman style. He's a four-time I-64 titlist. He's earned two VISAA state championships for Benedictine.
He's also committed to wrestling on the NCAA Division I level for the United States Air Force Academy. The rising Benedictine senior announced his decision on July 28.
"I think it matches his personality really well and his ability level very well also," said Brenden's Benedictine coach David Yost. "I think a solid D-I program like that is going to continue to push Brenden and I think it's a perfect fit. "
The Academy reached out to Brenden around December, and for a few months it's been his No. 1 choice. His dad Michael was an Air Force officer himself, and he told Brenden about all the good things that can come out of it, including a top-notch education, Brenden said. The wrestling coaches also talked to him frequently; he recalled how other schools would call him maybe once or twice, but the Air Force, he said, called him almost every week.
"I'm super excited, just overall from what I saw, when I visited," he said.
And he likes to be challenged. It's why he went to Benedictine – to surround himself with people who are working towards the same goal and have the same mindset.
"That's what I like about the Academy probably the most, is that I'm surrounding myself with the top five percentage of people – all working towards the same goal and just being better."
Brenden became just the second Benedictine wrestler to be elected team captain as a junior. He said his work ethic is probably his best trait, and his dad taught him to lead by example.
That's exactly what he does, noted Yost, who described Brenden as "one of the hardest workers in the room." Yost also had him as a student in 10th-grade Theology, and the way that Brenden has carried himself in school "was exactly parallel to how he carried himself on the mat" – cool, collected, very disciplined and self-reliant.
"He models what hard work looks like for the guys, and it's very clear with his results that that's what it takes," Yost said. "If you want to be successful, do what he does: put you head down, work hard and get after it."
When Brenden's competing, he gets after it in the first period and doesn't let up. He likes to attack – low single sweeps, knee pulls – and he likes to be quick, getting his opponents going one way before he shoots the other way to get them off-balance.
He's also tough on top, notching 35 pins this past year. In one of his keynote victories, he pinned Nasir Wilkinson, a National Prep placer from Maryland.
Brenden always, always wants to get the first takedown, because it puts him at an advantage for the rest of the match.
"In my mind, I'm thinking: 'All right, I'm up two points, so I know you're not going to take me down,' so he has to get out from one of my best (things): on top," Brenden said. "So in my mind, if I get the first takedown, I'm winning the match."
Brenden's not intimidated by anybody, Yost said.
"He doesn't care who he's wrestling. He just gets after it, gets in your face with that BCP style, and that's what I love to see," he said. "There's so many times where we're wrestling on the mat, I'm telling the whole bench: 'Are you seeing this? Check it out, that's what you've got to be: in their face, getting after it for six whole minutes,' and he just exemplifies that perfectly."
In the room, that's what coach Yost always stresses: "Six minutes, six minutes," Brenden said.
"We're big on carrying yourself well in victory and defeat on and off the mat. That being said, you can be a gentleman off the mat and a warrior on it, and that's exactly what he does," Yost said of Brenden. "We teach offense for six minutes, and Brenden is nasty on his feet, and then he gets on top, too, and he's got those strong legs, and he wraps people up and he kind of asserts his will, and that's the idea . . . no mercy on the mat. But then he can be a perfect gentleman and a Christian gentleman off the mat."
Brenden tailors how he trains to how he wrestles.
"I don't wrestle like I am Superman, like super-jacked, but I like to be quick, so that's why I do more cardio," he said. While he lifts twice a week, he estimates that he runs from three to five times a week either outside or on a treadmill.
Throughout his entire wrestling career, his parents, Michael and Jennifer Barnes, have been there by his side. Jennifer is the team mom for Benedictine wrestling, helping with the setup and operation of tournaments as well as meals. Michael is also the team photographer, and both of them, Brenden said, have never missed a tournament, even going all the way to Tulsa, Oklahoma with him.
As for the person he's become – how he carries himself, how good he is as a wrestler – he traces it back to Virginia Team Predator.
The Chester-based club over the past decade has shown itself to be a powerhouse, coaching and building up wrestlers from all across the Richmond region and helping set them on the path to becoming state champions and collegiate wrestlers. Brenden praised Team Predator's head coach Mark Strickland, calling him the reason why he's an established wrestler.
"I'd say he's one of the best coaches in Virginia and up there in the country, too," Brenden said. "He pushes us to the right extent and he's just a great overall coach and he brings in other coaches for our benefits."
From being part of Team Predator, you gain personality traits like discipline, Brenden said, as well as experience and exposure – the club and its wrestlers travel all around the United States, with Brenden having placed third at Tulsa Nationals in Oklahoma when he was 11 years old.
In the Predator Room, he's bettered himself in tandem with VHSL state champions Nick Vafiadis, Evan Holloway and Matthew Eberly, all from New Kent. He also had a couple of four-time state champions to look up to in Benedictine's Josh Wyland and Powhatan's Collin Gerardi.
"I just learned the drive that they had, how bad they wanted to succeed," Brenden said. "I actually watched Collin win an NHSCA senior title, and I could tell he strived for that – that was one of his probably best moments in his high school career, if not the best."
Brenden came up winning championships and tournaments throughout elementary and middle school and into high school before running into Erik Roggie his freshman year in the 106 VISAA state final. Roggie, a National Prep runner-up, defeated Brenden 2-1 that year or the title.
Brenden hasn't lost in that tournament since.
As a sophomore competing in the 113 bracket, he pinned each of his first two opponents within 45 seconds, defeated semifinalist Lucas Yates by tech fall and edged past Dustin Smith in a 3-2 decision for his first private school state championship.
The biggest states-related battle he had to overcome his junior year occurred off the mat. Brenden had come down with the flu the week before, so he couldn't practice that whole week.
"I'm not going to lie; it got to me. I didn't know if I was going to be allowed to wrestle because I had the flu a week before, and I didn't know the rules for that," Brenden said. "So just going into it – I like to picture stuff in my head and work through every situation in my head – so when I was running on the treadmill, that's what I was doing, and I'm thinking: I'm not going to let this little flu get in the way of me winning the state title."
He pinned his way through the 120 weight-class bracket and bested his finals opponent, Erik's younger cousin Cale Roggie, in a 7-3 decision, winning his second individual state trophy and helping his Benedictine Cadets earn the 2020 VISAA team championship.
And in relation to his longtime rival Erik, Brenden did defeat him 12-7 in the 120 weight-class final of the 2019 VAWA FS State Championships.
His goals include another state title, another team state title and placing in the top three in both the National Prep and Beast of the East tournaments.
Yost predicts that Brenden is "going to be better than ever this coming year."
"I think he's just going to have a very dominant senior year," Yost said, "and he's going to carry it right into the Air Force Academy; I think he's going to be very, very competitive and successful there also."
Yost loves coaching guys like Brenden – they're the ones who make you step up your game, because then you have to be just as committed as they are.
"Otherwise, it's a disservice to them, and so he's made me step up my game and figure out ways or learn ways to push him in the room," Yost said. "I'm just very thankful and honored to have coached a kid like him. He's a perfect-model Benedictine Cadet."