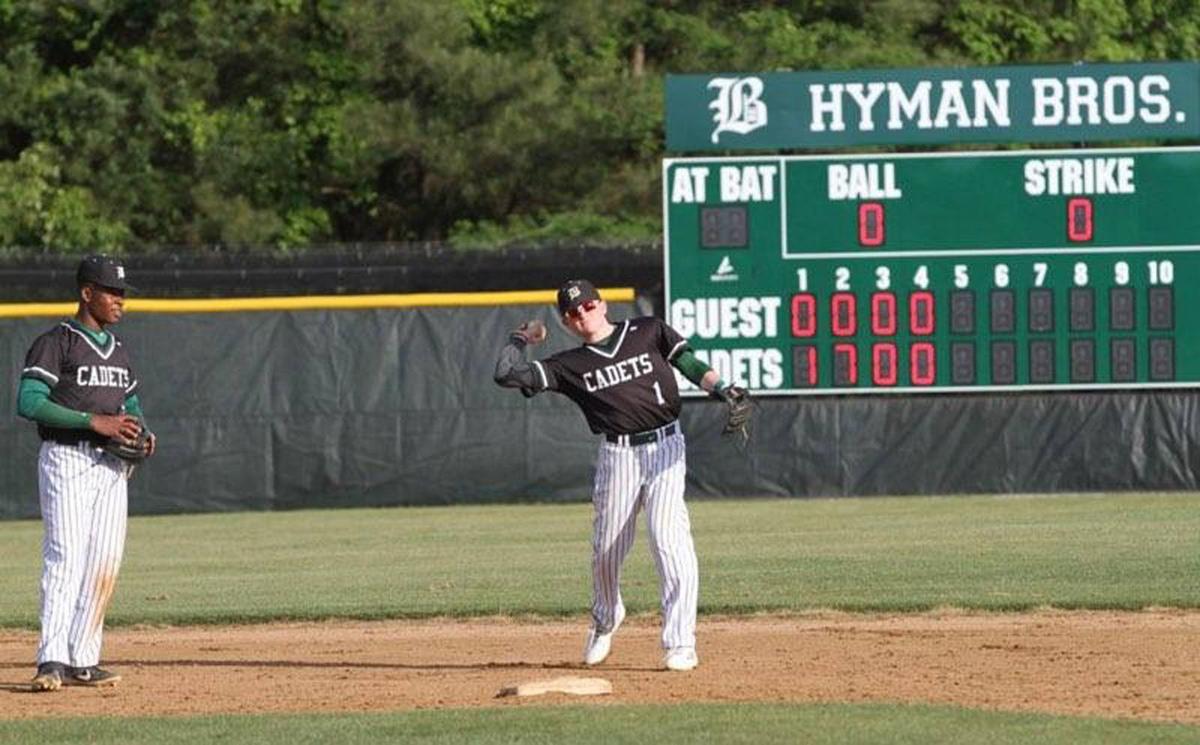 After playing behind a few of Benedictine baseball's greats, Brock Carter was looking forward to embracing a leading role while playing at shortstop in his senior season for the Cadets. And he was able to do so for one game.
But then came the COVID-19 pandemic. And once it gripped the nation, all high school sports across the State of Virginia were wiped out.
For Carter, a promising final year of high school baseball had been taken away.
The Class of 2020 graduate is embracing the opportunity to continue both his academic and baseball careers at Louisburg College in North Carolina.
"I couldn't be more happy," he said.
Carter said Cam Cassady, who was an assistant coach at Benedictine before joining the Roanoke College Baseball coaching staff last summer, helped him with advancing to the next level.
"I really wanted to play again and prove myself there and hopefully move on to the next level after that," Carter said. "It's great to be able to play again, but it's not just playing. It's still baseball and you've got to work every day."
Louisburg is a two-year junior college, and its athletic teams compete in the National Junior College Athletic Association.
"At Louisburg, it seems extremely structured, like it wasn't just going to be a walk in the park," Carter said. "It's going to be challenging; you're going to be held accountable, responsible and it's not just going to be whatever you want to do."
He praised the confidence he observed from his coaches at Louisburg, including Billy Funk – the first coach whom he talked to and was interested in getting Carter down there – and head coach Blake Herring.
"He knew what he was talking about and didn't hesitate about anything, knew exactly what to do and say," Carter said of Herring. "He was a really good guy."
Carter will play for the team as a middle infielder.
"I'm looking to go in and compete for a starting spot, hopefully start," Carter said. He's looking to help them in any way he can and obviously, win a ton and move on to the next step.
Carter started with T-Ball and played his way up through the Mechanicsville Little League. He took on middle school ball at Stonewall Jackson in Hanover County before attending Benedictine where he played throughout high school.
He also started playing travel ball when he was 8 years old. The teams for which he played included RBA West and the Richmond Braves.
Carter felt he was decent at baseball from a young age, and so he stuck with it from there, trying to get better and better. He never wanted to stop.
"That's all I really wanted to do, was be on a field somewhere."
The main element he liked was the travelling.
"That just expanded what you've ever known – you've always stayed in one spot where you've lived, and then you get to go to different states and then sometimes out of the country," Carter said. "The main thing was leaving home and playing in other places in front of new people."
There are also the friendships you make along the way.
"Because there are always different people on a team every year, especially through high school," he said. "You watch people come in, you watch people leave and then you go up and then that just keeps coming."
Carter mainly played catcher through eighth grade while also pitching a little bit, but he always liked being in the middle infield. Playing at the shortstop and second base positions was something that he just worked at and worked at. He focused on getting bigger and stronger, which helped him make the throw a lot easier from shortstop.
And at Benedictine, he got to learn from tremendous talents.
In addition to helping the Cadets on the mound in a relief role during games in his sophomore and junior seasons – he pitched 11 innings in his 10th grade year when he made varsity – Carter played behind middle infielders Greg Ryan Jr. (VCU), Brett Cook (Tulane) and Jamari Baylor (Philadelphia Phillies), with whom Carter became good friends.
In Benedictine's first and only regulation game of 2020, Carter started at shortstop – the same position at which Ryan and Baylor played in 2017 and 2019, respectively, during the Cadets' two state championship campaigns within the past four years.
"You learn from them and you see what they do and how they act, how they react, what they do in-game, in tough situations, and how they respond," Carter said of Baylor and Ryan. "They were probably two of the best I've ever seen, and getting to stand right behind them, during warm-ups before the game and in the dugout and then practice was the main part – you just see what they do and then you try to follow up and be right there and then when they need to be brought up, you kind of just have to be there . . . kind of just keep them motivated."
Carter observed that Ryan was "really smart and quick," and that Baylor was more like an all-around "raw athlete."
"He would just make these plays and you're like, 'How do you do that?'" Carter said, adding that, when it came to filling their shoes: "It was like, 'How am I going to do it?' and then you just kind of look back and see what they did and do . . . all the routine things, and then if you make the spectacular plays, then it just kind of happens."
In addition to his teammates, Carter praised the experience of playing for coaches Cassady and Benedictine's head baseball coach Sean Ryan. He said Cassady was always that coach who "would show up early to games even if it's 30, 40 degrees outside" and was always willing to stay after.
"He's always been one to text and call and see what he can do," Carter said. "Even during school hours, if we needed to talk to him, he would let us in and talk to us at school and help us with the class if he knew what to do, and then he was always pushing us to do more and more and more. "
And coach Ryan, Carter added, is "one of the best coaches you can ask for."
"He's always pushing you, he's trying to be not just your coach, but your friend and build a relationship just to be close with you and learn how you play," Carter said. "He's always trying to get us to do more and look better and expand and then he's always trying to get us to be leaders for the younger guys."
While Carter was on the JV team in 2017, he still got to see through practice the varsity team that won that year's state title. The following year, in his first season on varsity, Carter got to learn from all of the returners, as well as Baylor and Cook during Carter's junior year, when he and his teammates won the grand trophy in 2019.
He was part of a Cadets team that not only went 28-2, but battled past Norfolk Christian, 11-10, in a state quarterfinals game that took two days and 14 innings to complete.
"Being around it and just knowing what it takes and how to earn it . . . that would hopefully have translated into this year, which obviously we didn't see that, but being able to just be a part of it and watching most of it . . . that's just what it takes," Carter said.
While this year's varsity team had several returners, many of those returners – including Carter – were embracing leading roles for the first time.
"We had a lot of young guys, and we had a few people who were new, and . . . they earned their way," Carter said. "I was curious to see how we'd work together because it was like a whole new lineup."
The Cadets opened the 2020 season strong, beating Walsingham Academy. But that would be the only game this year's team would get to play, as the COVID-19 pandemic led to Virginia schools closing on Gov. Ralph Northam's orders. As a result, the Virginia Independent Schools Athletic Association cancelled its 2020 spring sports seasons.
For Carter, it kind of hurt because he worked so hard throughout high school to attain his goal of playing full-time in the middle infield.
"Senior year, it appeared to be that way, like I was going to be able to do that," he said. "It kind of felt like: I was getting the chance to finally prove myself, and then it got cancelled . . . I didn't get that opportunity."
But now, his focus is on college, and on contributing to Louisburg baseball.
"I can't worry about high school anymore," he said. "I just want to be ready to compete for a starting spot and be able to play good there and to do what I can to help us win there and move on to the next."
He added: "The main thing is to get everything I can out of Louisburg and then figure it out on the way . . . when the time comes, after Louisburg."
The lessons that baseball has taught Carter include the importance of working with others on a team and being there for them.
"It's not just you. It's eight other people on the field along with the others on the bench," he said. "You're all a team, and even the coaches . . . and just being able to work with – especially travel ball, between high school and the teams always changing – how to work with different people . . . the team-building atmosphere."
Carter praised his family and their support – his sister and his grandparents – as well as his coaches, including Ryan and Cassady. Among his biggest supporters were his mom and dad. He said that they paid for all of the costs for him to play and travel, and that they'd take him to places outside of the state for baseball and spend that time with him.
"They've always been there."