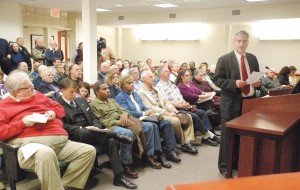 On Jan. 28, Gregory K. Wolfrey, who was scheduled to resign in August after 23 years as Goochland's county administrator, sent the following memo to all county employees:
"This is to advise all county personnel that I will be resigning my position as County Administrator effective Sunday, February 1, 2009."
The resignation comes on the heels of an investigation of Goochland County's utilities department that revealed more than $200,000 in undeposited checks for connection fees. Other recent problems in the department include water odor issues in the Kinloch neighborhood and disputed water bills in West Creek; both areas are served by the Tuckahoe Creek Service District.
District 4 Supervisor Malvery "Rudy" Butler, who has in recent weeks publicly sought Wolfrey's resignation, said he wishes the county admininstrator well.
"This is probably good for him, and good for us, and good for the county," said Butler.
At a special meeting on Jan. 13, the county's Board of Supervisors turned down a motion, introduced by District 3 Supervisor Ned S. Creasey and seconded by Butler, to dismiss him by a 3-2 vote.
The board also voted to rescind a revised Code of Ethics and Standards of Conduct and Wolfrey's recently announced Operations Policy.
According to County Attorney Andrew R. McRoberts, once Wolfrey leaves on Feb. 1, the Board of Supervisors will be responsible for the conduct of county business until appointing an acting county administrator. An outside administrator could be appointed to serve in that capacity until a permanent candidate is chosen.
"The board will evaluate an interim person," said District 2 Supervisor William E. Quarles Jr, adding that he believed that Wolfrey stepped down in order to best serve the county's interests.
"Unfortunately a problem occurred on his watch," Quarles said, referring to problems in the utilities department. "He didn't want the county torn apart, and I say, kudos for having the strength to do that."
The supervisors are scheduled to meet on Feb. 3 for their monthly meeting, when they are expected to discuss filling the county administrator's position.
In the meantime, the Board of Supervisors met Jan. 29 and voted unanimously to approve a complete forensic audit of the utilities department's activities during the period that Doug Harvey served as director.
Commonwealth Attorney Claiborne Stokes will pick the forensic auditor and oversee that audit, which is expected to cost about $20 - $30,000.
The supervisors also voted to approve financial statement audits of all other county departments.
Harvey's departure late last year coincided with the results of the earlier audit, which was prepared by Robinson, Farmer, Cox Associates, a firm hired by the county at a cost of $3,000, to review and assess the utility department's handling of fees in fiscal years 2007 and 2008. The audit recommended that the county develop a better system of recording and billing utilities customers.
"I personally do not believe there has been any unlawful acts," said District 5 Supervisor James W. Eads.
Until all the facts are known, said Stokes, "I believe the county of Goochland, the citizens here, want a plan."