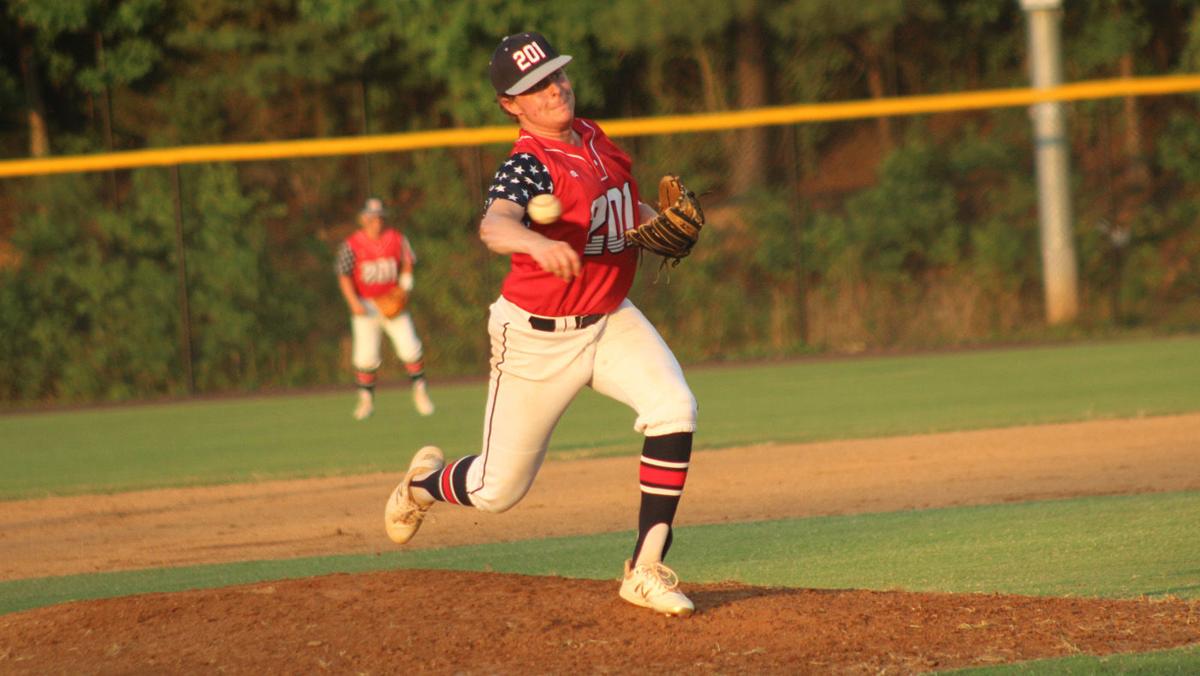 Before this week, Goochland High School alum Cole Bashinski hadn't played a baseball game of any kind since he and his Bulldogs scrimmaged Chancellor in March. After that, the COVID-19 pandemic led to the cancellation of Virginia's high school spring sports seasons, and since then, Bashinski hasn't really been able to hang out with friends that much.
So for the future Eastern Mennonite University player, it's great to be back on the field this summer.
"This is my life," he said. "It feels really good to be back out here."
The good feelings continued after his Post 201 baseball team and its opponents tallied up 47 total runs and seven hours across two games played this week.
Thursday's wild four-hour battle with visiting Post 361 saw Bashinski enter the lineup late. He had stepped onto the mound to pitch in the top of the 10th inning with the game tied at 11-11, but Jesse Robinson and Zelgin Jackson knocked two hard hits past him to lift the visitors into a two-run lead.
Bashinski would have the last word.
He stepped up to the plate after his teammate, Powhatan's Stone Talley, drilled a game-tying two-run base hit to make it 13-13.
"When I got deep in the count, I just made sure I put a ball in play, put a good swing on it," Bashinski said.
He did more than that, smashing the line drive all the way to the right-center wall to bring home the winning, walk-off run and secure the wild 14-13 triumph for Post 201 over Post 361 in 10 innings.
"It feels great that this team never backs down," Bashinski said. "They have our backs, 24/7, no matter who's pitching or hitting. Everybody's with everybody."
The hosting Seniors had clawed their way back from an 8-1 deficit after three-and-a-half innings, out-producing Post 301 10-3 through the rest of regulation.
Talley was a huge part of why.
In addition to batting 3-for-4 with four RBI and reaching base in five of six plate appearances, the rising Powhatan High School senior adjusted from giving up three runs as Post 201's pitcher in the top of the fifth inning to none through the next four frames. In the top of the ninth with two runners in scoring position, Talley sat down his last batter of the night on a called strikeout.
Talley said that at the beginning, he was "trying to do too much with it," so he worked to slow down, throw strikes and let his defense do what "it needs to do."
Both Talley and Josh Boelt, who were on vacation, left the previous night at 2 a.m. and took a 13-hour trip to get back and play in Thursday's game.
"That's a testament to them on how bad they wanted to play baseball," Post 201 coach Eric Mead said.
"It took a while to get down here, but I'm glad that I did," Talley said. "Got the W."
Boelt made a spectacular play in the top of the sixth inning when he ran down a flyball behind the third base line in foul territory and hit the ground in a tumble – with the ball clutched in his glove.
Mead also pointed to the efforts of the middle and bottom of the lineup, which helped tighten the game to one run across the fifth and sixth innings.
"They kept battling," Mead said. "I'm very proud of them."
Post 361 had stretched its lead to 11-5, but Powhatan's Boelt, Andrew Cheatham, Trevor Waters and Connor Woodel clocked four straight hits to drive in three runs in the fifth, and then Talley and Boelt each brought in a run in the sixth – Talley on a walk and Boelt on a sacrifice fly.
That helped set up a memorable clutch hit from Post 201's lead-off batter Alex Balisteri. Facing two outs in the bottom of the seventh, the James River High School alum and Walters State CC player rocketed the ball high, deep and over the right-field wall to tie the game at 11-11 and force extra innings.
Balisteri batted 4 for 6 with three RBI, a homer and two doubles, including one for two runs in the bottom of the fourth.
Post 201 scored 12 of their 14 runs while facing two outs.
For Post 361, Luke Schwartz batted 3 for 5 with four RBI, two doubles, and three runs scored. Robinson batted 3 for 5 with four runs scored, a double and an RBI. Jackson batted 3 for 5 with three RBI and a run.
The Seniors will play Post 137 at L.C. Bird High School on Tuesday, July 14, at 7 p.m.
361 212 330 000 2 13 18 5
201 100 432 100 3 14 14 3