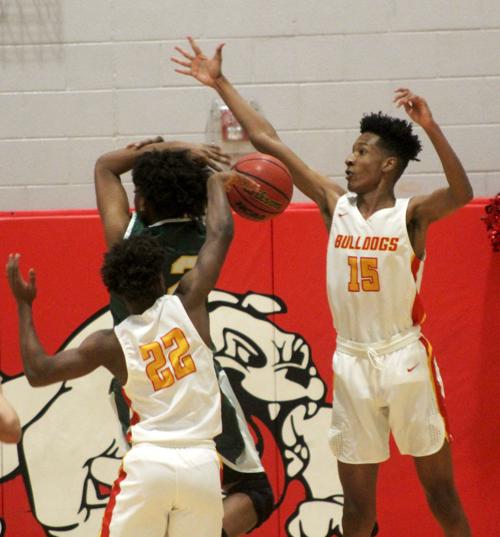 Last year, Goochland boys basketball made school history, achieving a program-record 23 wins and earning its first-ever trip to the state semifinals.
But that historical season for the Bulldogs also began with a season-opening loss at Maggie Walker. That loss left a bitter taste in their mouths.
"We knew, going into this game, we had to make sure our guys were prepared – much better than they were last year going against Maggie Walker," Goochland coach Preston Gordon said of their Dec. 13 matchup at Amelia. "We had them dialed-in and focused on what we need to get done."
The Bulldogs delivered, triumphing 64-52 over Amelia on Friday night to open the 2019-20 season on a victorious note.
"I'm just proud of our guys," Gordon said. "They stayed focused."
Junior Jackson Hoffler made the move up to varsity this season after 2 years of JV; Gordon noted how he's been coming in on Saturday mornings, probably about 45 minutes before everyone else arrives, and he's been getting a lot of shots on the
There was one morning where he made 70 shots out of 100 – all of them 3's.
Hoffler translated that hard work into a team-leading 20 points against Amelia.
Team depth shined early for the Bulldogs as three of their leading forces last year – senior Quincy Snead, junior Kameron Holman and sophomore J.B. Bell – all joined Hoffler in scoring 9 or more points.
Holman made 15 points, Bell double-doubled with 10 points and 15 rebounds and Snead delivered 10 rebounds and 9 points.
Defensively, Gordon said his players communicated well, and they know their
principles. But he noted that rebounding the basketball better will be a point of emphasis through the next couple weeks.
"We knocked down free throws when we needed to," Gordon added. "Our shooting is just going to get better…we took some shots that are early-season shots and we'll get better at those and we'll be more focused on what we need to do and definitely get some better looks in terms of offensive, and our defense is going to continue to grow.
"We've laid the foundation; it's just making tweaks for each game."
The Bulldogs opened this week with a 54-45 win over Prince Edward. Holman led the way for Goochland with 17 points, Bell netted 11 points and added 8 rebounds and Snead made 7 assists and 8 steals.
Goochland, which is in Class 3, will host Class 4 schools Patrick Henry (Friday, Dec. 20) and Lee-Davis (Saturday, Dec. 21), with both games slated to begin after the 6 p.m. matchups featuring Caroline vs. Lee-Davis on Friday and Caroline vs. Patrick Henry on Saturday. All four games are scheduled to be held at Goochland High School.