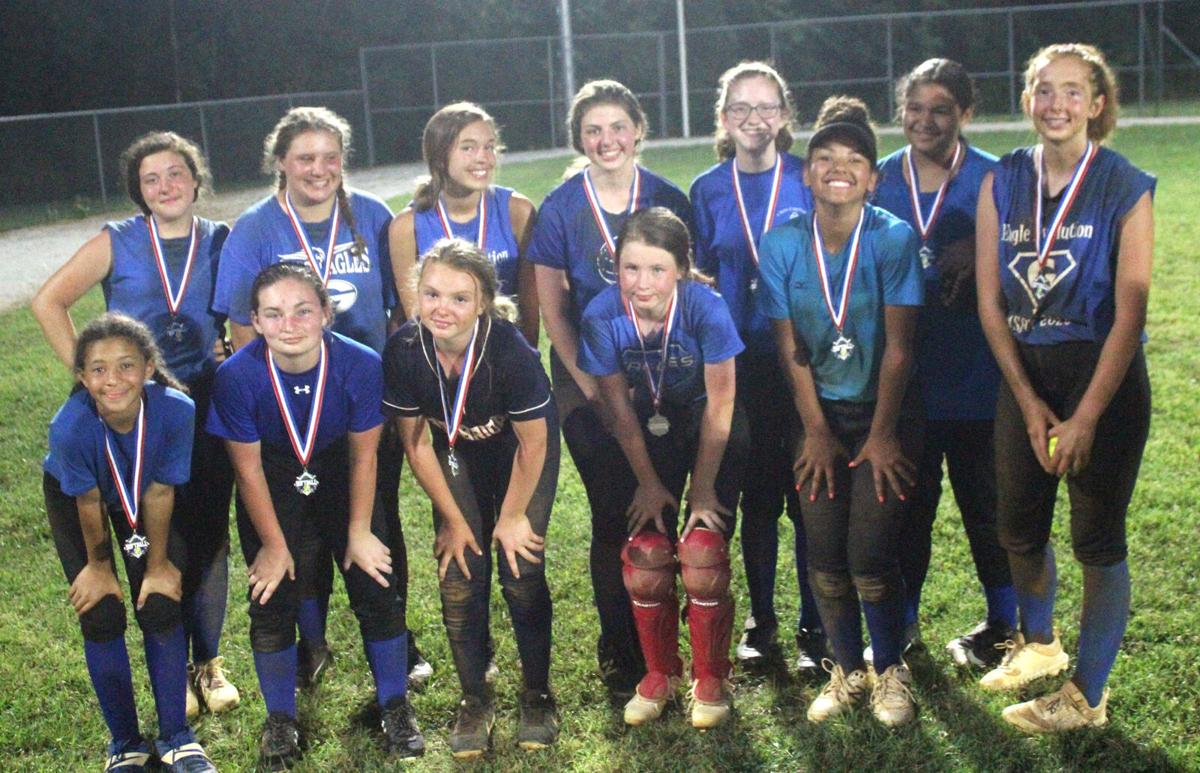 The team that represented Goochland in this past weekend's Belles district tournament held at Powhatan's Turner Complex had only been together for five weeks.
Kenny Stokes had coached most of the girls in middle school, but a couple of the players, he said, had never played softball before.
That didn't keep the team, which included Goochland recreational softball players and members of the Goochland Middle School Eagles, from winning three games, beating the Virginia Breeze once and taking runner-up in the tournament.
"I'm just as proud as I can be of them – every single one of them," Stokes said of his players.
Goochland's first game in the tournament ended in a loss to the Breeze on Friday, but the players endured both the heat and three straight games on a scorching-hot Saturday to punch their ticket to a second game in the championship series. They beat both Fluvanna and Powhatan to rematch the Breeze, which grabbed a 3-0 lead in the bottom of the fifth, and needed just one more half-inning to put away the game and win the tournament championship.
But Goochland soared in the top of the sixth. It tied the game on runs from Dakota Higgs, Anna Ward and Joey Cotner, and Jaylia Mills scooted a go-ahead groundball single into center field to plate Grace Jennings. In the bottom of the sixth, Goochland's closing pitcher Marley Baker struck out two batters swinging and caught a fly ball to secure the 4-3 win and force a winner-takes-all championship game between the two teams.
The Breeze would go on to rally past Goochland in the final and walk-off with an 8-7 victory, but the tournament was a tremendous showing for the runners-up, who played with as few as nine players in its opener on Friday and as many as 12 in the championship game, with some of the girls coming from other commitments including travel ball. Gabby Pace, who according to Stokes had never played an official softball game before, showed up to help the team when it needed one more player on Friday.
"And she did a tremendous job," Stokes said.
Goochland's players were Marley Baker, Joey Cotner, Alison Croker, Maddie Davis, Kaylee Grant, Dakota Higgs, Grace Jennings, Jaylia Mills, Gabby Pace, Aniyah Ross, Sierra Settle and Anna Ward.
Both the tournament and this summer overall have been moral victories for the girls who had been waiting to get onto the softball field. Stokes, who also umpires, recalled one night where he said that "you could see the emotion – you could feel it."
"I umpired a different game the next night and I actually had girls that walked out onto the field for the first time since before all of this COVID stuff started, and they were actually crying, and I was like, 'What's wrong with your players? What's going on?' And they were like, 'Oh no, we're just happy! We're just happy!'" Stokes said. "It means a lot to them to have them on the field."