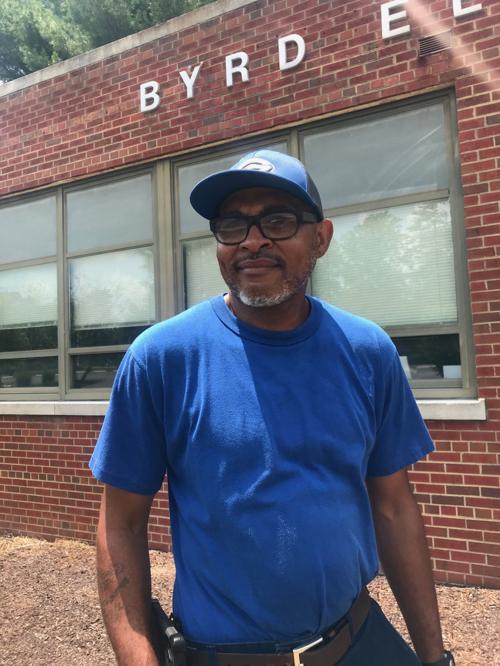 Byrd Elementary School Lead Custodian Frank Eldridge knew when he took on his current position that he was filling some big shoes. After all, the late Connie Brice, who previously held the job and served as a mentor to Eldridge and so many others, had been a beloved figure at the school for years.
Fortunately, Eldridge quickly put to rest any doubt that he was up to the task. Known affectionately as "Mr. Frank" around the school, Eldridge immediately distinguished himself as a dedicated employee and a tireless supporter of both students and staff. His efforts have not gone unnoticed: recently, he learned he had been selected as the Goochland County Public Schools' Employee of the Year.
The father of two, who served nearly a decade in the Army National Guard and an additional 16 years with the Department of Corrections before being hired to the custodial team at Goochland High School, says his favorite part of the job is getting to be around all of the members of the Byrd Elementary family, particularly the students.
"It's all about the kids," said Eldridge, who has become known for taking part in as many school events as he can, often wearing wacky outfits and taking part in theme days.
If there is a task to be accomplished, Eldridge will always go above and beyond to make sure it gets done the right way, said Byrd Elementary principal James Hopkins.
"Mr. Frank goes above and beyond to make sure that the teachers have what they need, and he makes sure that the school is always pristine," Hopkins said, noting that Eldridge's efforts even extend to picking up litter out in front of the school.
To teacher Heather Wilckens, Eldridge has been a true gift to the school community.
"Mr. Frank is one the most caring, giving and thoughtful people I have ever met," Wilckens said. "He starts every day with words of encouragement and positivity. I feel blessed to call him friend and to have had him as a coworker. Staff and students in Goochland are blessed to have him as a member of our family."
These days Eldridge and his fellow custodians are hard at work making sure that the school buildings are ready for the students' planned return in August. Eldridge said they were able to get ahead on the cleaning and sanitizing due to schools being closed, but explained that there is still plenty of work that needs to be done so that social distancing requirements can be maintained.
Eldridge said he is hoping the schools are able to open on time, "for the kids' sake." Knowing what kind of a learning environment Byrd provides, he said, he wants to see them come back as soon as possible.
Of course, there are plenty of people who will be glad to see Eldridge again as well — both students and parents alike.
"He is always there for our community and always goes the extra mile over and over," said former PTA president Nicole Melton, who has known Eldridge for years. "He is one of the best role models for how to be a good person, not only for the kids but for the adults as well."