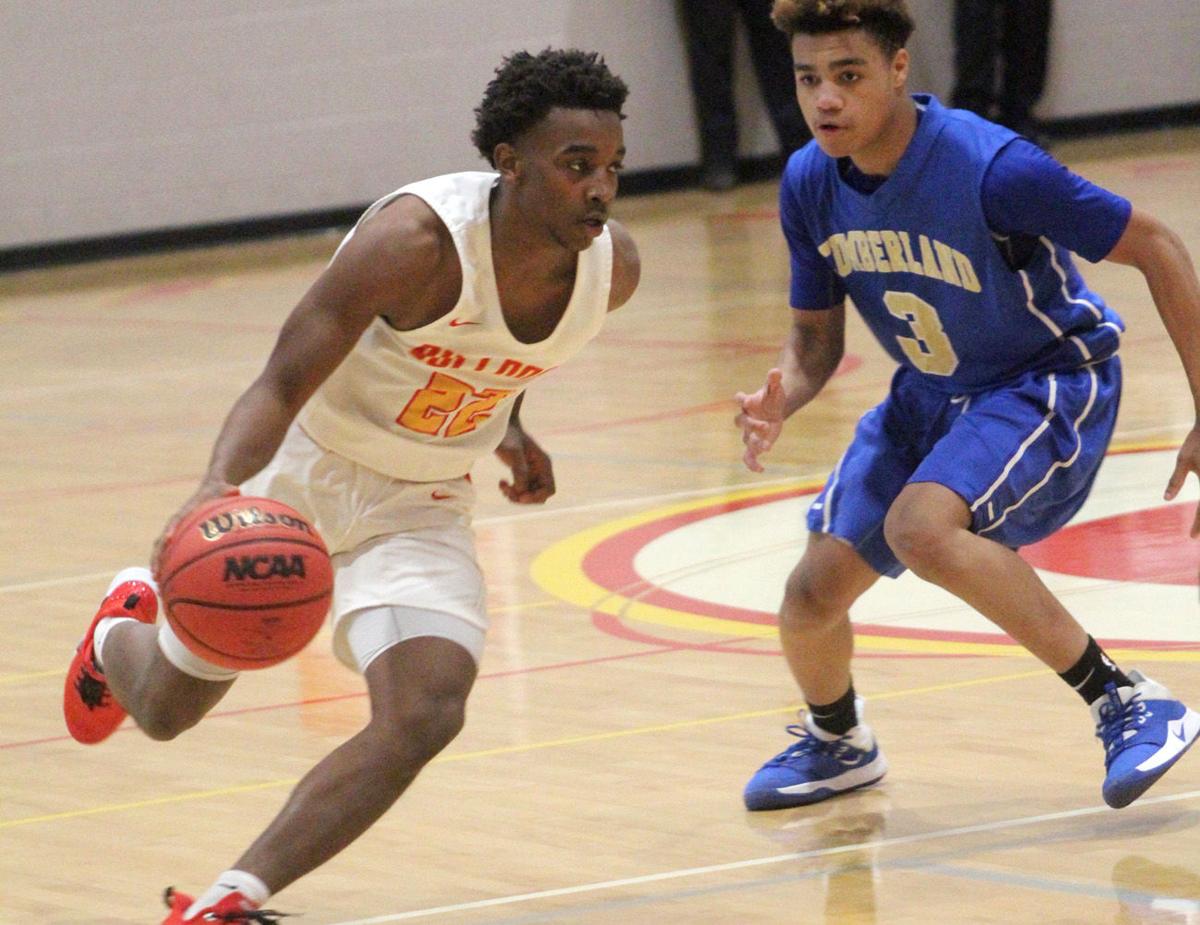 GOOCHLAND - With 43.3 seconds left to play in overtime, Quincy Snead dribbled the ball to a spot around the upper-right-hand curve of the arc. He motioned to his teammate Gabe Liptak, who moved slightly, and Snead stayed in place and dribbled…
…and dribbled until under 20 seconds remained.
He passed the ball to Liptak, who passed it back. Snead saw an opening and dribbled inside, trying to make a move with three opposing Dukes collapsing in on him.
As he was going up, he drew the foul….and the cheers from the home crowd.
The Goochland senior went to the free-throw line.
Four-tenths of a second remained on the game clock, and Snead's Bulldogs were still tied at 62-all with James River District rival Cumberland. But Snead now had the opportunity to shoot two free-throws and get his team the lead.
"A lot of things were going through my head," Snead said. "I knew I had to step up as a leader and hit the free-throw."
And while the second didn't go through, and the clock was reset to 0.2 seconds – therefore giving Cumberland one very last chance to try and make something happen – Snead delivered again, this time reaching up to block the Dukes' long-travelling inbounding throw to seal-up the thrilling 63-62 triumph for the Bulldogs.
"We've got a lot of grit we played with – and heart," Goochland head coach Preston Gordon said after the game. "They expend so much energy in a situation like we had tonight. I'm really proud of them. They work really hard."
Snead finished his night with 15 points, 4 assists and 3 steals.
"Quincy's been a 4-year starter for us…he gives everything he has and I wish we had more players that…would give their body up and just let out everything, every ounce of energy, they have every single time like he does," Gordon said.
Junior Kameron Holman unleashed a big night all over the floor, complementing a team-leading 21 points with 6 steals and 5 rebounds.
"He's one that doesn't get too high and he doesn't get too low; he's a pretty mellow player – and he's so explosive when he gets to the rim," Gordon said of Holman. "He's a fun player to watch. He's a fun player to coach."
Sophomore J.B. Bell double-doubled with 15 and 13 rebounds. He also hit the game-tying shot in the closing moments of the fourth quarter, right after Goochland had called the timeout.
"Our guys executed the play to the max – perfect, good layup," Gordon said, "and I think that speaks volumes when you've got two seniors on the floor, two juniors and a sophomore, and you go to the sophomore for the game-tying shot…we've had Quincy hit huge shots for us, Walker [Murray]'s hit a huge shot…that's what's so special about this team. They trust each other…and they're confident in each other."
Kayshawn Smith also scored 8 points with a pair of momentum-swinging 3-pointers across the middle portion of the game.
Goochland came into Friday's game with eight players dressed-out, and all eight, including the three who were called up for the game from JV – Liptak, De'Andre Robinson and JD Mills – took the floor Friday night.
Liptak hit a layup in the fourth quarter for his first varsity points after senior Walker Murray set up his scoring drive on a steal. Liptak also helped his team defensively; at the end of the game, Gordon said that Liptak was "creating  some havoc" on Cumberland's point guard, and that he was putting pressure on the Dukes so that they weren't necessarily going the way they wanted to go.
"I'm really proud of all of our guys that played tonight," Gordon added. "They did a great job, top to bottom."
Cumberland came into Friday's game against the Class 3 Bulldogs (now 8-1) as the underdog with a 4-4 record and a Class 1 designation.
But rivalries can't be quantified.
"Coach [Tyrone] Mosby does a great job with his guys; they play extremely hard and they shot the ball really well tonight against us. We knew they could shoot the ball well," Gordon added. "They did a pretty good job from the free-throw line as well. They shared the ball. They were aggressive. They came out a lot more aggressive than what we were."
After a 9-9 first quarter, Cumberland heated up from behind the arc, knocking down five 3-pointers to briefly grab a 12-point lead.
"I think we took some quick shots," Gordon said. "I felt we kind of settled for some of our shots as opposed to being a little more aggressive offensively."
But Goochland seized momentum towards the end of the half to cut the Dukes' lead to five before both teams headed into the locker room. Holman captained Goochland's exclamation mark in the second quarter when he got his hand on a loose ball, followed it down the court as it rolled across the floor, got if off the ground and delivered the pass behind his back to Kayshawn Smith, who drained the 3-ball from the corner.
"It was our guys being players," Gordon said of their efforts to cut into the deficit. "There's nothing that I did X's-and-O's; it's all them. We call a timeout to talk about how we can play, but it wasn't any X's and O's."
Snead kicked off the third quarter with a 3-pointer, then Holman got a steal and passed to Snead in transition; Snead fed the ball back to Holman, who flew up the middle and netted the layup, tying the game.
Cumberland hit on a 7-0 run with six points from Latrell Harris, but another three from Smith sparked a 9-0 answer by the Bulldogs to grab back the lead.
Bell and senior Murray were at the center of that run; Bell on the defensive end swatted a blocked ball like a laser into the hands of Murray, who raced it to the house for a crowd-pleasing layup. Murray later inbounded the pass to Bell, who hit the quick bucket to tip Goochland ahead of Cumberland, 43-41.
Goochland led by six at the top of the fourth, but Gordon noted that they took some uncharacteristic shots when they had the lead, enabling the Dukes to claw their way back ahead with a narrow 57-55 advantage going into the closing seconds.
"But with our leadership, with our experience that we have, we learn from it," Gordon said.
After Bell hit the tying shot to force overtime, he knocked down two from the line in OT. Harris added a go-ahead 3-point gain for Cumberland, but Snead in response grabbed the ball after it skipped over a sea of hands trying to pull in the board on Goochland's offensive end, then knocked down the go-ahead 3-point shot.
He would respond again after Cumberland's Javon Marion landed a bucket to tie the game at 62-all – this time with the game-winning free-throw.
Goochland will next play Randolph-Henry in back-to-back 7 p.m. games – away on Tuesday and at home on Wednesday – before hosting Amelia on Friday, Jan. 24 at 7 p.m.
"The records don't show what these teams are like in our district," Gordon said. "They're physical, they're tough and they're quick – sometimes they're bigger than us; sometimes they're faster than us – but I love the way our guys play. There's a fight in them that is contagious, and I'm glad I have the honor to coach them."