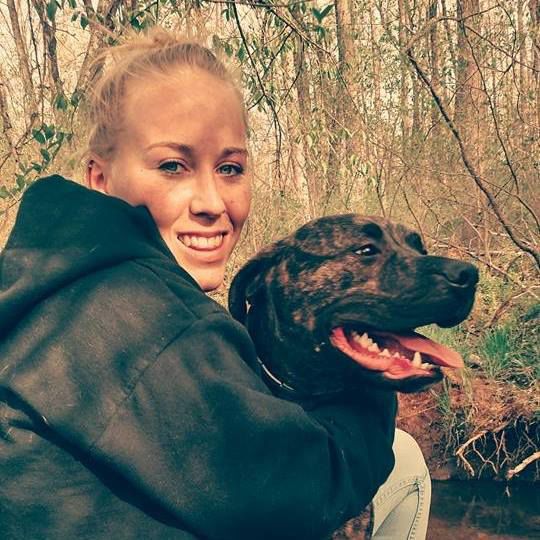 Seeking to push back at rumors swirling about the death of Bethany Lynn Stephens, the Goochland County sheriff repeated Monday that he believes that Stephens' dogs killed her and that it was not a case of foul play.
In the second news conference in four days about a horrific case that has gained national attention, Sheriff James Agnew provided additional grisly details about Stephens' death last week. The 22-year-old woman was discovered by Goochland sheriff's deputies about 8:20 p.m. Thursday in a wooded area near her father's home.
"From what we found on the scene, from the evidence we observed, from the evidence we collected, that narrative doesn't fit," the sheriff said of foul play. "We had a number of witnesses who came forward, and we were able to put a time frame together and put people's movements together."
"Now having said that," he added, "we are still following up on those. We are still doing some forensic tests. We are still doing interviews."
The dogs were euthanized Saturday after permission was secured from Stephens' family, and their bodies are being preserved as evidence as the investigation continues, the sheriff said.
Agnew said the dogs "were not bred for fighting," contradicting what he said was inaccurate information authorities received from someone at the scene who told investigators she thought the two brindle-colored pit bulls came from an organization that rehabilitates fighting dogs. The sheriff also acknowledged providing an overestimate when he said the dogs may have weighed as much as Stephens, who weighed 125 pounds.
Agnew said authorities spoke with family members for several hours Monday and received their permission to release some new information. He said that during the course of trying to capture the dogs early Friday, authorities saw the dogs "eating the rib cage of the body." The sheriff said Stephens suffered severe wounds to her chest, arm, face and both arms.
"I don't think there's any way we can definitively say what caused the attack," Agnew said.
Some people commenting on social media have been skeptical of the Sheriff's Office's explanation that Stephens' dogs turned on her. An online petition on Change.org was started to save the pit bulls from being euthanized; by Monday night, the petition had nearly 17,000 signatures.
Asked at Monday's news conference whether the dogs bit Stephens after she was already dead, Goochland sheriff's investigator Shawn Whitlock said some of the woman's injuries clearly occurred while she was alive.
Stephens' body underwent a scan prior to her autopsy, and it did not find any indication of domestic violence, gunshots, stabbing or broken bones, Whitlock said.
Asked whether Stephens had been attacked by a larger animal — such as a bear — Agnew said there was no evidence of any larger animal being at the scene. The sheriff also said the state medical examiner's office indicated that bite wounds to Stephens' head did not puncture the skull, an indication the wounds were from an animal smaller than a bear.
Stephens' father had called the Sheriff's Office after he hadn't seen his daughter in a day. While Stephens had a Glen Allen address, Agnew said, she grew up in Goochland and frequently walked the dogs in the wooded area where her body was found, which was near the 2200 block of Manakin Road in the vicinity of an old family farm. Her father went looking for his daughter and encountered the dogs aggressively protecting his daughter's body.
Sgt. Michael Blackwood, with the Goochland Sheriff's Office, said Stephens would go to her father's home and take the dogs out five times a week. Over time, the dogs had become more isolated and had less and less human contact, Blackwood said.
Agnew said his office's investigation has been complicated by a "high volume of misinformation" spreading on social media. Agnew said his office has been besieged by emails, phone calls and attacks that he said are based on information that's "absolutely untrue."
"I'm afraid that even after releasing these additional facts, as we have tonight, it's not going to mollify some of these people," the sheriff said.