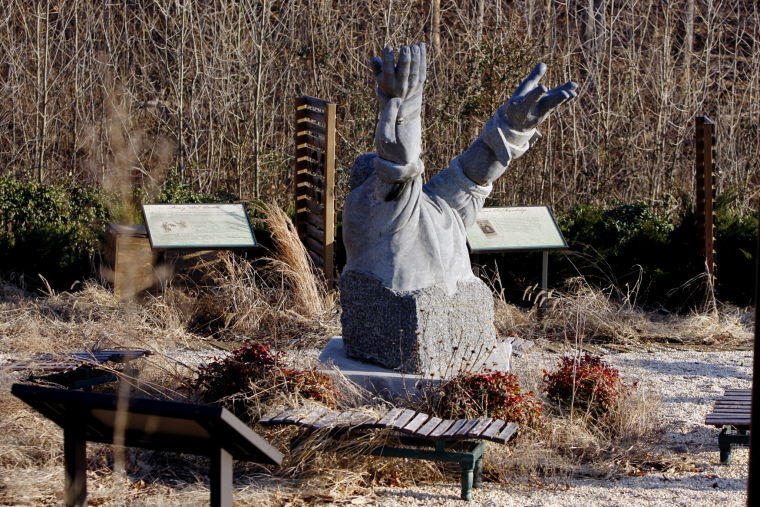 A federal judge will decide next week whether the U.S. National Slavery Museum's largest creditor can move forward with a lawsuit involving deed restrictions on the museum's property.
Pei Partnership Architects has asked the court to lift restrictions that it says affect the value of the 38-acre parcel of land off of Interstate 95 in Fredericksburg, hurting how much it would be able to collect if the property is sold.
U.S. District Judge James R. Spencer heard testimony from both sides Friday morning in Richmond and said he would issue a ruling next week.
New York City-based Pei, which designed the unbuilt museum, is owed about $6 million. It says the restrictions severely limit what the property can be used for, which reduces the number of people interested in buying it.
According to court papers, the property can be used for an African-American heritage museum or for charitable, educational or public purposes.
Paul Prados, an attorney from Day & Johns in Northern Virginia who represents the architects, said those limitations hamper efforts to draw developers willing to pay big money for the real estate.
Celebrate Virginia South, which donated the property to the museum in 2002 with the deed restrictions in place, is asking the court to dismiss the lawsuit. It argues that Pei does not have the authority to remove the restrictions.
Celebrate is a 2.4-million-square-foot, multiuse development in Fredericksburg.
John R. Walk, a lawyer for Hirschler Fleischer in Richmond, which is representing Celebrate, told the judge that the property was donated to the National Slavery Museum as part of an effort to create a tourist destination that would be anchored by the museum.
Prados said Celebrate is the only entity allowed to lift the deed restrictions.
He said after the hearing that Celebrate either wants to buy the property back itself or charge whoever buys the property for lifting the restrictions.
A spokesman for Celebrate did not return a call seeking comment.
Prados said he is unsure what Pei's next step would be if the court dismisses the lawsuit, but he did not discount moving the case to state court.
The National Slavery Museum filed for bankruptcy in September 2011, but the case was dismissed in August.
Earlier this week, a Fredericksburg judge delayed a hearing that would have allowed the city to sell off the property to pay about $300,000 in back taxes.