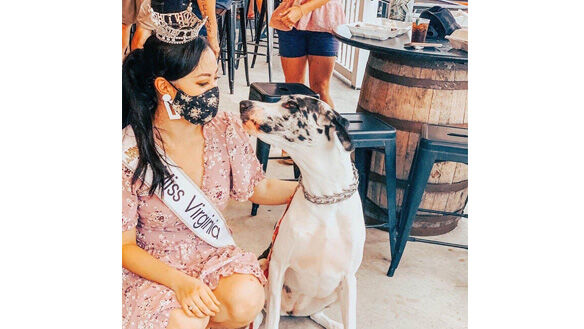 POWHATAN – Canines and cocktails combined last week to create a fun night out that also benefited Powhatan Animal Control.
Island Glow and Three Crosses Distilling Co. joined forces again to put on the second annual Barks, Bourbon, and Bronze fundraiser on Thursday, July 23 in the Village. The event saw dogs and their owners coming together for an entertaining night out at the distillery.
The event raised more than $1,500 through a combination of T-shirt sales, raffle prizes, purchases of vendor services/retail, and cash donations, as well as bringing in a sizeable amount of dog and cat food donations, said Michelle Walters, co-coordinator of the event and owner of Island Glow. This year's event surpassed the fundraiser held in 2019, she added.
The 2020 event had a food truck, vendors, music, and a visit by special guest Dot Kelly, Miss Virginia 2019-2020. Owners could also bring their dogs on a leash and there were special treats for sale.
"This was about awareness for the animal shelter because of the expense that goes into the care of these animals – to feed them and their medical expenses," Walters said.
Powhatan Animal Shelter has a solid reputation for working to save every animal it can by promoting adoptions and working with other agencies and animal rescue groups, said Michelle Davenport, event co-coordinator and co-owner of Three Crosses. They designated the funds to be used mostly for veterinarian expenses so an animal wouldn't have to be euthanized just because it needs a procedure, she said.
The biggest challenge in planning the fundraiser in 2020 was COVID-19 and the uncertainty it brought, Davenport said. They worked to make it as safe as possible while still having fun, she said.
"It has been a game of pivoting whenever needed," she said.
With all of the unknowns – especially COVID-19 and an impending storm on the night of the fundraiser – both women said they were pleased with the outcome of the 2020 fundraiser and are looking forward to planning next year's event.
Cpl. Ashley Gatewood said Barks, Bourbon, and Bronze was another great example of how the community supports Powhatan Animal Control's efforts.
"Powhatan is a great county and I appreciate the community. They support us and they are constantly donating," she said.
The funds raised in the 2019 event were used partially to spruce up the meet and greet room to improve the adoption experience, and the rest went to help with medical procedures. Gatewood anticipates this year's proceeds will be used mostly for medical procedures. The event also raises awareness of the shelter.
As far as the impact of COVID-19 on the shelter, Gatewood said that when the pandemic gained speed, the shelter saw fewer strays and an increase in adoptions because more people were home to take care of the animals.
"It has slowed down some because people are unaware of their futures. So we are trying to pick that back up and bring more people in," Gatewood said, although she added the shelter is not currently at full capacity.
Walters first suggested the fundraiser to Davenport about a year ago. The community has been supportive of the Powhatan Animal Shelter in the past, and she hoped they would come out again.
"I had adopted a dog from there a year prior, and that was such a great experience," Walters said, smiling as she talked about her German shorthaired pointer, Sayge, in July 2018.
In addition to the actual event, Island Glow donated a portion of all of its spray tanning profits last week to the fundraiser in a promotion Walters called Sprays for Strays. Similarly, Three Crosses donated a portion of all its sales on July 23 to the effort.