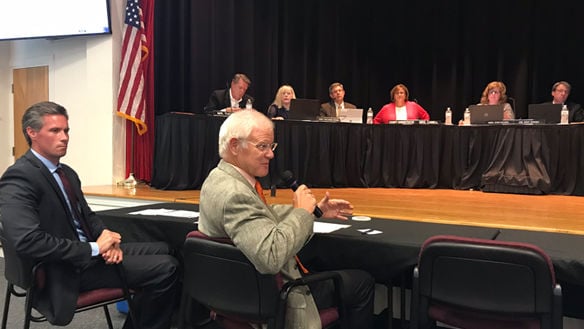 POWHATAN – Broadband was once again a hot topic at a recent board meeting that brought together state and local leaders.
The Powhatan County Board of Supervisors and School Board met for a joint meeting on Wednesday, Sept. 18 that included a discussion with the county's state representatives about the support the locality needs.
Instead of speaking to the two boards individually, Del. Lee Ware, R-65, and Sen. Glen Sturtevant Jr., R-10, talked with them jointly about their 2020 Legislative Agenda Priorities.
The first and lengthiest of the discussion items was the continued lack of progress that has been made to bring affordable, reliable high speed internet into underserved portions of the county.
The broadband topic also came up later in the meeting as supervisor David Williams, who represents District 1, asked the board of supervisors to consider inviting Christopher Ali, a University of Virginia professor, to speak with them about broadband and possible steps forward. The board decided not to vote on approving that suggestion until its meeting on Monday, Sept. 23 to allow for more discussion. That meeting occurred after press time.
County administrator Ted Voorhees outlined the ongoing struggle Powhatan's leaders have had with bringing broadband to the county and the multiple avenues it has explored. Affordable access to high speed internet services really remains an elusive goal for much of rural Virginia, he added.
"Increasingly we are told developing unique partnerships is the solution. That may be the case and has been somewhat successful – I would say of limited success – in some communities where they sort of cobble together a unique set of circumstances to approach the problem," Voorhees said. "But I think what we are seeing as those examples move forward is it tends to leave the rest of the Commonwealth further and further behind. If you cherry pick the most feasible portions of a community for service, then those that are not as feasible are even harder to serve the next time you look for a unique partnership."
Some of the discussion points brought up during the meeting included:
* The No. 1 obstacle for Powhatan County in this issue remains a lack of capital, he said. Powhatan doesn't have a viable, reliable internet service provider (ISP) that wants to put out the money to bring broadband to the county.
"They just can't make money with the capital investment over a less densely populated area. And our policy goal from a planning perspective tends toward the idea of rural preservation, valuing our open spaces. In that situation, I am not sure we are looking to densify in a way that would make providing rural broadband more cost efficient for the private sector," he said.
The lack of an ISP willing to partner with the county is also a hindrance with opportunities such as the Virginia Telecommunication Initiative (VATI) grants, which the county has applied for twice unsuccessfully.
Sturtevant later pointed out several similarly situated rural counties that had successfully applied for grants but added they had also put up money to help gain access to that grant money.
Voorhees pointed out that several of the counties that were awarded grants had formed partnerships with SCS Broadband, a company that made big promises about bringing internet service to Powhatan back in 2016. Ultimately, the company failed to deliver on almost all of its promises, much to the frustration of county officials and staff.
"I will be skeptical it those grants are actually successfully implemented based on past performance," Voorhees said.
Voorhees also mentioned having a meeting scheduled next month with representatives from Goochland, Louisa, and Hanover counties to talk about a possible partnership to entice a small ISP to the region.
* School board member James Kunka, District 2, talked about two barriers he sees in the county to getting better access. One barrier was that providers such as Comcast will only run service to houses 250 feet from the road. Many houses have much longer driveways, he said, adding his house is 750 feet from the road. He questioned if incentives at the state level might entice providers to allow longer distances and even consider cost sharing.
Kunka also pointed out the difficulty that railroad lines running through the county pose because the companies make it cost-prohibitive and time consuming to run even a single line under the tracks at private crossings.
Voorhees echoed this comment, saying it was a nationwide problem localities have with railroads, which are "embarrassingly difficult to deal with and they are a barrier to working out problems like this."
Sturtevant said the topic of railroads had been discussed earlier in the day by the Broadband Commission, including plans to introduce legislation this coming General Assembly session that would cap the fees railroads can put on the crossings and to help streamline the process.
"We have heard not just from internet service providers but co-ops as well that the ability to run the line across the tracks can be thousands and thousands of dollars and take six months from start to finish just to run one line across the track. So we are working on a state solution for that very issue this coming session," he said.
* Larry Nordvig, District 2, said he gets "hammered" by citizens every week about the issue of broadband, which has been a hot topic for the last five years. He said Powhatan needs more "sweeping action from Richmond" because the county doesn't have the resources needed to solve the issue.
* Voorhees said the county is still waiting on the results of a $7 million grant application it submitted to the USDA's Rural Development Broadband ReConnect grant.
* The supervisors were supposed to discuss a proposal by Jeff Beekhoo of Broadband Telecom, LLC, the firm that submitted the county's ReConnect grant application. Beekhoo suggested a "path forward" document could be a broadband strategic plan. He submitted a proposal for his firm to develop such a plan, a service that would cost upwards of $100,000.
Instead of entertaining this idea, Williams made his proposal to have the board invite professor Christopher Ali to come and talk to the board, staff and others about rural broadband. Williams and other Powhatan residents heard Ali speak at a rural broadband summit hosted by U.S. Rep. Abigail Spanberger, D-7th. Williams said listening to Ali would be highly educational and would only cost a few hundred dollars. The board agreed to consider the suggestion at the Sept. 23 meeting.