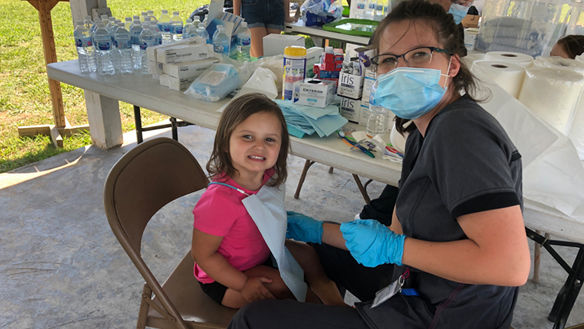 POWHATAN – The Powhatan Dental Outreach Foundation recently worked to bring brighter smiles to children from Powhatan and surrounding counties with a free dental clinic.
The clinic was held on June 27 at the Powhatan County Fairgrounds and served 21 children ranging in ages from 2 to 16 and one adult with special needs, said Melinda Hitt, president of the foundation, which was started in honor of her late son, Peter.
The foundation helps around 2,000 children in Honduras at the dental clinic the Hitts started there and helps about 3,500 children in Virginia a year. This was the first event in Powhatan, where Hitt lives with her husband, Corey, and their children.
"Talking with some families in Powhatan, I noticed a need for it. I had the resources to be able to do it and it just felt like the right thing to do for our community," she said.
The clinic was possible thanks to the volunteer work of local dentists; Powhatan School of Dental Assisting students, and students from the Chesterfield Technical Center Dental Assisting program, said Hitt, who founded the Powhatan School of Dental Assisting.
The volunteers completed screenings, X-rays, cleanings, and fluoride treatments, Hitt said, adding some of the services they could offer were limited by COVID-19 restrictions.
While they were there, children could also listen to the Tooth Fairy read "The Berenstain Bears and the Tooth Fairy" and then take home their own copy of the book.
Hitt said it was really powerful to speak with some of the parents and learn how much having a free dental clinic for their children meant to them.
"For me it is very restoring. It makes me happy. It just makes me feel like I am doing the right thing, like I am where I am supposed to be," she said.
Hitt said she was hoping more families would bring their children to the clinic, but understands the heat was a deterrent as well as continuing to get the word out to the community.
Hitt is considering offering another free dental clinic for children in the fall.
Arianna Smith, 19, of Amelia has known since she was a young child that she wanted to pursue the dental field and has taken both dental assisting and orthodontic assisting classes through the Powhatan School of Dental Assisting. When Hitt announced the free dental clinic, Smith said she was excited for the opportunity both because it would help local children and to give her more hands-on experience in her chosen field.
The day of the clinic, she helped with registration and then moved on to brushing teeth and applying fluoride treatments. Children tend to have a range of reactions to going to the dentist and sitting in a treatment chair, so part of the work involved allaying their fears, she said.
And when it was all over, they were thrilled to receive a goodie bag with a toothbrush and toothpaste in it and their Berenstain Bears book, she added.
"Just to see their little faces have something to smile about was enjoyable for me," Smith said.
Jennifer Alfaro, who graduated this year from Chesterfield Technical Center, also volunteered at the clinic. Hitt was one of her former teachers, and when she heard about the free dental clinic, she thought it was a great way to give back to the local community.
Alfaro said she enjoyed working with the young patients – cleaning teeth, applying fluoride treatments, and talking to them about dental hygiene.
Doing a dental clinic outside in heat in the low 90s was a little challenging, as was battling some issues with wind, but the setting otherwise was fun for the clinic, she added.
Moving forward, if Hitt offers a free dental clinic locally again, she hopes more people will feel comfortable coming and letting the volunteers help them.
In addition to the dental clinic, the event launched Nancye's Closet, which offered free clothes to those in attendance that have been donated to Hitt. She said the free pop-up clothes store was inspired by her Sunday school teacher, who, when Hitt was a child, noticed that the clothes handed down from her older sister didn't fit her taller stature. One day she brought two large trash bags full of clothes from her daughter, who was also taller, for the little girl to try on.
"I remember standing on my mom's ottoman looking in the mirror, trying things on, and feeling like a princess. And I told Corey it would be very easy to collect clothes from people at church and co-workers, bring them home, wash and dry them, and bring them with us," she said.
She said she got her reward when she saw a mother and her three children trying on clothes and giggling together as they picked out what they liked.