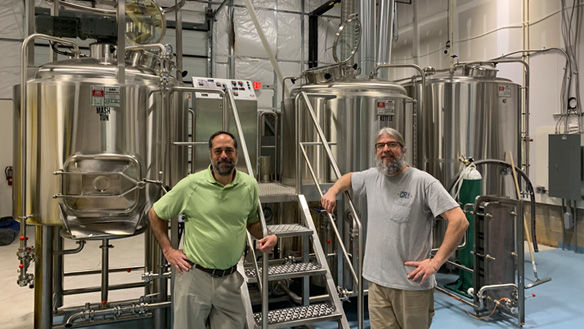 POWHATAN – Nothing about the way Crazy Rooster Brewing Company has gotten its start in Powhatan County has gone according to plan.
To be fair, not a single plan that co-owners Jason Miller and Tim Torrez could have conceived of would have included starting a new business in the midst of a worldwide pandemic.
"COVID-19 really did require us to pivot and improvise and get prepared to do curbside service only," Miller said. "It was crazy. There was never any vision or plan of this situation happening and us opening as a takeout brewery where we weren't interacting with the customers. It suddenly became this mad scramble of figuring out how we were going to push beer out the door to people who have never tasted our beer before."
Despite its unconventional start and the very real concerns they have about establishing a business in these extremely uncertain times, the friends are also hopeful that people will recognize the value of the product they bring to the community. And they hope someday soon, the customers who have been driving through their parking lot for curbside pickup will be walking through their front doors for the full Crazy Rooster experience.
Crazy Rooster had its grand opening drive-through event on Saturday, April 18 at its new location at 1560 Oakbridge Drive, in the Oakbridge Business Center off Route 60. When the brewery finally opens fully, visitors will find a 10 beer barrel direct fire system in the 3,000-square-foot production area, a 2,000-square-foot tasting room with a stage area for bands of all types and a 900-square-foot, outdoor patio area in the front.
There is also an 11-tap bar system, but currently, the brewery has six beers on offer: Crowin' Midnight Oatmeal Stout, Devil's Pay American Amber Ale, Earth and Sky American Wheat Ale, West IPA Fadeaway IPA, Late Day Shadow New England IPA, and Touche De Gris Saison. People can purchase them in 16-ounce crowlers and 64-ounce growlers.
Five of the recipes were ones Miller worked on as a homebrewer and brought to the much larger scale of the new brewery. Touche De Gris Saison was created by head brewer Brian Knight, who came to them with more than 10 years of brewing experience.
Music fans may have caught some of the references in the brewery's name and beer titles. Miller, who is a Deadhead, knew when he first came up with the idea in 2016 that he wanted the Grateful Dead to be part of the theme of the brewery, though to what degree is still a little up in the air.
Miller got his start as a home brewer and thought opening a small craft brewery in Powhatan would be a good change.
Miller and Torrez used to work at the same engineering firm and have known each other for more than 20 years. When Miller asked his friend to meet him in January 2017 and proposed the idea of the brewery, Torrez, who also enjoys the craft brew scene, said he decided to join him on the journey.
They still had a long road ahead, finding a possible location then having it not work out, and meeting Jim Downing, who would eventually decide to build the building where the brewery is now located. Even once those plans were in place and they broke ground, the construction process took longer than expected.
The brewery was originally supposed to open in December 2019. While Torrez still works for a private environmental management company, Miller took the leap and left his job at the Virginia Department of Environmental Quality in October 2019 in anticipation of being full-time at the brewery. But as they got closer to December, they realized plans weren't coming together quickly enough and they needed to make adjustments.
"That has been very stressful and taxing on my family and especially my wife - being unemployed for the last six months. But it did prove quite beneficial during the construction process because it allowed me to be over here a lot and oversee and work with the contractor," Miller said.
After several more delays and the onset of restrictions caused by the pandemic, the two men realized they had to move forward with their plans even if it wasn't the ideal situation because of all they have invested in the endeavor.
So they scheduled the opening for April 18, ordered a can seamer and the cans and glass growlers to sell their beer to go, put the information out on social media, and hoped for the best. An when April 18 dawned, despite knowing how popular the craft beer scene is in Richmond, they were overwhelmed by the number of people who not only came but waited in line for several hours to purchase beer.
Miller said they had wanted to can as much as they could fresh that day, not realizing that with that many people in line, it would cause a severe backup.
"Brian and I were filling cans one after another. He and I literally poured beer for 10 hours," Miller said.
Torrez was outside taking and delivering orders. Despite waiting as much as two or three hours, he said customers were happy and smiling.
"They were patient and understanding. People were getting out of their cars and socializing at a safe distance," he said.
They definitely had some learning moments that day, Miller said. The brewery only ordered a test batch of 1,000 labels to try them out first, but they sold 900 cans of beer on their opening day. That meant the next day, they could only fill a few orders and couldn't open the full day as planned.
By April 24, they had filled all the back orders and were ready for their official "second day" open for full business on April 25, Miller said. The process isn't perfect, but pickups are going much smoother and faster now, he added.
Miller said they recognize how fortunate they have been in the first few weekends to have so much excitement and interest surrounding Crazy Rooster's opening. And while they are confident in their beers, part of the appeal of a brewery like theirs is providing an interesting place where people can come and socialize, listen to music, and enjoy drinking for a few hours. Once all the newness wears off, he knows they have to work hard to continue to have people come out, particularly while it is curbside service only. They also have to consider the possibility of making it through the pandemic only to have a resurgence and the return of restrictions later this year.
"It is terrifying. I think about it pretty much 24-7. If it is not on the front of my mind it is on the back dancing around," Miller said.
But with the nervousness still comes the excitement about their new endeavor and seeing what they can accomplish. They are still working on finishing the tasting room and getting it ready for customers when that becomes possible again.
"I do have to keep focused that things will work out and we will get back to what the original vision was with having a tasting room and hanging out with our customers and being able to brew different beer styles on a regular basis. That time will come," Miller said.
Crazy Rooster Brewing Company is open for curbside pick-up from 3 to 7 p.m. Thursdays and Fridays, noon to 7 p.m. Saturdays, and noon to 5 p.m. Sundays.
Drive up orders may be placed at the brewery, but there could be a wait time. Pre-orders may be placed online for next day pick-up. To place an online order, visit https://www.crazyroosterbrewing.com/ or the brewery's Facebook page. For more information, contact 804-464-2958.