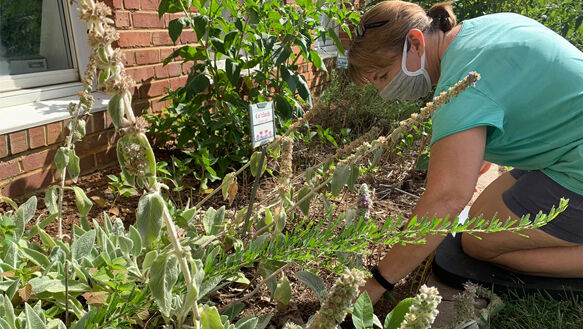 POWHATAN – On a hot July day, three members of the Goochland-Powhatan Master Gardener Association were hard at work in the Powhatan demonstration garden.
Claudia Muelhaupt carried scissors and cut herbs from the herb beds. Kneeling on a pad, Martha Nichols pulled weeds from the beds where the tomatoes and peppers were growing nicely. Meanwhile, Virginia McCown was going after an overgrown tree with a pair of gardening shears.
The women, all maintaining a safe distance and wearing masks, worked apart but together on the garden, which has become a key teaching tool in the last few years for the Powhatan Cooperative Extension Office.
Spring and summer 2020 have seen plenty of missed opportunities for the demonstration garden, which hosts fun activities such as the Groove in the Garden series and is a useful instructional tool with local youth.
But thanks to offices beginning to open up again, the garden was still able to serve one of its key functions this summer as it recently provided 33 pounds of vegetables to the Feeding Powhatan site and Senior Ride Assistance's weekly boxes, said Cathy Howland, 4-H extension agent.
"This included several varieties of tomatoes, green peppers, onions and black-eyed peas. Isn't it amazing what a small garden site can produce," she said.
The Master Gardeners took over the demonstration garden in 2017 and have added to it every year, Muelhaupt said. This summer they are busy growing a variety of fruits and vegetables, including Portuguese kale, heirloom tomatoes, various kinds of peppers, strawberries, cantaloupes, and a full herb garden. They also grow native Virginia flowers in the garden.
They started tending the garden at the end of April and come out every week to water, weed and cultivate it. The group also tends a historical garden behind the Powhatan Historical Society's building and another garden at J. Sargeant Reynolds Community College in Goochland that has been closed to them.
"This garden, to me, is to educate people, especially kids. … Kids are very interested in growing things," Muelhaupt said. "It is more for educational purposes, just to tell people what they can do with a garden."
The purpose of the garden seemed a little up in the air this year with most of their regular recipients – the Free Clinic of Powhatan, the Powhatan Department of Social Services, and the Clothes Closet – being closed, McCown said.
"We were kind of hedging that things might open up again," she said.
In 2019, the garden produced more than 100 pounds of food that was either donated or used in demonstrations put on by the Master Gardeners, Howland said. One of the garden's chief purposes is to show people how accessible gardening can be, and with more people sheltering at home because of COVID-19, that is an important message to still pass on, she said.
"I think through the pandemic, more people are out in their gardens and outside. They have more time to do this kind of activity," she said.
Although the garden can't be used for in-person activities this summer, Howland said the local extension office will be doing a Groove in the Garden video series that will be published on the Virginia Cooperative Extension-Powhatan Facebook page (@VCEPowhatan ) with recipes and garden tips.
"These Master Gardeners are awesome. They are energetic, positive, and they just get out here and turn a not-so-beautiful space into an educational space for residents. Hopefully it encourages others to get out and garden. It's not too late; they can still transplant and do some cool weather vegetables for the fall," Howland said.
The group is also maintaining the Master Gardener Help Desk, which can be contacted for questions about plants, pests, identifications, growing problems, and more. Contact gpmastergardener@gmail.com or 804-598-5640.