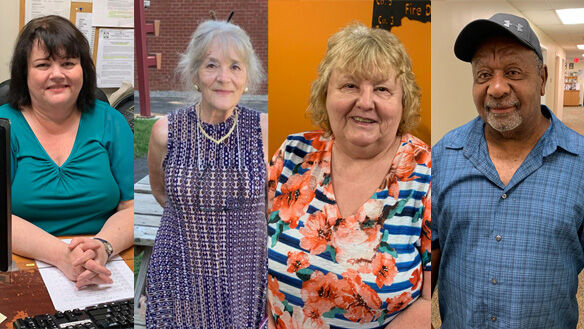 POWHATAN – Powhatan County local government is saying goodbye this summer to four retiring employees whose service to the county totals about 120 years.
The county already said farewell on July 1 to Norman "Chubby" Boatwright Jr., who served almost 21 years with the custodial department. On Aug. 1, the county will also lose the services of Cherl Jessie, who worked for 42 years in the commissioner of revenue's office; Anne Reynolds, who served more than 31 years in the sheriff's office, and Penny Reams, who worked for 25 years for the fire department.
All four retirees are residents of Powhatan who will continue to live in the county they have served so long.
When Cherl Jessie began working as a clerk in the commissioner of revenue's office on April 3, 1978, computers weren't even on the horizon yet. She recalled printing out the list of Powhatan vehicles registered with the Virginia Department of Motor Vehicle and the work of figuring out their total property tax. When the information gathering was done, the office had a huge typewriter that was used to create three copies of the personal property book.
"It was a lot of work and a lot of clerical, but we could eventually catch up. Actually we could do all of our work and unless someone called, we could have a few weeks where things were light. We never get caught up now," Jessie said with a laugh.
As the current longest full-time employee, Jessie said she has great memories of working with fellow employees through the years. She especially remembers the early days, when the staff was much smaller and she witnessed first-hand how all of the different departments functioned and served the county.
"They were such conscientious people. They hardly ever wanted to take time off. They were so nice to people. That left its mark on me. It was a privilege to be able to work with people," she said.
She has seen the county grow exponentially and watched as the staff had to expand as well to meet the needs of residents. She misses the days when one person could do any job in the office but recognizes that growth has led to more specialization. She also misses the interaction with people since more functions are going online, but she has still loved her job.
For the longest time, despite her years of service, retirement wasn't even a consideration for Jessie.
"I thought I would die at my desk. I told everybody that," she said.
She changed her mind sometime around January and let Jamie Timberlake, commissioner of the revenue, know she would be retiring this summer.
"I have had no regrets, which has been strange. Once it was decided, that was it," she said.
Timberlake called Jessie the cornerstone of his office and said that in addition to losing her as an employee, it will be hard to see 42 years of institutional knowledge walking out the door. The other staff members will have their hands full keeping up, he said.
"But one thing Cherl has done since the day I first met her was to pass her knowledge on to others," Timberlake said. "Sometimes she had a funny way of delivering it, but you always learned something from the experience. Her sarcasm and quick wit will be missed just as much as her knowledge. Let her dedication to the people of Powhatan, fairness and equity to all be a lesson to those who follow."
In retirement, Jessie said she will be spending more time with her husband, Ronnie, and their dogs and cats and reading.
Anne Reynolds was going through a hard time when she started working as a secretary in the sheriff's office on Dec. 1, 1988. She was a secretary at Powhatan Elementary School at the time but sought the new position because she was going through a divorce and needed to make more money.
What she found with then sheriff Shirley Reynolds and his 11 deputies was a safe haven for her and her children, she said.
"I had 12 brothers right off the bat. It was great. There was no male/female thing. They were all my brothers immediately," she said.
In the beginning, because it was a smaller office, Anne Reynolds's job description covered a wide spectrum – payroll, criminal investigation secretarial work, civil process returns, and even riding along on transports when there were female prisoners. She also searched female confidential informants before or after an operation.
"Every day was something different. It was exciting. We actually had more crime then," she said, adding that a large portion of the calls the sheriff's office handles now include drugs, domestic situations, and alcohol-related offenses.
As more staff was added, the different duties were spread between more people and Reynolds stayed focused on the secretarial work for the criminal investigations. Currently, her job title is crime analyst.
The job was exciting, but it could also be heartbreaking. Both from her time in the community and the years working in the school system, she said seeing victims or suspects she had met while she worked at the elementary school was one of the hardest parts of the job.
"I knew them. Their children played with and went to school with my children. We were a very small community then," she said.
While the staff has grown through the years, Reynolds said she still sees them all as family, which made the decision to retire this summer difficult.
"I hate computers and my husband needs a playmate," she gave as the ultimate reason for her decision to step back from a job she still adores.
Sheriff Brad Nunnally has known Reynolds since he was hired 23 years ago and said that although she is incredibly professional, the deputies see her as a kind of den mother. She plays a role in training the new deputies and helping them "understand their commitment not only to law enforcement but the county."
There are many things deputies do that are correct and by the book, but if Reynolds wasn't pleased, "you didn't do your job right," Nunnally said.
"She is one of the best people in the county. I can count on one hand the people who have the compassion, sense of fairness, and just realistic attitude that Anne has. There are very few people like her," he said.
Moving forward, Reynolds said she plans to spend more time with her family, start volunteering, and do a little traveling.
Moving forward, Reynolds said she plans to spend more time with her family, start volunteering, and do a little traveling.
Penny Reams began working as the fire secretary on Feb. 6, 1995, and has worked under six different fire chiefs through her years of service.
Although she is a county employee, Reams said she has always really felt like she was working for the volunteers and then the paid firefighters/EMTs when they were added. In many ways, the fire and rescue department feels like a big family, with her joking she often feels like someone's wife or mom, depending on their level of communication.
"What I think I will probably miss the most is being important to someone – being there for them and doing for them. I am going to miss my relationship with the people that I work with," she said.
Reams said she has enjoyed feeling needed by the men and women she worked with through the years. She hopes she made their lives easier, even it was only with simple actions she could do for them. She said she doesn't overplay her position in the department, but she had a role "in a lot of people's lives, and that feels good."
Phil Warner, fire and rescue chief, said he met Reams when he was first hired by the county in 1995. Through the years, he has found her to be a true advocate for the volunteers in the fire and rescue department.
"Many of our members relied on her not only as a professional, but she built so many personal relationships that have lasted the test of time. Penny will be truly missed by all of the fire and rescue membership, especially fire administration," he said.
Although she had been considering retirement, Reams said she only recently decided to make the change because of health issues and she felt it was time.
"I have had a great pleasure in working with a lot of citizens helping with various things, and it has been great. I have had a great work life," she said.
Reams said she will be spending more time with her family, including four children, nine grandchildren, and one great-grandchild.
She added that she wasn't surprised to be in such great company with the other three employees retiring and how many years of service they gave.
"The four of us, it is because we love Powhatan and the county just has benefited in that reward by having us for so many years," she said.
When Norman "Chubby" Boatwright Jr. began working as a custodian for Powhatan County on Sept. 7, 1999, he was the only in-house custodian. He was responsible for keeping all of the county buildings clean as well as the facilities in Fighting Creek Park, either by cleaning himself or overseeing contractors hired by the county.
"It's been a journey through the years. I have seen the growth of the county and the kids. I loved being around the kids," he said, referring to his fellow employees.
Working in all of the buildings, Boatwright interacted with all county staff and got to know their different personalities and preferences through the years. He said he enjoyed getting to know so many of them.
"It makes me feel good to work with good people who treated me well. I don't have any regrets," he said.
In addition to working for the county as head custodian, Boatwright co-owns Boatwright Concrete. For the last six years, he has also been dealing with kidney failure, so in addition to the two jobs, he was doing dialysis three nights a week, all of which took a toll. He was grateful the county was flexible about his hours so he could balance it all for so long, but it did mean working six days a week most of the time and sometimes seven days.
Finally, with the added stress of being higher risk for COVID-19, Boatwright listened to his doctor's advice about cutting back on his obligations.
"The doctor said because of COVID he didn't want me to be around a lot of people," he said. "If it weren't for that, I would still be working."
Mark Piper, facilities and grounds manager, said he had the privilege of working with Boatwright for 16 years and found him to be always "upbeat, positive, and a joy to be around." That sentiment is felt by many other employees Boatwright interacted with through the years, Piper said.
He applauded Boatwright's dedication, saying he worked evenings Monday to Friday and every Saturday morning. When parks and recreation scheduled tournaments, he also worked 10 to 15 Sundays a year.
"So, him maintaining his daytime business and his custodial job at night for all these years made him a real Iron Man. Chubby has definitely earned his retirement, and we here at the public works department wish him the very best," Piper said.
In the month since he retired from the county and went part-time at the concrete business, Boatwright couldn't really travel much, which is one of his goals, because of COVID-19. But he said he has been feeling much more rested and healthy.
"I feel wonderful. Best decision I ever made because of my health. I didn't know that I would feel this good when I retired because of working two jobs and doing dialysis for eight hours a night. Now I am working one job and doing dialysis," he said.
Still, Boatwright said he misses all of his co-workers and appreciated getting to work with them.