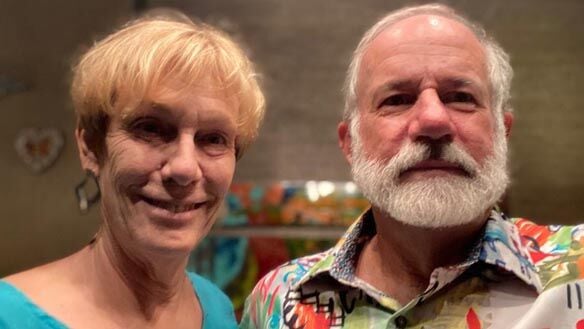 POWHATAN – Bob and Karla Curtis brought some much needed good news to educators this weekend with the announcement of a $500,000 donation to Powhatan County Public Schools.
Dr. Eric Jones, superintendent, announced to staff over the weekend that the Powhatan couple would once again be making a major donation to the school division to help teachers and staff and meet needs.
The Curtises previously made a big splash in August 2019 when they donated more than $400,000 to the school division to be used for teachers, programs, and scholarships.
"It really is amazing. I notified the staff early Saturday morning and immediately people were talking about tears of joy," Jones said. "It is going to be a tough year and there is going to be a lot of stress and uncertainty. To receive this level of support is really a shot in the arm that a lot of our staff, including myself, really needed. It couldn't have come at a better time."
Not wanting to let COVID-19 derail their plans to make a multi-year investment into the schools, the couple met with Jones last week to discuss some prioritized needs for the schools and how they will approach the new school year while still in the midst of a pandemic. Jones presented them with a list, and since they trust his judgement, they decided to meet every need on that list, said Bob Curtis, founder and co-CEO of PIEtech.
The couple is continuing to reinvest a piece of the roughly $500 million they made from the sale of PIEtech to Envestnet in 2019 into the local school system.
"We want to invest in the places we think we are going to have a real impact and see the results of what we do. Our whole life is Powhatan. So we wanted to identify those services and organizations in Powhatan who really contribute to the community and can benefit from our help," he said.
The key areas the couple believed they could do some good was through health services and education, which is why the Free Clinic of Powhatan and the public schools have been a key focus for them, he added.
Karla Curtis said she has been thinking about school superintendents and their staff for months – about how difficult their jobs are because there is no obvious perfect answer of how to do instruction in this environment.
"I am glad that we have the resources to help in this really, really uncertain environment," she said.
Jones said he walked out of the meeting amazed that the Curtises agreed to fund all of the needs he presented to them. The meeting far exceeded his expectations and was really the best news he had received since March, he said.
One of the biggest surprises of the 2019 donation was the decision to give $1,000 to every teacher and school counselor to be used in their classrooms or for students.
This year, the couple will provide $161,674 to cover $1,000 for each new PCPS teacher and counselor as well as providing the additional funds needed to bring each current teacher/counselor's "account" to $1,000, Jones said. So if a teacher spent $400 last year, $400 will be added to their account to bring them back to $1,000 for this year. These funds are immediately available for teachers and counselors to use per guidelines and procedures established last year.
The impact of the $1,000 grants during the 2019-2020 school year was huge, even though it wasn't complete, Jones said. It is common knowledge that a large percentage of teachers spend money out of their own pockets on their classrooms, so the grants saved them those expenses.
With those funds, Powhatan teachers bought materials and supplies for their classrooms, such as expanding the reading nooks in their classroom libraries, Jones said. Other teachers bought manipulatives and instructional materials that gave students more hands-on activities. Still other educators pooled their money for projects such as providing food and clothing to students in need.
When Jones told them about the good that teachers were able to accomplish with their individual grants, they felt it was worth continuing, Bob Curtis said.
The Curtises are continuing their support of the division's career and technical education (CTE) program, which benefited last year as well, with $35,000 for software and hardware upgrades for CTE clusters, Jones said.
Bob Curtis said he appreciates the division's CTE program and the way it honors the fact that college isn't the right path for every student. These programs prepare students for much-needed careers, and he and his wife wanted to support that effort.
The donation also includes $120,000 to fund and host daycare at two buildings to meet child care needs for staff members' school age children, Jones said. The division had heard from teachers who were going to be unable to return to teaching because of school age children at home. Chesterfield County will be all virtual, while even the hybrid model in Powhatan would see some students home two to three days a week.
About 90 students in kindergarten through seventh grade have been identified to attend the new program, which will have classrooms at Powhatan Middle School and Powhatan Elementary School, Jones said.
"We had talked to the county about possibly using county CARES Act funding for it, which they said they would consider and we could put forward, but it was a big need that was still outstanding," Jones said. "When I met with Bob and Karla and talked to them about it, they wanted to support that as well, which is going to be huge for us in terms of getting teachers back in classrooms and then making sure the students are in a good learning environment."
A sizeable portion of the donation will be used in the area of technology needs tied to the pandemic, Jones said. The donation will include $92,000 to purchase additional touch Chromebooks for elementary students; $6,000 for teacher webcams for virtual instruction, and $35,000 for mobile hotspots for teachers and students who don't have reliable, high-speed internet.
Just over $50,000 rounds out the donation and will be kept as an undesignated fund for unanticipated pandemic-related needs, Jones said.
Part of last year's donation included about $50,000 in scholarships - $5,000 per student – that would re-occur up to the four years they pursue higher education or trade school. Because of the caliber of candidates, they decided to increase the donation and fund 12 scholarships, Karla Curtis said. The couple will offer the scholarships again in spring 2021, but those funds are not included in the $500,000 donation.