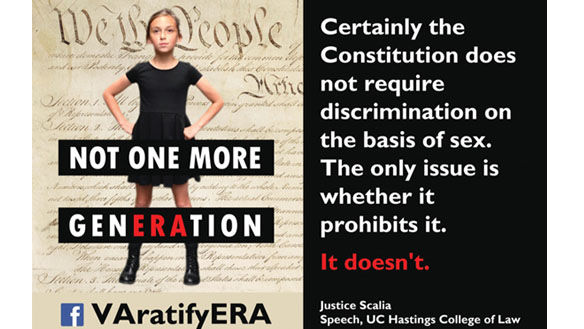 POWHATAN – Two young Powhatan girls have been making their own mark on the movement in Virginia to help bring women one step closer to equal constitutional rights.
An image of 10-year-old Eastan Weber and a slogan coined by 12-year-old Ani Hornung, both of Powhatan, have been at the center of recent marketing materials for supporters of a campaign to see the Equal Rights Amendment (ERA) ratified in Virginia.
The Equal Rights Amendment, among other things, says that "equality of rights under the law shall not be denied or abridged by the United States or by any state on account of sex."
The amendment to the U.S. Constitution was passed by Congress on March 22, 1972, 49 years after it was first introduced in 1923, and sent to the states for ratification. However, by the time the first deadline and then an extended deadline had passed, the ERA had only been ratified by 35 of the necessary 38 states as of 1982. Virginia is one 15 states that did not ratify the proposed constitutional amendment.
While the issue remained largely dormant and out of the public eye for many years, supporters gained renewed hope when Nevada ratified the amendment in March 2017, becoming the 36th state to do so.
Some argue that Nevada's ratification was a moot point since it came 35 years after the extended deadline, but others, including women's groups now focusing attention on Virginia and Illinois, say the deadline can be changed by Congress and the ratifications are still what matters.
In Virginia, efforts involving many groups and spearheaded by a nonprofit called Women-Matter have been focused on the ratification of the amendment. In the last several years, the Equal Rights Amendment has been passed by the Senate of Virginia five times but killed in the House of Delegates on crossover, said Eileen Davis, co-founder of Women-Matter.
"We have had a fair measure of success, but almost only counts in horseshoes. Almost is getting it half ratified with bipartisan support five times since 2010, but until we ratify it in both houses, it is not done. We move the ball a little bit further down the field every year, but we need to hit the goal and be done with this," she said.
Going into the General Assembly's 60-day session, these local groups are once again lobbying to see the constitutional amendment ratified in both the Senate and House of Delegates.
And the poster children for their efforts, literally, are two Powhatan girls.
Andrea Weber said that she and her husband, Rory, have raised their two daughters, Ella, 15, and Eastan, 10, to think for themselves and be able to give good reasons for what they believe. With Eastan in particular, basic equality is something she will argue strongly in support of, which came out even more after they participated in the Women's March in 2017, Andrea Weber said.
Eastan said she was scared to go to the Women's March because she didn't know what could happen but did anyway because equal pay matters to her.
"I mostly listened because I couldn't see the people on the stage but I learned by listening that there are much more voices in this world than we know about. My favorite person to listen to was this girl that was my age. She was really brave and told her mom's story to all of those people in the crowd," Eastan said of a girl whose mother doesn't speak English.
She and Eastan traveled to New York City for the little girl's milestone 10th birthday last June, and while there, they made plans to take a picture of her standing next to the Fearless Girl statue that was still installed on Wall Street. The 4-foot bronze statue of a little girl created by artist Kristen Visbal stood opposite the iconic Charging Bull sculpture and represented the need for gender equality.
Eastan, a fifth-grader at Pocahontas Elementary School, looks similar to the statue and Weber said she had even reached out to the artist to talk about its meaning and her inspiration. The mother-daughter duo decided to pay it a visit.
"We have a little dress that matches and we went down there and waited for the rain to stop and then we took her picture at the Fearless Girl statue," Weber said.
In the photo, Eastan has adopted a similar stance and looped her arm through that of the statue. Weber said she shared the photo with her sister in Louisiana, who then shared it on Pantsuit Nation's Facebook page. It went viral within the group, being shared and commented on thousands of times, she said.
"I loved it because she was my kid, but neither one of us were prepared for how other people reacted to it. It is almost like she became this little living mascot for women's rights or girl's rights or just fairness in women's futures because that was the basis of that statute," Weber said.
Weber said they had begun to meet others in the region after the Women's March, including Kati Hornung, who also lives in Powhatan. It was also through this friendship that she became aware of the movement to get the ERA ratified and told Eastan about it.
"I was horrified to find out that it is OK to pay me less than a boy even though I work as hard as him, am as smart as him and am better for the job," Eastan said. "At first when my mom told me the ERA wasn't passed in Virginia but it was in other states I was confused because I thought we had equal rights already, and then in comes pow, in your face that we don't."
When the Women-Matter group asked to use Eastan's photo for this purpose, the Webers agreed. Weber said they received permission from the statue's artist to use the image in marketing materials but not State Street Corporation, which commissioned it, so it was removed from their marketing materials and what was left was her daughter standing proud.
The advocacy of a new generation, "you could feel it in that photograph," Davis said. She saw the photo as showing that the message of the need for the ERA had reached a new generation and that "their advocacy is the blood transfusion we needed."
"This was not in any way staged or some liberal plot. This was a little girl from Powhatan who went on trip to New York, took a photograph and we found out it even existed. That is the best kind of photograph because it is organic. That is why it is so powerful," Davis said.
The image is on an electronic billboard near where I-95 and I-64 meet so it could greet legislators in the General Assembly as they arrived in Richmond for the new session this month, she said.
All of the attention has surprised Eastan, who struggled to wrap her head around why her picture would be such a prominent part of the fight for women's equality, her mom said.
"She really feels there are all of these older ladies who have been working on this issue for so many years. Why is she getting this attention?" Weber said. "I said part of what her contribution is is she has a genuine and authentic belief in this subject."
On the same billboard that displays Eastan's image is a slogan made special by Ani Hornung, a 12-year-old homeschooled Powhatan student and the daughter of Kati and Andrew Hornung.
The simple phrase "Not One More GenERAtion" highlights the need for the Equal Rights Amendment to be passed so another generation of girls doesn't have to experience the same kind of discrimination as those who came before, said Kati Hornung. Hornung learned that the ERA had not been ratified in Virginia several years ago but didn't really start getting involved until last year.
Hornung said that even at her young age, Ani is a strong feminist, and in 2017, she wanted to do something to support the movement around getting the amendment ratified in Virginia.
"I was upset; I think it should have passed awhile ago," Ani said. "I want to see the ERA passed very, very badly."
So they made some homemade signs, and on one where her mom had written "Not one more generation," Ani noticed ERA was in the word generation and colored them red and underlined them.
Davis was at that rally in front of the General Assembly and remembers seeing Ani's homemade sign and her emphasis on the ERA in generation.
"I looked at that sign and I said 'My God it has been staring at us in the face all the time,' " she said. "The reflection of the new generation is looking at it and saying how long has this been going on? My generation is going to take care of it. She has just caught it. It came from a 12-year-old Powhatan kid, a phrase that is taking off nationally."
In the fall, organizers were saying they needed a good branding campaign. They talked about Ani's slogan and her mom mentioned Eastan's photograph and "it all started to just gel organically on its own," Hornung said.
She created the drafts of the marketing materials and her friend, Rachel Iga, made them into the final products that were used on the billboard and as part of a postcard campaign to legislators.
Ani said she thought her slogan would be used on a few magnets, so to see the reactions and others and the billboard has been surprising.
"I thought this is cool and bigger than I thought it was," Ani said.
For her part, Hornung said the main driver for her being involved in this movement is that she is a woman and the mother of two daughters, Ani and Zoë, 10.
"I am really more participating just as a human that wants to see it done. I am not a card carrying member of almost anything and I am not really a big joiner. I am just doing this because my kids are really big on it and I think it needs to happen," Hornung said.
The involvement of the girls and young women is a good sign of more people learning about the Equal Rights Amendment simply because many people erroneously believe it already passed, Davis said. She said that far too many women don't even know this is still an issue others are fighting for on their behalf.
Proponents of the amendment also face arguments that the ERA is not needed anymore because the rights of women are already protected under laws such as the Pregnancy Discrimination Act, Equal Pay Act and Violence Against Women Act.
Women's groups such as Women-Matter argue those are all laws that can be altered or repealed and have no constitutional standing. Davis cites the words of the late Supreme Court Justice Antonin Scalia, who was interviewed by California Lawyer in a January 2011 issue and said, "Certainly the Constitution does not require discrimination on the basis of sex. The only issue is whether it prohibits it. It doesn't."
Davis also points out that Supreme Court Justice Ruth Bader Ginsburg, when asked in 2014 how she would amend the Constitution, said she would add the Equal Rights Amendment.
In addition to ignorance of the issue, activists are also battling misinformation, she said.
"I think there is a lot of misinformation about this issue. I also think when you are used to privilege, equality feels like oppression. I feel there are a lot of people who feel that to give equality to everyone, those who enjoy privilege have to give something up," Davis said. "But really equality is not a jar of pennies that there is a finite amount and if I share there is nothing left for me. Equality is like love; the more you give the more you have."
Davis said that the reasons in generations past that the ERA failed to pass "have all been negated" and it is time to get it done.
Senators and delegates were invited on Monday, Jan. 16 to a screening of the documentary "Equal Means Equal" at the Byrd Theatre in Richmond. Supporters of the amendment will also continue to lobby on behalf of ratification during the 60-day session and especially focus on getting it out of subcommittee in the House of Delegates, Davis added.
"We want the dignity of the debate. We deserve to have this long overdue conversation on the floor of both chambers with debate and with a registered vote," she said. "It is time that every delegate in the state of Virginia is accountable to their position on this issue."