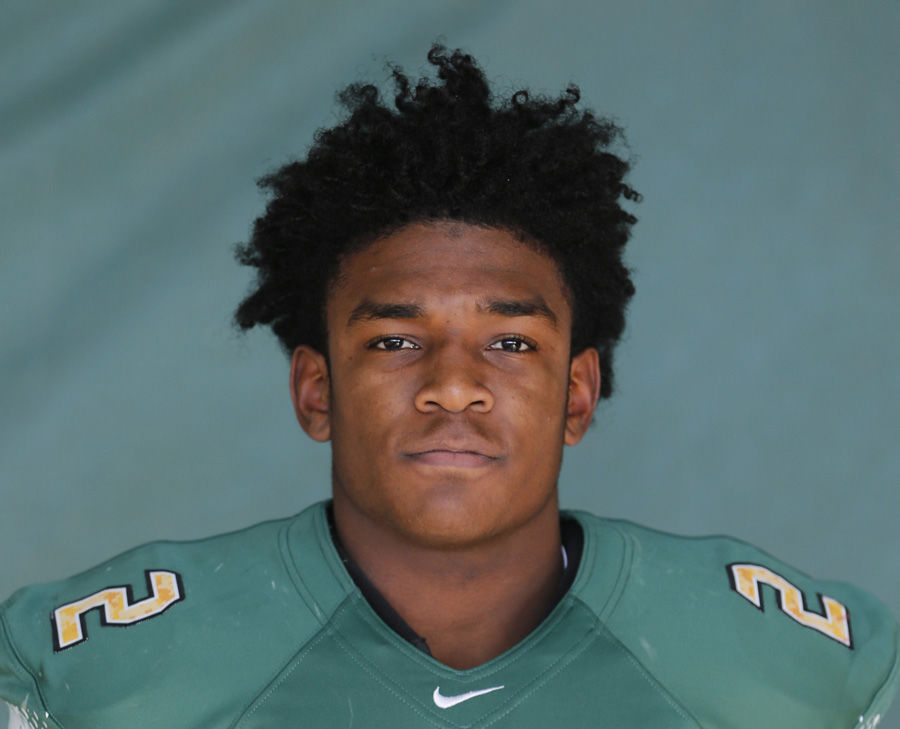 It was Nigel Williams' first time playing tackle football.
He and his teammates were at a jamboree, where all the teams in the district would get together and scrimmage one another.
That's where he made his first tackle in a real-life situation.
"I tackled this kid and my lip started bleeding right when I tackled him – I don't think I had my mouthpiece in – and it was a pretty good tackle," he said. "I just remember that rush and everything - just how cool I thought it was even though I messed up my lip.
"That's kind of when I fell in love with it."
Football has always been a part of Williams' life. His dad, Dexter Williams, played wide receiver for the University of Richmond, and he was always an assistant coach on Nigel's younger teams.
To Nigel, he was a huge mentor. He was also the one who brought up Northwestern University – the school that Nigel is now attending.
Nigel, who has lived in Powhatan County since he was 4 years old, started with flag football, then played for the Powhatan Warriors in the Chesterfield Quarterback League all the way up until middle school.
Academically, he attended Collegiate School in Richmond since third grade, so he got to know the varsity coaching staff before joining the varsity team because a lot of the coaches also teach physical education.
"In middle school, we would always be able to talk football with them," he said. "They were great role models and great leaders for me as well."
Some of his best friends are people he's known since he was around 8 years old.
"We've been through a lot together, whether that be baseball or football, stuff like that," Nigel said. "We've grown so close over the years. It's definitely weird now being apart from them, but it's great being able to stay in contact with them.
"It was unbelievable – those 10 years, or however long it was, it was so much fun – and I wouldn't trade it for anything."
Nigel was a freshman when he started at cornerback on Collegiate's varsity football team in 2016.
That ended up being a special year.
Not only did he play that entire season, but he was part of the Cougars going 8-2 and winning the 2016 VISAA state championship.
"That was probably one of the most fun teams I've ever been a part of," he said. "I had a lot of doubts about it going in, because these kids were so much older than I was, and I was just like: I don't really know how it's going to go. But it was me and one of my friends Trey Boll who's playing tight end at Wake (Forest), we both made the team as freshmen, and we just kind of went in and the older guys took us under their wings, kind of showed us the ropes of high school.
"It seems like we were winning almost every Friday and it was so much fun. From the second we started summer camp, everybody knew that team was really special and we were able to carry it," he said. "I felt like we were just so close … there was just no way that we weren't going to get the state title that year."
He remembers the second game of that season when they played Northern Virginia-based Flint Hill. Collegiate was struggling a little bit, and then the Cougars' starting quarterback got sacked, his helmet coming off, and he had to go out of the game.
Nigel, who was also the backup quarterback, went in for him.
"All of a sudden, I'm leading a drive down the field."
His offensive coordinator left him in for that drive, and the Cougars marched down the field, mixing in the passing game.
"I'm just in there, having fun, calling plays."
And then, Nigel found a hole and ran the ball across the goal line on the quarterback sneak to the left-hand side, chopping Flint Hill's lead to one possession.
The Cougars' defense then forced a three-and-out, and Nigel's coach put him in as the punt returner. He fielded the incoming kick, and he tore all the way to the opposing team's 10-yard line.
Collegiate scored on the next play, and Nigel and his teammates went on to beat Flint Hill 19-14.
"I felt that play had a lot to do with how I felt with football going forward," he said. "I felt like I really knew that I belonged kind of after that possession. I knew that this team was special, but I knew that I was definitely contributing, and that really helped me."
It also played a role in showcasing Nigel's versatility. Throughout his career, he's always played both ways, and whenever he was holding the role of returner, running back, receiver or safety, Nigel approached that role through embracing a theme that's been taught and emphasized to him by the Collegiate coaches since middle school: selflessness.
"It's just doing whatever you can for the team," he said, "because somebody's always going to get hurt, and so you just need to be ready when your number's called."
He also held the role of starting quarterback his junior and senior seasons.
"We were talking about that earlier . . . me and our actual quarterback commit at Northwestern – we were just talking about how much fun playing quarterback in high school was," Nigel said. "I was a captain my junior and senior year, but when you're quarterback, you really feel like you have the reins to the team and … the game is going to be decided on your decisions in the game."
Nigel loves that kind of pressure.
"I always felt like a game could come down to one or two plays," he said, "and I always wanted to be the one that was going to make those plays."
In addition to shining brightly on the gridiron throughout his life, Nigel grew up playing on the diamond, holding down center field when he was little and then taking on the role of shortstop in high school. From baseball, he learned mental toughness.
"When things were going bad for the team in football, I could use that experience from baseball to try and correct the ship."
From the second he picked up a football, Nigel's parents' message to him was: This could be your ticket to going to a great academic school, and to leaving your mark on whatever it is you try to do.
"Hearing that over and over again ... ultimately that just became a goal of mine, that I was going to accomplish it."
He's now playing for Pat Fitzgerald at Northwestern, which is about a 14-to-21-mile drive from the heart of Chicago.
He praised his team's resiliency. The Wildcats are coming off of a 3-9 season, their first time finishing under .500 since 2014.
"They had a tough season last year, but that's not who they are at all," Nigel said. "They're led by I think one of the greatest coaches in America and ... if you look at a practice, you look at a workout, the energy that's coming from their weight room and everything – they're going to be a team who, year-in and year-out, I believe, is going to be competing in the Big Ten Championship with an opportunity to play in a Rose Bowl."
When Nigel went to a practice and also to a game, he saw how the team's energy and passion "just never wavered at all" despite last year's struggles.
"That was one thing that my parents noticed, it's something that I've noticed and that's why it made it easy for me to be able to look past last year and realize that that was going to be an extremely temporary thing and that they were going to get back to a Big Ten Championship pretty soon," he said. "I definitely want to be a part of that."
Nigel described Evanston, Illinois – the suburb where Northwestern is located – as a "great college town."
"I think it's kind of underrated right now, but if you go to the strip, they have a bunch of restaurants, a bunch of Northwestern stores," he said. "If you walk around, if you have a Northwestern football polo or just T-shirt on, people will stop and talk to you and everything like that. It's a pretty big college town, and it's been great so far just getting to know the guys."
He's also become a fan of one particular Chicago staple. His dad and grandpa are both from New York, so Nigel and his family take pizza pretty seriously at their house.
"Deep-dish pizza in Chicago definitely lives up to the hype, so I've been eating that up," he said, noting how he's been going to Lou Malnati's Pizzeria.
Northwestern's practice facility also has a scenic location on Lake Michigan, from which you can see Chicago's skyline.
"It's unbelievable," Nigel said. "It's the nicest campus I've been to."
Academically, Nigel is looking to major in communications. If football in the long run doesn't end up working out, he would have that communications major to fall back on, and he talked about trying to do something in the sports analysis realm in that scenario.
Nigel is one of multiple Powhatan County student-athletes who are taking their academic and athletic careers to a Division I school in or near Chicago. Powhatan High School Class of 2020 volleyball standout Sierra Ellison will be attending and playing for DePaul University.
He's also joined another Collegiate athletic standout – top basketball recruit Robbie Beran – at Northwestern.
"I love Robbie, he's a great dude . . . he's bound for a huge year this year I think," Nigel said. "He's been trying to lend a helping hand, just constantly texting me, just checking up on me.
"This place, it's going to start feeling like home, but the first couple of months - I was expecting it to be a difficult transition - but just talking with him and seeing how he managed everything and just keeping up with the academic and athletic load, it's been great just having somebody who comes from kind of the same experiences I do and just how he was able to navigate this time."
Nigel, who is 6-foot-1 and weighs 185 pounds, is taking his approach of doing whatever he can do for the team from Collegiate to the collegiate field, where he'll play in a to-be-determined defensive back position.
"If he wants to put me at corner, I'm going to do everything I can there; whether it's punt return, kick return, taking a couple snaps at like a wildcat quarterback (position) in the future or something like that – I'm just really looking forward to doing whatever I can to help the team win."
He'll look to continue relying on his football instincts, his experience with playing a multitude of positions and his athleticism. He ran a top time of 4.52 in the 40-yard dash at a Notre Dame camp to go along with his 4.00 shuttle run and a 37-inch vertical. He also has his knowledge from all of the football he's watched over the years.
"I feel like that helps me a lot, just being able to make plays, and kind of seeing how things could unfold before the play starts."
He's looking forward to his freshman season, but as of this article's publication, whether that season will take place or not is still up in the air as the COVID-19 pandemic continues to grip the nation, seeing continued case increases in multiple states, and the Ivy League suspended all sports for the fall season, including football. Right now, the Big Ten is scheduled to play conference-only games in all fall sports.
Despite the uncertainty, Nigel and his teammates have still been doing workouts. They' had not been allowed to touch the dumbbells or barbells, but they had been doing body weight exercises and some conditioning.
"We're doing the best we can," he said, "but it's tough right now."
His huge goal is to just be on the field, and for Nigel, that doesn't necessarily mean in a starting role.
"I just want to contribute," he said, "and when I do contribute, contribute at a high level."
His message to high school athletes who are going through, or will go through the recruiting process, is to be patient. He pointed to his own process: up until around March or April of his junior year, he didn't have any offers. He then picked up 10 within a span of around two weeks.
He also pointed to Hunter Renfrow, who was a walk-on at Clemson, played all 13 games as a redshirt freshman in the 2015 season and caught four touchdown passes across the 2016 and 2017 National Championship games, including the game-winner from Deshaun Watson in Clemson's 2017 triumph over Alabama, 35-31.
"Recruiting . . . it's not an exact science and never will be, so just: kids who start to get frustrated, just be patient," Nigel said, "and make sure that you're your biggest advocate for yourself, because if you're not advocating for yourself, then you can't really expect anyone else to, so just make sure you're getting in front of whoever you can."