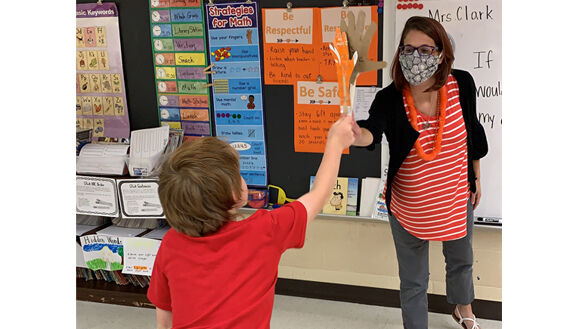 POWHATAN – Powhatan County Public Schools is getting its first taste of educating children in person under COVID-19 restrictions, and so far it is going well.
The division is three weeks into in-person summer school with 70 elementary and nine middle school students attending academic classes at Powhatan Elementary School, said Isabella Worrell, elementary summer school administrator. Summer school will run through July 23.
PCPS also has 170 high schoolers attending summer school via distance learning, said Christine Phaup, secondary summer school administrator. They are either taking courses to recover credits or work ahead in academic classes or signed up for drivers education, physical education, or special education classes. The division didn't need to provide classes focused on retaking the SOLs this summer since students were exempted from them during the last school year.
Preparing for summer school was like hitting a moving target at times as guidelines from the state continued to change in the weeks leading up to it, Worrell said. The school district went from expecting online classes as the only prospect to having in-person instruction as a possibility, but with plenty of caveats.
From class size to cleaning, course selection to bus rides, student-teacher interactions to meal times – every aspect of in-person instruction over the summer had to be considered carefully to make returning to learning in school buildings possible, she said.
"This year was really strictly the academic piece. Other years we have had STEM components. We have offered different summer camps that aren't attached to the academic program. But things like cooking, Harry Potter – things that are just fun like sports camps – we don't have any of that going on. We are really just focusing on the reading and math," Worrell said.
Having all of the students at the same school made sense for planning purposes as well as to make it easier for transportation and to clean regularly, Worrell said. While the buses the school division is sending out to key areas of the county are set up with staggered seating to keep children spaced properly, it hasn't been much of an issue yet because most parents are dropping off their youths.
In addition to Powhatan Elementary being cleaned at the end of every school day, cleaning is going on throughout the day, such as bathrooms, general surfaces, and doorknobs. At one point the school considered making the halls one way, but they are wide enough for students to pass on the right and maintain 6 feet of distance.
The nine middle schoolers are split between two teachers, Phaup said. The students are working on specific standards that they had difficulty with during the school year. Then they are able to practice it on the two days of the distance learning. Some students attend in-person instruction four days a week because they had to recover math and English.
For in-person instruction, the plan of not having more than 10 students per class to help space them out is actually a standard goal for the division for summer school, Worrell said. Having smaller classes allows for students to receive more one-on-one attention.
It also makes it somewhat easier to adhere to the other restrictions they have to follow to successfully keep children social distancing, Worrell said. Students receive free breakfast and lunch from the school, but they have to eat at their desks. Any materials they use – such as pencils, crayons, scissors, Chromebooks – are not shared between students.
"I think it is difficult for the little kids because we spend all of our times telling them to share and now we are telling them not to share. They are handling it as well as you can expect from the little guys. It is just the new norm for them," she said.
When a teacher needs to work individually with students, they wear masks regardless of the students' ages.
If they go outside or take a break, they are mostly limited to solitary forms of exercise such as walking around a track or dancing.
But despite the restrictions, students, especially the younger ones, seem generally happy and excited to be back in school, Worrell said.
"I think little kids crave that schedule and they like the normalcy, so being back in the building has been good for them I think, even though it is really new and different. That is what I like about little kids. They are really adaptable," she said.