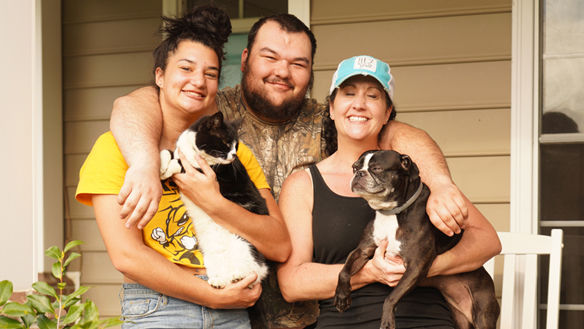 POWHATAN – Welcome back to the Porches of Powhatan.
In a world where life usually seems to be going a mile minute, porch time is a world of its own. And at time when the worldwide COVID-19 pandemic is changing the way Americans live and interact, that time has never been more important.
Beginning with the April 15 edition of the Powhatan Today, we introduced our readers to a feature series called the Porches of Powhatan. Inspired by freelance photographer Anjie Kay's portraits of local families, the series offers snapshots of Powhatan families doing the best they can to live their daily lives in extraordinary times.
Last week, you met a hair salon owner who misses her business and is finding solace in baking and working out; a teacher who misses the chance to make senior year special for her students, and a retired couple adjusting to not always being on the go. They shared how their families are becoming closer as they self-isolate together, the sadness they feel as they think about what they are missing from "normal life," and the simple joys that are helping them get through it all.
While "porch time" isn't the same for all of them, they all agreed they have come to fully appreciate the value of their relationships and the time they are spending together.
This week, several more local families agreed to share their stories, which are simultaneously unique and ordinary. So once again, we invite you to come spend a little time with some of your neighbors and take a look at a worldwide pandemic through the lens of the Powhatan experience.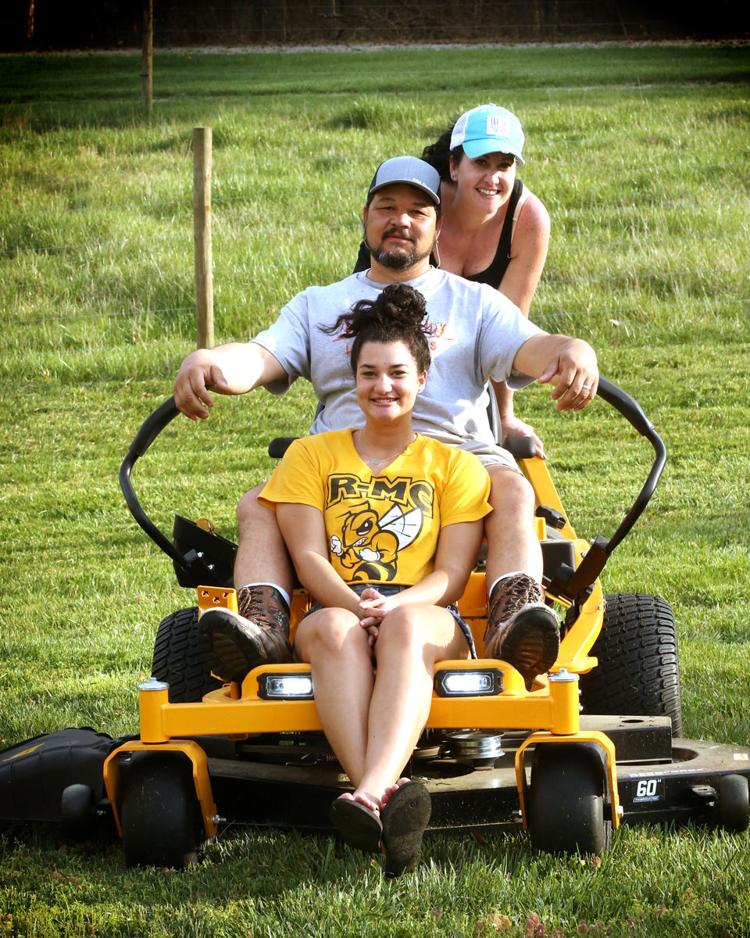 The Snyder family has been running in different directions the last few weeks, but they are also making time to come back together.
With three people in the household working and the fourth doing distance learning from home, the Powhatan family has had a mixed schedule. Mom Kathy Snyder was already working from home as a senior finance manager for CBRE Corporate Real Estate, so that part of social distancing hasn't been much of an adjustment. The company handles a variety of different tasks, including corporate real estate and facility management. Kathy said she can see how the changes wrought by COVID-19 may impact her company by changing how it operates and alters the direction of some of its services.
Since she already worked from home, Kathy said she used to look forward to going out and being with friends as a natural release. She tends to be a homebody, she said, but now that she has been told she can't go out, it makes her miss it more than usual.
Kathy's husband, Matt, is a home builder for Main Street Homes, and he not only continues to work but is faced with juggling schedules on a whole different level. He has to manage the schedules of different trades coming in to work on projects and limiting their interaction, so scheduling has become more important than ever.
The couple's son, Kye, 22, works at Auto-Chlor, which deals with commercial dishwashers. His role has changed somewhat as he runs his regular route to maintain equipment, spending a great deal of time on the road. Kathy said he is employing good hand washing as a way to help avoid picking up or spreading germs.
The family has been maintaining social distancing when they go out for work or for necessary trips, Kathy said, but they are not wearing masks or gloves in part because they believe their daughter, Gatlin, 19, already suffered through COVID-19 in January, although she wasn't officially diagnosed, and the family was exposed at that time.
(Editor's note: While many believe those who recover from COVID-19 are immune from it, much about this virus remains unknown and has not been definitively proven.)
Gatlin is adjusting to being home from Randolph-Macon College, where she is a sophomore psychology majoring and a hockey goalkeeper. She has seen the biggest impact to her daily life since she is home from school and distance learning, Kathy said. Gatlin is doing well in classes and is finding it easier to focus on her studies without as many distractions.
 However, the offseason is a crucial time for the team members to bond off the ice, so she is missing that, her mom said. There are also worries about the physical training she is doing since she doesn't have a full weight room to work with or the face-to-face interaction with coaches.
"She is nationally ranked ,so this for her was supposed to be a huge season of honing down her skills to hopefully get in the top five for the nation," Kathy said. "She doesn't have that. She doesn't have the ability to work with her coach. She is working with coaches that are posting things online and working through drills, but if you can't do it face-to-face they can't tell you if you are doing something wrong."
When they are not each doing their own thing, the family has no issue coming together, Kathy said. She and Gatlin share a love of horseback riding and have been riding at state parks, while father and son like hunting together. Family dinners are also a regular occurrence and they have been gardening together. Kathy said she always does an herb garden, but she doubled its size this year with the help of her family.
They appreciate that their church, Passion Community Church, is offering both online services and Zoom meetings with small groups so they stay connected, she said.
 "We are definitely spending more time as a family reflecting on what we have and appreciating it. For us, one of the big things has been talking to people who don't live in a rural setting like Powhatan and hearing how it has impacted them," she said. "Working remotely and talking  to people all over the country, I get to hear what they are doing, how it is impacting their families, how difficult it is for some people homeschooling now. For us, I think we definitely have stepped back a little bit."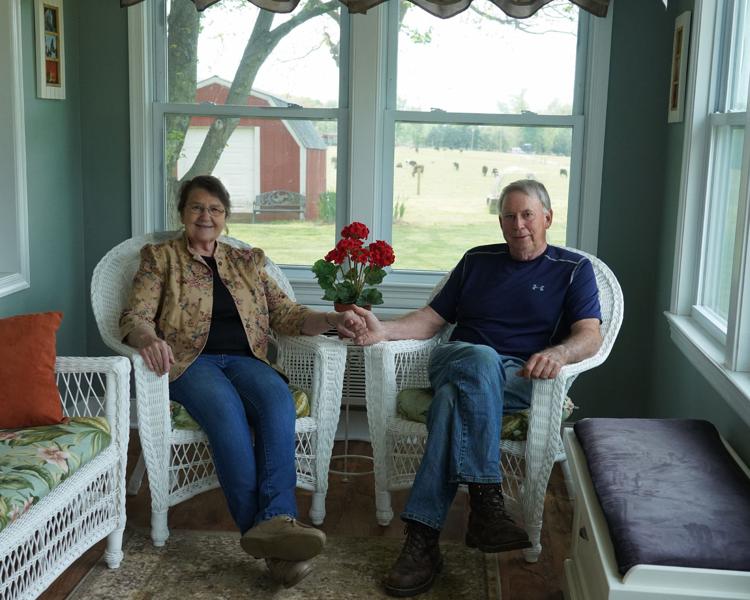 While life has slowed down for many families during the COVID-19 pandemic, it has gotten quite a bit busier for the Hertzlers.
Pat and Gene Hertzler run Hertzler Farm and Feed Inc.in Powhatan, which includes both a working farm and a full line home, lawn, and farm supply store.
Pat Hertzler said when restrictions first started to affect people in March, they were swamped. Spring is always like Christmas for the seed store portion of their business as people think about planting gardens. But this year, with people faced both with more time at home and fears about possible food shortages, suddenly garden seeds, plants, and laying chickens were in extremely high demand, she said.
"It was just wild. We could hardly keep up with ourselves. It has leveled out now. We are still very busy, but it is manageable. At first it almost wasn't manageable, but it was good and it was fun," she said.
The farm's Angus beef has also been popular because beef hasn't been as available in many grocery stores, she added.
With so many businesses that have been closed or are struggling to cover costs, Pat said she and Gene fully recognized how fortunate they are to be so busy and are not taking it for granted.
Concerned about both their employees and their customers, the Hertzlers have worked to put as many safety measures in place as possible, Pat said. All staff members wear masks and gloves and disinfect their hands after every sale; families are limited to one person per family, and no children are allowed. They have curbside pickup and can leave deliveries out for pickup if customers want to avoid contact.
Gene, who is 70, has also been limiting his time in the store since he is diabetic and more vulnerable to getting the virus, his wife said.
"We are like everyone else. We are concerned. We take the virus seriously. We think our government is doing everything it can to keep us safe and we honor that, respect that, and try to do our part. We are not overly afraid, because we are doing everything we can to stay safe. I take every precaution that I can, but I am not living in fear," she said.
While the couple does have to leave the farm some for farm supplies or other groceries, often after they are done with business you will find them riding a golf cart around their property to check on the animals and the fences or simply sitting and enjoying time together.
"We enjoy sitting on the porch and looking out over the farm and watching our cows – just looking at nature outside," she said.
Pat added that she is especially drawn to the porch in the summertime, when she can be found there reading, doing devotions, or talking on the phone to friends and family.
During the pandemic, the Hertzlers have stayed in touch with their family via phone and video chat. They especially miss going to church at Powhatan Mennonite Church and are grateful online services are being offered on Youtube. But despite some limitations, they are trying to keep a positive outlook.
"It depends on your mindset. You can make it hard and difficult by the way you think. We know this is temporary so we don't try to get caught up in being negative about it," Pat said.