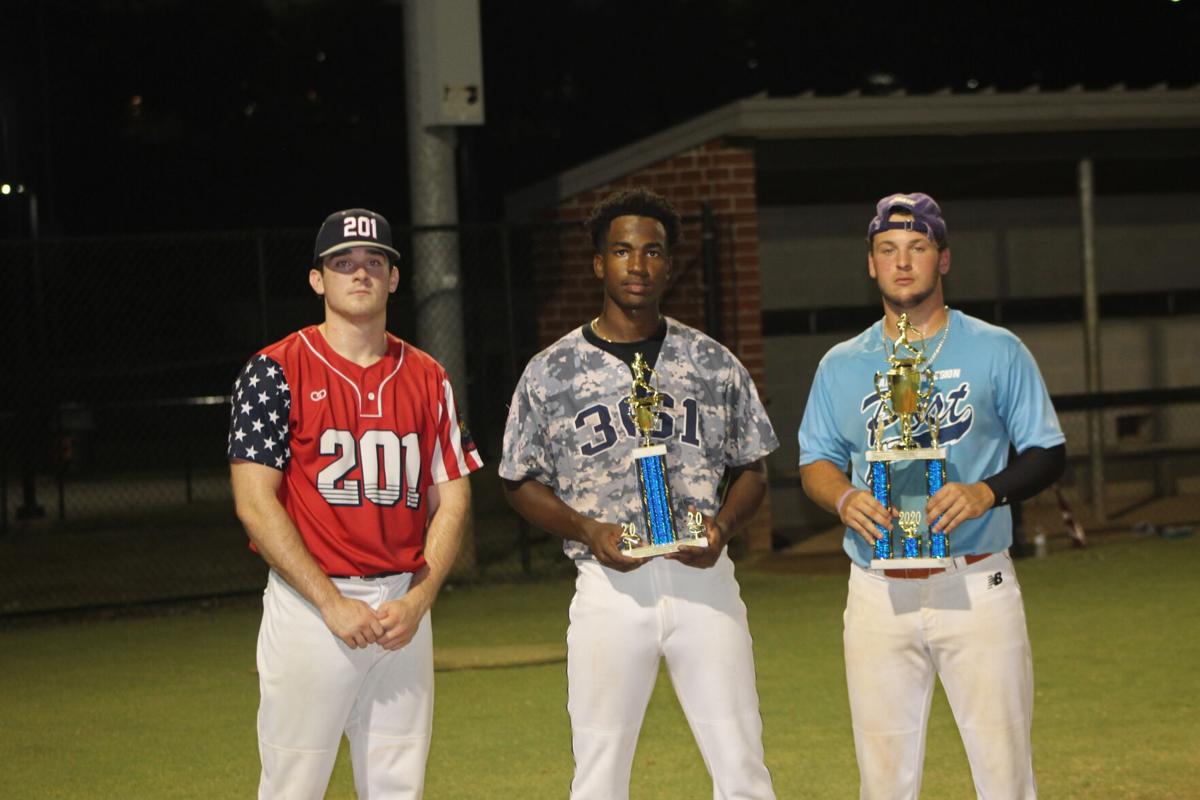 POWHATAN - He was down to one more swing.
Bryce Safferwich had tied Jesse Robinson, Jr. with three home runs in the final round of Saturday's home run derby hosted by American Legion Post 201. With one batter still left to go after him, Safferwich said coach Doug Toombs told him that if he hit four, he was going to win.
Loading back and hitting as hard as he could, the Mills Godwin alum and James Madison University player smashed his final pitch high, deep and clear of Powhatan High School's left field fence, taking the lead in the final with four home runs.
"I'm just going up there and trying to have fun, just swinging the bat," Safferwich said. "I knew it was going; I was like, 'It's getting out of here . . . that might win it.'"
The final batter of the evening, James Nelson, ran out of steam after three stellar opening rounds, and Safferwich came away with the home run derby winner's trophy after going toe-to-toe with some of the Richmond area's top players and college commits.
"It's awesome to see other players and I play travel, too - I play in the Piedmont (Collegiate League), too - and it's just fun seeing all the kids play. It's nice meeting new kids," Safferwich said. "I want to thank everybody here for letting us come to Powhatan and hit."
Safferwich, who is playing for Post 125 this summer, landed five homers in the first round - including three in his final three swings - before launching three in the second and three in the third to earn an automatic bid to the championship round.
"The first round I was feeling really good, but the second or third round I was getting tired," Safferwich said. "Coach Toombs was saying just three or four is going to win, so that's what I was trying to do."
Robinson (Deep Run High School, Virginia Commonwealth University commit, Post 361) had a four-homer second round and won his way into the final in a tiebreaking swing-off to close out the third when he skied a long ball over the left-field fence. He bested Post 125's Scott McDonough, who had a five-homer first round, and Post 39's Riley Motley, who had four in the opener.
Third-place finisher Nelson (Trinity Episcopal alum, Longwood University, Post 201) was the best through the first three rounds, hitting five homers in each one and sending several dingers into the trees towering over right field.
Brandon Eike (Powhatan alum, University of North Carolina) owned the first round with seven homers and added five in the second, but faded in the third.
The home derby's competitors also included Post 125's Max Moore, Post 137's Bobby Ayscue and Evan McClaskey, Post 201's Alex Balisteri and Post 361's Hayes Fallen and Zelgin Jackson. Each of the four rounds in the competition consisted of 12 swings, with three batters getting eliminated from each round.
All batters in the derby participate on five of the six American Legion-sponsored baseball teams that have been playing together in this year's "Sandlot Legion" summer baseball series.
The top players from the series will get together tomorrow night to play in the All-Star Game at Powhatan High School at 7 p.m.