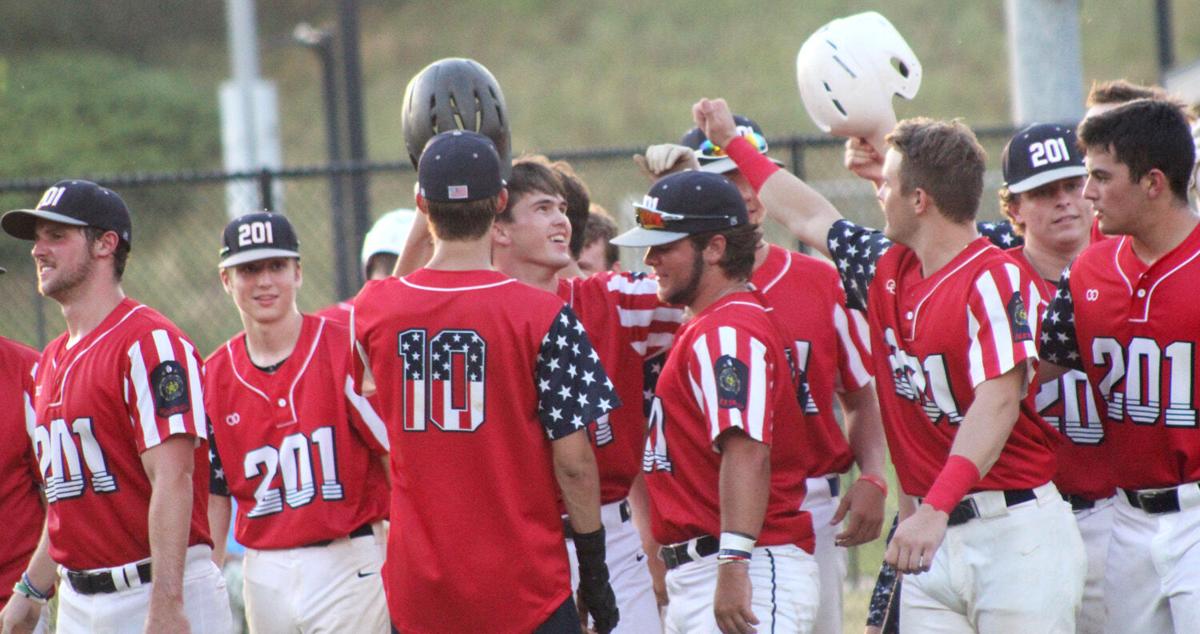 Mother Nature this past week washed out what would have been American Legion Post 201's final two games in this year's summer baseball series featuring six Legion-sponsored teams in Virginia.
But neither the weather nor the COVID-19 pandemic could spoil a memorable month of local baseball.
In the end, some of the top high school and college players from the Chesterfield, Fluvanna, Goochland and Powhatan communities got to represent Post 201 in seven games together, winning four and staying in every single one of them to the very end.
"I think that this year was absolutely phenomenal. The talent level that was on the field was extraordinary," said Post 201 head coach Eric Mead. "I think it was good baseball, some of the best baseball that's probably been played at the Legion level in a long time, a lot of local talent out there."
And this summer baseball series, he noted, was needed not only by the players, but by the community as well.
"With everybody being locked down and shut in for so long and not sure whether there was any normal to be seen, I think this allowed not only the players who had lost either their high school season or lost their college season an opportunity to find some normalcy in their life – I'm hoping that we did the same thing for the community, gave the community a little bit of normalcy as well."
Not a single game that Post 201 played in this summer was decided by more than three runs.
"I don't know that you can ask for anything better than that," Mead said. "That's what we were hoping to get out of this league and I think that we succeeded. I know the coaches from the other American Legion teams felt absolutely the same way, that every team that you faced, you could beat (them) that night or get beat by them that night."
Post 201 homered five times in seven games – Walters State Community College player Alex Balisteri and North Carolina Tar Heel Brandon Eike each did so twice, and Mary Baldwin's Colby Cheatham hit a grand slam. One of Balisteri's homers was a three-run walk-off in the bottom of the eighth inning over Post 284.
Goochland's Cole Bashinski also made a walk-off play when he smashed a line drive to the right-center wall to lift his team past Post 361, 14-13, in the bottom of the 10th.
Post 201 never had a shortage of talented pitchers. Balisteri, Christian Chambers, Tommy Preston, Colby and Andrew Cheatham, Carson Conner, Carter Dawson, Kendrick Sheffield, Stone Talley, Billy Thackston and Connor Woodel all helped make a difference on the mound.
They saw a lot of good arms as well. Mead said they asked their college players what they benefited the most from during this five-week stretch.
"All of the college players said that the pitching that they faced is what they needed to see to help them to be ready to play college baseball," Mead said.
Chambers, a James Madison University player and Post 201's primary lead-off batter, scored and walked in every game Post 201 played. He led the team in both categories (12 runs, 12 walks). He had an on-base percentage of 0.667, took four hits by pitch and struck out only once all summer.
"That's just phenomenal as a lead-off batter to find a way, and that's what I like about Christian a lot," Mead said. "He doesn't care how he gets to first base – he's just going to try to get to first base."
Eike played all seven games. He scored seven runs, walked seven times, hit two doubles and two home runs and tallied up seven hits and eight RBI.
In six games played, Balisteri batted .458 with a .958 slugging average, a team-leading 11 hits and 12 RBI, nine runs, two homers, four doubles and a triple.
Taking on the role of cleanup hitter when he joined the team, Trinity Episcopal graduate and Longwood baseball player James Nelson led the team in batting average with .500, and he also had five RBI, two runs, two doubles and four walks in five games played.
Catcher Trevor Waters, who is going to Georgetown College in Kentucky, caught three runners stealing, had a fielding percentage of .967, allowed only two passed balls and called every game from behind the plate. No signals, Mead said, were given to him from the dugout.
Waters was also third on the team in batting average with .350.
Caleb Kersey made big plays on defense with a diving catch in Post 201's first matchup with 284 and a key catch deep in right field to secure both the final out and the win in the second.
This was the second year that Stone Talley and Josh Boelt had been in the middle infield for the Post 201 seniors, and that combination of two players who have been playing together for a long time "just seems to get better every year," Mead said. And the addition of Fluvanna's Cameron Shields, another standout infielder, gave the team flexibility in its rotation as Shields was able to roam to different positions, including second and third bases, when another infielder was called to pitch.
Mead praised Powhatan High School Athletic Director Tim Llewellyn and Powhatan County Public Schools for giving them the opportunity to play at PHS. He noted it took a lot of work from the coaching staff, Post 201 and Llewellyn to: get the season started; make sure they set the guidelines correctly; and ensure a safe environment for both the student-athletes and supporters to enjoy the game, given the ongoing COVID-19 situation.
Mead also spoke highly of all the fans who came out to support the players and the program.
"I think it was enjoyable baseball. The community support this year, especially going through everything that we've gone through and the players have gone through, and to be able to pull the amount of fan base that we've had this year, was phenomenal," Mead said. "We had support from the board of supervisors all the way down to the parents."