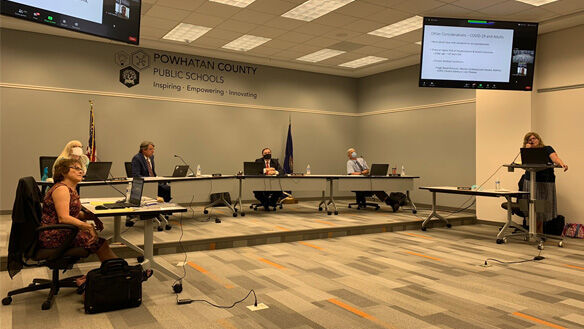 POWHATAN – Families with students starting school at Powhatan County Public Schools on Aug. 24 will have the option of either attending via virtual learning or going in-person two to three days a week and doing the rest virtually.
On Tuesday, July 28, the school board voted 3-2 in favor of the virtual and hybrid models recommended by PCPS staff for the start of the 2020-2021 school year.
Barring changes from the state level, families will choose between a full virtual model where they commit to that option for at least the first semester and a hybrid return to school model that will see students returning to school either part-time or full-time, depending on their ages.
A hybrid model will be in place for all students for the first three weeks, at which point pre-kindergarten through third-grade students will began face-to-face instructions full time, said Dr. Eric Jones, superintendent. Grades four to 12 will remain on the hybrid schedule for at least the first nine weeks, but if the situation goes well, the school division hopes to bring more students back to the classroom all five days. However, Jones stressed this is a fluid situation involving constant reassessment and possible sudden changes as needed. (See more details about the two models on page 5A.)
Voting for the combination hybrid and virtual models were chairman Joe Walters, who represents District 4, Rick Cole, District 1, and Susan Smith, District 2. Voting against it were Valarie Ayers, District 3, and Kim Hymel, District 5.
The difficult vote followed several hours of information gathering and discussion at the July 28 meeting, but it was really the culmination of weeks of work and consideration. Each school board member conceded no decision would satisfy all PCPS families.
During the meeting, the board heard a public health presentation from Dr. Alexander Samuel, health director of the Chesterfield Health District of the Virginia Department of Health, and Brad Porter, district epidemiologist.
Jones also laid out a great deal of new information for the board, including survey results from students and parents and returning staff members; recommended COVID-19 mitigation strategies for in-person schooling; transportation options, and technology and instructional parameters for virtual learning. (See Highlights story on Page 3A)
Jones said the low number of COVID-19 cases in Powhatan combined with the comprehensive health plan the division developed made him feel comfortable recommending the hybrid and virtual combination. Under the current plan, he believes the school district could safely meet the American Academy of Pediatricians' guidance of spacing students 6 feet apart. Increasing the number of students with a full return to school would mean spacing them 3 feet apart with masks required.
"I just don't feel comfortable starting off the school year in that return. I hope we get there – I hope we get there soon. I feel for parents that have childcare issues, and I believe our children need to be back in school," Jones said. "But I also think we have an obligation to our staff to make sure that they are safe and that the students are safe."
A survey was sent out to PCPS families on July 29 asking them to make a binding decision on their chosen back-to-school model. The deadline for that survey was Aug. 4.
Staff was allowed into buildings beginning Aug. 1 to rearrange classrooms and remove personal items to free up space, Jones said. The school division will submit its instructional plan to the Virginia Department of Education. Schools will finalize their master schedules and students on the hybrid model will be assigned to the AA or BB schedules.
As the division gets a clearer picture of how many students will attend virtually, teachers will be assigned based on need and preference, Jones said.
In early August, teacher training continues with 15 hours of professional development. Parent training will be held the week of Aug. 21.
Instead of discussing the new data, each board member made a statement before the vote was held. Each one mentioned the struggle of making this decision as they considered health and safety data and staff and parent input. Several members also mentioned seeing a shift from wanting to return to the classroom full time to seeing the value of the hybrid approach.
Hymel talked about District 5's struggle with poor or no access to internet, making full-time, in-person instruction the best option for them. Even with hotspots and Wi-Fi enabled school buses, students would struggle with doing virtual assignments.
Despite that hardship, she wants to protect the community, which becomes more of a challenge if large groups of people start gathering, she said.
Hymel acknowledged she has changed her mind several times on this issue, but the bottom line for her was not wanting to see any students or teachers die as a result of being exposed to COVID-19 at school.
Smith heard from parents in favor of both virtual and in-person instruction. Initially she didn't like the hybrid model, but that changed as she studied it more, received more information about it, and began to hear feedback from parents who recognized it as a good compromise.
"To me the parents are asking that we do make the best choice that we can make and the safest choice but at the same time do what we can to get these children back in the school building for some face to face. I feel like your proposal here has done that. You have given them choices," Smith said.
An emotional Ayers talked about struggling with a decision that has been the "hardest one I have made in 25 years of service." Much of her comments focused on the role schools and teachers play in students' lives.
"I would like to say I believe now and always have that our teachers and staff are heroes, no less so than any essential worker. They are our children's sources of not only learning but encouragement, support, excitement over new concepts, safety, and even love. Our children are suffering at home without them. Our schools are much more than places to learn; they are safe havens for many students," Ayers said.
Ayers supported a combination of virtual learning and a five-day in-person return to school for those who want that option. Her decision was based on hours of study and research, hearing from teachers and her constituents, and confidence in the division's health plan, she said. She added that her biggest concern about the hybrid plan was the question of safe, quality care for elementary school students when not in school.
Despite wanting to be optimistic about a full return to school, Cole worried about the model based on past experience with parents sending children to school knowing they are sick and how the country as a whole has handled COVID-19.
"I do worry because we are a country and we have a mentality that we are free. Some of us believe we are free to do whatever we want to regardless of how that might impact someone else. And I am very afraid that should we bring back everyone in the building at the same time, that we are going to have students and maybe some staff, that seem to think that freedom extends to them within our school buildings. Maybe I am wrong; I hope I am wrong. But I think we would be remiss if we didn't at least plan for that possibility," Cole said.
Cole also initially supported a full-time return but said his viewpoint shifted as he gained more insight into the challenges the schools face.
"I have had teachers email me personally very concerned about being back in a building with 25 students in the same classroom for six hours a day or five hours a day," Cole said. "And teachers at the high school say 'I am going to be exposed to 100 different students over the course of the day. I don't care how much social distancing I do, the chances of me being exposed to something one of those children brings to school is going to be fairly significant.'"
Schools should open with caution, learn from the situation, and work toward increasing the number of students attending school all five days, he said.
In his comments, Walters focused on how impressed he was with the hard work of staff, the feedback from staff and parents, and understanding all of them had valid reasons for supporting the different models. The school board is looking for the best answer but knows it is not a perfect answer, he said.
"I think every single one of us recognizes that no matter how we vote, there are going to be people we make very unhappy. … That is difficult to deal with, but I thank the community … for your engagement," Walters said.
Before the vote, Ayers pointed out that regardless of the outcome, Powhatan needs to come together as a community to do what is right for the community and the children.