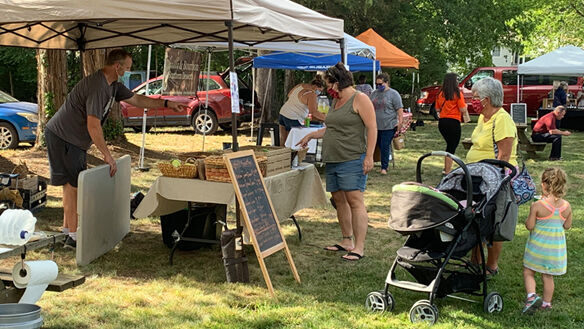 POWHATAN – Powhatan once again has a farmers market where customers can peruse fresh produce and goods offered by local vendors every Thursday in the Village area.
Although delayed for a while by COVID-19 restrictions, the Powhatan Village Farmers Market officially launched on June 25 and is steadily gaining traction as more people hear about the weekly event.
The market is held from 4 to 6:30 p.m. every Thursday on the grounds of Bienvenue, an event center located at 3841 Old Buckingham Road. The farmers market is scheduled to run through the end of September with the possibility of follow-up pop-up markets in the weeks after, depending on weather, said Lisa Dearden, executive director of RVA Agriculture, the nonprofit running the market.
It has been several years since the last farmers market left the Village, relocating twice, including a move out of the county to Westchester Commons and changing its name, before ultimately closing down. RVA Agriculture did a series of pop-up markets in fall 2019 in the Village to see if there was a demand for it and found people really receptive, Dearden said.
"A lot of those vendors were looking for a place to market their goods. That is why we came up with the idea to have a series of pop-up events in the Village. On the Westchester page, everybody kept saying, 'Come back to Powhatan,' " Dearden said. "So we collaborated with Three Crosses Distillery and had a series of pop-up markets in the fall. We had five in a row and they just kept getting more and more people every week and they were really excited about us being there."
Bienvenue was ultimately settled on as the site of the 2020 farmers market because it had plenty of room for vendors and parking, trees for shade, electricity for those who needed it, and was visible from the road. The venue was also important to Dearden and Kim Fralin, the market manager, because the beautiful backdrop of the property creates a "a sense of place" that fits with the rural market they are trying to build.
"It is really a beautiful site and in the two weeks from opening day, we doubled our traffic. It was really exciting and all of the customers and all of the vendors had nothing but great things to say about the variety of vendors, the types of products, how beautiful it is, and how cool it was … under those trees," Dearden said.
The market features a variety of local producers selling vegetables, value-added products like syrup and jams, homemade items like breads and desserts, honey, shaved ice, and jewelry, Dearden said. More vendors are being added and community organizations will beging attending as COVID-19 restrictions allow. The market is currently looking for a vendor selling meat.
People interested in becoming a vendor can contact 804-314-9141 or manager@ rvagriculture.org. The market is also looking for businesses and organizations interested in being sponsors.
The market also has a food truck each week so people can enjoy dinner outside while listening to live music that will be playing.
"It definitely brings a community meeting place. It supports local farms, local artisans, and producers. It helps to support and strengthen a local economy. … It is keeping land in open space and providing an income or a second income to some of these producers," Dearden said.
For more information about the Powhatan Village Farmers Market, visit https://rvagriculture.org/. The market has an online order option where fulfilled orders can be picked up at the Powhatan market using a drive-through option.