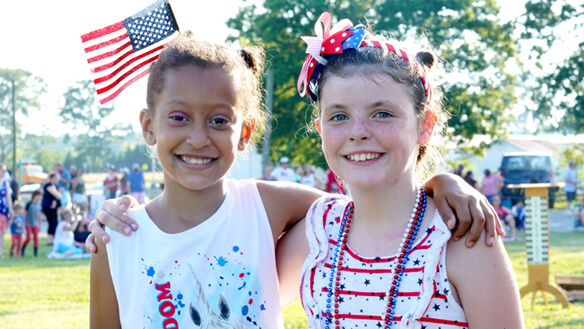 POWHATAN – At least a few thousand people are estimated to have gathered in and around the Powhatan County Fairgrounds on July 4 to celebrate the nation's bithday.
Organizers of the Powhatan Freedom Festival capped walk-in admission into the free event at 1,000 people, but people also watched the fireworks in cars from outside the gates, gathered in nearby parking lots and homes, and even lined the streets around the fairgrounds, said Melinda Hitt, who organized the event with her husband, Corey Hitt.
As little as a week before the event, Melinda Hitt said she was just hoping for 500 people to show up for the evening event. So as momentum gained in the days leading up to July 4 and then people started to flow in, she was overjoyed at the community turnout.
"I think it went so well because people were ready to feel a little bit of normalcy – the old way that we knew how things were before COVID. I think they wanted something positive and to get a break from the social media negativity," said Hitt of Powhatan.
Gates opened at 6 p.m. so people had time to come in and grab a good spot to enjoy the fireworks and a nice evening outside, Hitt said. While they waited for dusk, visitors could listen to music, eat, try to win prizes, play cornhole, or watch a movie. There were also a few political candidates who spoke about the meaning of freedom, the importance of voting, and celebrating Independence Day.
While called a festival, the event was meant to feel more like a backyard barbecue with friends than a big production, Hitt said.
She also worked to make sure safety was at the forefront of the evening out, hiring Powhatan deputies to run security for the event and putting stations throughout the fairgrounds with personal protective essentials such as gloves, hand sanitizer, and masks.
"I just wanted to have everything they needed, and if they didn't have it when they entered the gate, they would have it," she said.
Once attendance reached 1,000, per the governor's guidelines, organizers shut the gates. From then on, more people could only come in if others left, Hitt said.
Heather Drake of Powhatan attended the festival with her husband, Josh, and their three children, Joey, 10, Paisley, 6, and Charlotte, 22 months. Drake said she felt having the deputies there and seeing the measures that organizers took to keep the event clean and safe gave her more peace of mind. The family sat in a group with other close family members and had a blast as they listened to music, ate food and ice cream from the vendors, had the children's faces painted, watched a movie, and caught up on each other's lives. With the way the world is right now, it was so nice to not have to think about COVID-19, politics, or anything else, Drake added.
"Friends and families were able to come together for a night of fun, laughing, music, and great fireworks," she said. "They did an incredible job, especially since they had so many protocols they had to follow to even be able to do the fireworks! We look forward to coming back next year for the second annual Freedom Festival."
Amanda Kozak of Powhatan felt the same, saying the Powhatan Freedom Festival "definitely echoed the patriotism of the Powhatan community." Kozak attended the event with her husband, Ed, two young sons, and her parents. The adults enjoyed listening to music and sipping on drinks from Three Crosses Distilling Co. while the little boys loved their red, white and blue popsicles from the ice cream truck, talking to the police officers, watching the firetruck, and the fireworks.
Kozak said she even enjoyed talking to political candidates on both sides of the political spectrum who attended "because that is what American freedom is about."
"After a challenging few months, it showed our resilience and strength by coming together to celebrate America's birthday.  We enjoyed the fireworks and will look forward to this event every year," she said.
Andrea Ramsey of Midlothian attended the festival with her husband and two daughters and hung out at the event with her neighbors, another family of four, after eating dinner together at Mabel's. Ramsey said she loved the open space that was available and how they could pick a spot in the shade to listen to music with few people nearby.
"I appreciated that they kept the event to 1,000 people; I wouldn't have thought there was that many people there. My husband had taken the kids for ice cream and came back to our area saying it was very crowded but not in a bad way," she said.
Ramsey added that "the fireworks were fantastic; the sky allowed for a perfect show and the full moon rising was beautiful also!"
Getting ready for the community celebration was a huge undertaking for the Hitts, who also organized a free dental care clinic for children a week earlier at the fairgrounds. Both events were sponsored by the Powhatan Dental Outreach Foundation for Children, of which Melinda is the president and Corey is the vice president. The foundation sponsors free dental clinics for children in the United States and in Honduras and has served thousands of children, she said. While admission is free, visitors had the option of making a donation to the foundation to be used for future dental clinics. They raised $655 for the foundation, and donations may still be made at www.powhatan.foundation.
The festival was both a drain on the Hitt's time and involved a big financial investment for them personally because they only had two sponsors, DRP Collision and Sycamore Insurance Group, Melinda said. But she said it was enough that they wanted to see fireworks and to do something good for the community – so much so that she is already thinking ahead to holding Powhatan Freedom Festival 2021.