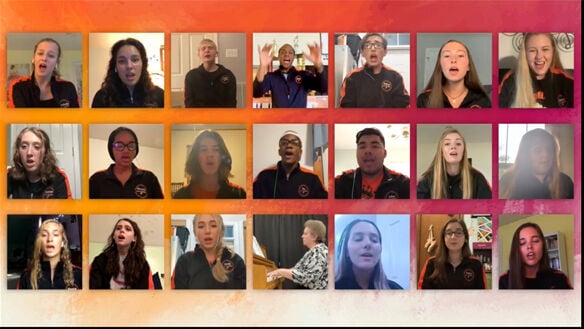 POWHATAN – The song spoke of their isolation and their time apart from the world. But in the midst of separation, it also celebrated their love of music and sharing it with each other.
The voices of Powhatan High School chorus students were recently joined together in song again thanks to a music video organized by Terrell Dean, director of choral activities. In total, 19 students – 11 of whom were graduating seniors – individually filmed themselves singing "As Long as I Have Music" and the separate tracks were joined together to create sweet harmony.
For Dean, who hadn't heard his students successfully sing together since school closed in mid-March, the first time he saw the finished product, he was moved beyond words.
"I am not going to lie, it absolutely made me cry. It was very touching to hear my students sing again. It was a lot and I am very blessed and thankful," he said.
Dean has been looking for ways to keep his students engaged and connect with what they are going through with the school closure. Because of the lack of broadband or lag time on some video chat connections, he realized soon after the initial school closure that singing together wasn't going to be an option while safely maintaining social distancing measures.
Then a friend and fellow chorus teacher in Indiana who also works for River Bend Productions put together a music video with his students. That project inspired Dean to try a music video with his students.
He said he knew right away that the song choice was going to be "As Long as I Have Music," which he performed as a choral student in his senior year in high school and hopes will become a PHS senior tradition in future years. The lyrics are very relevant to what the students have been dealing with in recent months and the need for them to have that source of strength within them, he said.
Graduating senior Emma Brooks said the song really spoke to her when she first heard it. She had missed singing with her fellow students and the bonding experience of being in show choir together.
"I knew the final product would be pretty hard hitting because, once you listen to the lyrics, you understand that it kind of pertains to our situation. I think he did a good job picking the song," she said. "I kind of teared up, but that is an obvious reaction because I know I am going to miss it. And it was just great seeing all of the people who participated and seeing Mr. Dean in the video conducting was adorable; I didn't know he was going to do that."
Brooks was in both Resonance and Radiance show choirs this year and has been in chorus for three years. She described this season as her personal best in show choir and said it was incredibly rewarding, even though it was cut short.
J.J. Lugo, another graduating senior, talked about joining Resonance two years ago and how it helped him go from being very independent to understanding what it is to work as a team. He said he went from "not being able to dance to dancing in the front row during a competition."
When he filmed his individual track for the video, Lugo had no idea how it would turn out. Fellow chorus member Ray Pleasants helped him with the song and he practiced hard before turning in his individual video.
When he saw the finished product with his fellow chorus members singing together, Lugo said he was overwhelmed by it. Hearing them singing about their love of music and how it brings light into dark situations was extremely powerful, he said.
"I feel like it connected with a lot of people because music is something we can all go to when we are having hard times. We can tune into music to help us relieve our stress," he said.
Music is a special way people can communicate with each other in so many different ways, said Ashlee Blankenship, a rising senior and member of Radiance and Resonance. She loves being part of something that feels like it has a universal reach.
During the last year, show choir members have shown the program is a force to be reckoned with, she said, and she has missed being part of that dynamic and that collaboration process every day. She sees the choral video as a farewell the members never had, especially the seniors.
"Having been with them for three years, we have grown really close. They were all my best friends. So not being able to properly say goodbye was really hard. So this song was really important in the fact that it was our farewell," she said.
Dean said he was disappointed that, because of poor internet connections and other commitments, not all of his students could participate in the video. But moving forward, regardless of what the fall semester looks like, he said he plans to have his students make more choral videos.
"Being able to do this video was everything for me. If we are not in school, I am hoping that my students will realize that with the humungous response to just this one video, what would it be like to have 50 students in one video or 180 students in one video singing," he said.
Dean also hopes the video brings closure for the students, who were "having the season of seasons" before it ended abruptly. He pointed to a long list of accomplishments from the show choir 2019-2020 competition season:
* One Voice won first place Concert Choir in the Manchester Koste Classic as well as Best Vocal Sound and Grand Champion of the event. It also performed for the MLK Jr. Youth Day Community Breakfast and with the Richmond Symphony.
* Radiance (first year all-female choir) earned a Superior Rating in the District 3 Choral Assessments and fourth place at the Clover Hill Mid-Atlantic Show Choir Spectacular.
* Resonance was first runner up in the Small Mixed Division at the Clover Hill Spectacular (its first time to place in the finals in more than eight years) and won fifth place overall. It also was first runner up in the Small Mixed Division at the Thomas Dale Commonwealth Choir Invitational and won Best Choreography in the division.
* The school had 17 delegates named to the All District Choir and two delegates to the All State Choir.