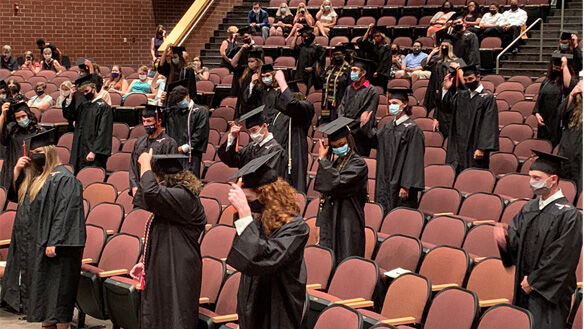 POWHATAN – Five times on Saturday a group of about 50 Powhatan High School graduating seniors filed into the auditorium to the sound of "Pomp and Circumstance" and the click of their loved ones' cameras.
Five times students and families listened to the accomplishments of the Class of 2020 and the well-chosen words of their valedictorian and salutatorian.
And five times the students were called up onto the stage to receive the diploma they had been working toward for 13 years.
Thanks to months of planning and plenty of hard work by staff members, the high school successfully pulled off five back-to-back graduations on July 25, honoring 235 out of the 317 graduating seniors who decided to participate in the in-person ceremonies.
The day included plenty of concessions to COVID-19 precautions. Each student was allowed only four guests, who were seated in specially spaced spots around the auditorium. When students arrived before the start of their graduation, they went to a back hallway, where they sat spaced out as they waited for the ceremony to start.
Staff left about a 30-minute window between each ceremony to allow time for cleaning and resetting everything.
Each ceremony was relatively short – clocking in at an average of 45 minutes – but still packed in the essentials of a formal ceremony.
Dr. Mike Massa, principal, didn't focus on the last few months students could not be in school, acknowledging that life as an adult will require them to draw on additional strength to reach a goal through adverse circumstances.
Instead he talked about what the students had accomplished in their time at PHS, including: 44 seniors with a GPA of 4.0 or higher; 116 honor graduates with a GPA of 3.5 or higher; 172 students receiving CTE seals (they had a B average in at least two career and technical education courses or a career and technical education credential); 44 students who have received Board of Education Seals for graduating with at least a 4.0, and 102 students who have received a Governor's Seal, which indicated they have completed an advanced studies diploma with a 3.0.
"Moving forward after graduation, 80 percent of our students are already career and technical education completers, and 74 percent of our students are college bound, 21 percent of our students plan to enter the workforce and 3 percent of our students will be joining the armed forces to serve our country," Massa said.
He also pointed out that, in total, the Class of 2020 has been offered $2,933,440 in scholarships and awards and has served the community by providing 3,589.5 hours of community service.
Powhatan's five school board members took turns addressing the students at the different ceremonies. Valedictorian Rachel Stegner, salutatorian Talmadge Wheat Fralin, and class president Riley Little spent the day at the school and spoke to all five groups of graduating seniors.
Stegner talked about being grateful the school did what it needed to do to provide seniors with the closure of their graduation ceremony. But even before that, Powhatan High School provided its students with their basic needs to help them achieve their goals in life, she said. The school provided students with the fulfillment of their physiological needs, their safety, and a sense of belonging and love, which are arguably the most important, she said.
"This need recognizes the significance of relationships in allowing one to feel connected to the environment around them. Over these past four years, the people I have connected with have made me feel a sense of belonging at PHS," Stegner said. "Even if we never met or met briefly, our shared experiences have connected us, and I am truly grateful to be graduating with each of you."
Fralin acknowledged that their senior year was less than ideal but added the Class of 2020 made the best of it and he is "sure everyone has at least one fond memory from their senior year at Powhatan High School."
"A new journey is just beginning. As we enter the adult world, either through pursuing college, attending trade school, enlisting in the military, or entering straight into the workforce, a new chapter of our lives begins," he said. "The wonderful memories of PHS will stay with us, except of course, senioritis – that was not fun. These last four years went by so quickly. Even so, they left defining impacts on us, whether it be lifelong friends, inspiring a career path, and, of course, instilling a love of anything black and orange."
And after the speeches were done and the official charge to graduates was complete, the students lined up to walk across the stage to pick up their diplomas and become official Powhatan High School graduates.